Journey through the North Island of New Zealand and explore Waitomo, Rotorua and Lake Taupo, and discover the natural beauty of Kaikoura and Christchurch on this 5-day trip from Auckland to Christchurch or vice versa. See the glow worms at Waitomo Caves, relax at Rotorua's geothermal wonderland, see giant sperm whales at play and be mesmerized by the natural beauty of New Zealand. This 5-day tour will have you travelling by coach, train and ferry with plenty of time at leisure to make this holiday truly magical.
Highlights
Explore the best of New Zealand's natural beauty in five-days

Boat ride through the glow worm grotto at Waitomo Caves

Relax at Rotorua's geothermal parks

Cross Cook Straight by ferry between Wellington and Picton

Take in the spectacular coastal scenery on the train journey between Picton and Kaikoura (only from 01 October, to 30 April)

Spot giant sperm whales in Kaikoura

What You Can Expect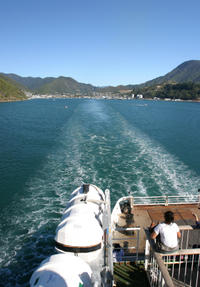 Day 1 - Auckland to Waitomo, Rotorua
Today you will depart from Auckland and drive to the magical Waitomo Caves. Here you will have a guided tour of the caves, before taking a short boat ride along the river to the grotto. Be enchanted by the thousands of glow worms emitting tiny lights that twinkle in the darkness. Later, you drive to Rotorua, passing through the Fitzgerald Glade, a section of highway where native bush forms a canopy overhead.
Overnight in Rotorua - Sudima Rotorua or Similar
Day 2 - Rotorua
This morning explore Rotorua's geothermal wonderland and discover the unique culture of New Zealand's Maori people. Enjoy a guided tour of Te Puia, see Rainbow Springs and watch the Agrodome Sheep Show. The rest of the day is at leisure and in the evening you might like to experience a Maori hangi (a traditional barbecue) and concert (at own expense).
Overnight in Rotorua - Sudima Rotorua or Similar
Day 3 - Rotorua to Wellington
There is more stunning scenery on offer today as you travel by coach to Wellington, passing Lake Taupo, Palmerston North and the Kapiti Coast.
Overnight in Wellington - James Cook Grand Chancellor or similar
Day 4 - Wellington via Picton to Kaikoura
This morning, travel by Inter Islander Ferry, via Cook Strait to Picton. Then it's all aboard the TranzCoastal train to Kaikoura. This is a spectacular train journey that passes through stunning coastal scenery and rugged mountain ranges.
Overnight in Kaikoura - White Morph or similar
Day 5 - Kaikoura to Christchurch
The highlight this morning is a whale watching tour by boat or light aircraft. See the gentle giants of the sea and be thrilled as the giant sperm whales breach, and watch the dolphins and seals at play. Later in the afternoon you will drive to Christchurch where your tour concludes.

Tour can also be operated in reverse, Christchurch to Auckland
January 2014
The tour was ok, but why 5 days' tour is only 4 days tour with one free day? Heidi and Uolevi
February 2013
Great tour with a well timed itinerary and wonderful local staff. Would have been useful to know of the names of the local places of accommodation or at least what type of rooms we were booked into as we could have made better use of the kitchenettes if we had known. It would also be helpful to have it stated clearly and upfront, that this is a self-guided tour with the occasional input from local operators. It was not a draw back for us, but certainly not expected when booking a "tour".
December 2011
very nice trip
would book again!
October 2010
Make sure you travel light when you take this tour. You will be at the bus station, waiting for your particular bus to get you to your tour. One of the hotel ( Mercure)we stayed as not nice and no elevator, so we have to carry our large heavy luggage naad there was no porter to help us.
March 2012
The details of this trip read that it was a tour. I signed up alone for my first trip to New Zealand. I expected a tour where the same people would be with me for the duration. This was very different. One day, I was transported to a public bus, which I rode for the day to Wellington. The hotel was in an area too far for any real sight seeing. You are left on your own quite a bit. That was OK in a couple of stops since there were things you could do and see on your own. I did enjoy NZ quite a bit and was able to see a bit of both islands. The tour ends in Christchurch. I was moved by what the people of Christchurch have been through. I think you should reconsider the end city of the tour. Access to the city, where most tourist attractions were, is closed. Based on the other Viator tours I've taken, this rated very low.
Advertisement
Advertisement