Join an America's Cup sailing experience aboard an authentic racing yacht on Auckland's Waitemata Harbour. Feel the exhilaration of yachting as you take the helm and participate with the professional crew, or just sit back and soak up the harbor views. You have the choice of a 2-hour sail or a 3-hour match racing experience on an America's Cup yacht. No experience necessary.
Highlights
America's Cup sailing on Auckland's Waitemata Harbour
Experience the thrill of sailing aboard an authentic America's Cup racing class yacht
Sit back and relax or get hands-on and help sail the America's Cup yacht
Join the crew and participate mate racing America's Cup style (select option at time of booking)
Recent Photos of This Tour
What You Can Expect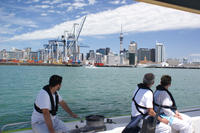 While in Auckland, participate in the world's most prestigious yachting regatta: the America's Cup. This once-in-a-lifetime opportunity invites you to sail with elite professional yachties and reach for the ultimate sporting trophy. Sail alongside New Zealand billionaires aboard a grand prix racing yacht — a must-do experience any visitor to the 'City of Sails.'
Choose from two America's Cup options, departing from Auckland's Viaduct Harbour — select an unforgettable 2-hour sailing experience or up the ante with a 3-hour match race (November to March only).
2-Hour Sailing Experience:
Enjoy a unique opportunity to become part of the crew on an actual America's Cup yacht. Exert energy on the grinders or simply sit back for the ride as you sail through stunning Waitemata Harbour.
3-Hour Match Racing:
After meeting the crew, receive a safety briefing before going through a short race. After some practice, the action really begins as crew lines up at the pre-start and competes head to head.
June 2016
This was an awesome tour of Auckland's harbor. We married on Piha beach on Saturday and I gave my husband this America's Cup Sailing tour as a wedding gift. He has always been a fan of the America's Cup races and was so excited to be able to experience the sailboat adventure. Just seeing the smile on his face was worth a million!
April 2016
they did not go because it was too Windy. For crying our loud it is an America's Cup Sailboat that works with the wind. It cannot be too windy for this boat.
March 2016
The opportunity to participate as crew member and learn some basics of sailing was rewarding. The crew was knowledge, entertaining and courtesy. Highly recommended!
March 2016
If you want to give your shoulders and rump a good workout, volunteer to be a grinder work the sail winches. The match racing is a lot of funcaptain was great, scenery was amazing, and it's a thrill to race fast and hard, especially when you win!
March 2016
outstanding experience great staff no hustling for tips
March 2016
Fantastic! Great sailing - we all actually helped on deck and got to take a turn at the wheel. If you like sailing, you will not be disappointed. You will be on a HIGH just thinking back on the experience.
March 2016
great trip out on the harbour !!!
December 2015
My husband and I had the greatest time. The weather was perfect. The crew were very enthusiastic and attentive, and made sure we all participated in the cruise. We were lucky enough to have only a few people on board so got to experience actually sailing the boat! Would do it again for sure! Quote from my husband friggin awesome experience...loved it.
December 2015
We had a fantastic sail - the staff were great and made us feel very safe, but at the same time my sailboat-loving husband had a thrilling ride with great speed and views of the harbor. And anyone who wanted got a turn at the helm!
November 2015
We enjoyed the America's Cup Sailing experience. We have this type of ocean racing sailing in our family with our son and have a good background about what it is and what to expect. We felt that due to the good crew and their eagerness to perform combined with a good day with adequate winds they did provide us with a full range of the thrill of ocean racing including sailing down wind under the amazing spinnaker. It was a happy time for us as it seemed to most of those fortunate to be on this cruise. They provided great and a wide variety of harbor views with commentary including going under the harbor bridge with our mast almost hitting the structure. Well done and highly recommended!
Advertisement
Advertisement