Cruise the waters of Hauraki Gulf Marine Park in search of whales, dolphins and penguins on a half-day tour from Auckland. You'll board a spacious catamaran at Viaduct Harbour and hear expert guides share informative commentary about New Zealand's natural wonders. During the whale and dolphin safari, keep an eye out for six types of whales that frequent these waters, as well as seabirds such as Australasian gannets, petrels and terns.
Highlights
4.5-hour whale and dolphin watching cruise, from Auckland
Ride aboard a custom-built luxury catamaran for a superb viewing experience
Keep your eyes peeled for dolphins and as many as six types of whales

Observe gannets that hunt by plunging into the water at speeds of up to 87 mph (140 kmh)
Listen to entertaining and informative commentary provided by your captain and crew
Departs from the Viaduct Harbour, conveniently located in downtown Auckland
What You Can Expect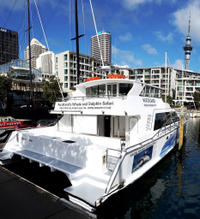 Meet the boat crew at the New Zealand Maritime Museum at Viaduct Harbour, and depart aboard a custom-built 65-foot (20-meter) catamaran, comfortably appointed so you can best view up to six types of whales as well as dolphins and other marine life.
Throughout your 4.5-hour cruise, the captain and guides entertain you with fascinating facts about the Hauraki Gulf Marine Park, home to five marine preserves and sprinkled with islands
— it's considered one of the world's most biologically diverse marine parks and home to some 23 different species.
Hear about research conducted in partnerships with local marine scientists and discover which whales the crew tracks. They'll point out sea mammals such as frequently spotted pods of bottlenose dolphins and Bryde's whales, native to New Zealand.
Be ready to snap photos of adorable blue penguins. Set your binoculars upon seabirds such as Australasian gannets, petrels, shearwaters and white-fronted terns soaring above or plunging into the sea.
Afterward, the boat returns to Auckland's Viaduct Harbour, where your tour ends.
Please note: While wildlife viewings cannot be guaranteed, dolphins and whales are often swimming around these waters. In the event that you do not see any marine mammals during your trip, you can go again another day at no extra charge.
March 2016
Skip and his crew were very professional and informative. We saw hundreds of dolphins and penguins. We were told and taught many interesting facts about the ocean and the waters surrounding NZ. Skip and his crew were great at tracking where we would see the marine life. Sadly, Curious George, the whale, did not visit us. But Skip gave everyone on board a free life time pass to return to try to see Curious George.
March 2016
great seeing the dolphins
Randy B USA
March 2016
Great experience! The crew on he boat were informative, friendly, and fun. We saw tons of dolphins, some penguin, and birds but no whales. As a result they issues everyone on the boat a free voucher to come back to try and see whales.
January 2016
The trip was fantastic, we saw dolphins........but not enough to please the skipper, so we now have a lifelong voucher to go again.
A very nice touch.
Thank you.
November 2015
A well worth touring, we see several whales, very big one, swimming elegantly in the ocean. And hundres of dolphines.
October 2015
Brilliant, no whales but hundreds of Dolphins. Crew were knowledgable and looked after everyone well. Only problem I had was that Viator had booked me under a name I had never heard of even though my voucher had the correct name.
July 2015
Fantastic! We had a wonderful afternoon on board the whale and dolphin safari boat. We didn't see whales but did see a pod of over 200 dolphins swimming under and around our boat. The dolphins herd the fish into a ball underwater and then the Gannets hundreds of them are also there feeding and dive bombing for fish. We felt like we were on a National Geographic excursion. This trip was a top highlight of our trip to Auckland. Professional staff and crew and very friendly and informative. Lots of time to take pictures and take in the wonderful scenery. A most pleasant and relaxing excursion. Viator was a great way to book.
April 2015
I would recommend to anyone, the crew are incredibly helpful and knowledgable. They are great when it comes to tracking and really know what they what they are doing, we saw byrdes whales and common dolphins as well as feeding frenzies. They dont harass the animals and teach you about the ocean.
April 2015
Fabulous day. Seeing the dolphins, whale and birds in their natural habitats was amazing. The trip is a must.
Janet G Canada
March 2015
Advertisement
Advertisement