Auckland bridge bungy jumping is the ultimate thrill — an unforgettable 40-minute New Zealand experience. Suspended over Waitemata Harbour, you'll leap from the Auckland Harbour Bridge. Take an exclusive bridge walk to the purpose-built Bungy Pod and feel the adrenaline as you plunge 131 feet (40 meters) toward the water. Just try to keep your eyes open so you can enjoy the views while airborne!
Highlights
Auckland bungy jumping experience
Bungy jump from the Auckland Harbour Bridge after an exciting bridge walk
Choose from a variety of bungy methods, including a water touch
Get tips from expert guides before leaping from the Bungy Pod
Includes a complimentary t-shirt and round-trip transport from the Maritime Museum
Recent Photos of This Tour
Auckland Harbour Bridge Bungy Jump
What You Can Expect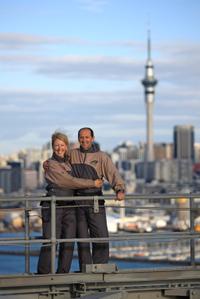 Auckland bungy jumping is an opportunity not to be missed by any thrill-seeker that visits New Zealand's largest city. The 40-minute experience begins with bus pickup from the Maritime Museum in Viaduct Harbour. You're transferred directly to the Auckland Harbour Bridge, home to the world's first harbor bridge bungy jump.
As part of your bungy experience, follow a guide on a bridge walk out to the specially constructed Bungy Pod, where you'll suit up in safety equipment including a static line attached to the launch site. As you build up the courage to leap out over Waitamata Harbour — aka Auckland Harbour — rest assured that your expert guides conform to rigorous safety procedures.
When you're ready to take the plunge, jump or dive from the bridge platform. You can choose from a number of options while airborne: topple over backward, forward, spin or somersault as you descend in just five seconds. Take time to enjoy the views of Waitamata Harbour — that is, if you can keep your eyes open long enough. You're suspended above the water or you can choose a water touch, depending on your preference.
Afterward, you'll be transferred back to the starting point and receive a complimentary bungy t-shirt for bragging rights.
April 2016
As first time bungee jumpers this was a great first outing. The staff was great and reassuring and made us feel secure the entire time. Would definitely do again.
February 2016
Very professional and lots of fun!

November 2015
I tried this once as it was created in NZ. The G force was more than I expected but was enjoyable none the less. AJ Hacket the company here are very processional and take safety seriously.
June 2015
Auckland Harbor Bridge Bungy Jump was fantastic! My 17 year old son did the jump and loved it and the rest of us were able to go up to the pod as spectators so we didn't miss out. Spectator price is $20 but coupons available in many discount books. Definitely recommend this tour!
April 2015
Unreal experience!! Staff were friendly and had heaps of fun.
April 2015
Love it. I am afraid of heights and I still managed to jump without being pushed off. :
Do the earliest run as Auckland weather is a bit unpredictable, luckily for me, there wasn't much wind.
February 2015
This is a must do if you are in Auckland.

October 2014
Was my first time and I loved it. Great group of people working the Auckland Harbour Bridge Bungy Jump.

Kierra Australia
June 2014
The scariest and craziest thing I have ever done! I loved every minute of it. These guys are so great, I didn't think I could, but I did it!. Cannot wait to do it again!

March 2014
incredible. amazing jump.
Advertisement
Advertisement