Explore Auckland and its surroundings through the eyes of a Maori guide on this full-day tour that includes a cultural performance and lunch. Take a walk through the ancient forest of Tiriwa, discovering native flora and fauna and their significance to the indigenous Maori worldview. You'll visit a beautiful west coast beach and learn about a rich cultural heritage as you watch the Haka dance performed at the Auckland Museum. This small-group tour is limited to a maximum of 15 participants for a personalized experience.
Highlights
Explore Auckland's sites through the eyes of a Maori guide

See a live performance of a world-famous Haka War Dance

See the surrounding country-side, including Te Wao Nui o Tiriwa (the ancient forest of Tiriwa), also called the Waitakere Ranges
Intimate small group tour includes lunch
Recent Photos of This Tour
Auckland Maori Tour and Cultural Performance
What You Can Expect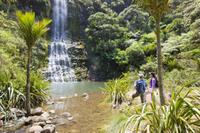 Start your Maori-led tour of Auckland with pickup from your hotel. You'll see Auckland — aka Tamaki Makaurau — from a Maori perspective as you're immersed in New Zealand's indigenous tikanga (culture) with your knowledgeable Maori guide. Your full-day sightseeing tour includes snacks, beverages and lunch.
Explore the city and its surroundings, including a short forest walk in the Waitakere Ranges, where your guide points out flora and fauna native to this region of the North Island. You're driven along the rugged western coastline to stroll a black sand beach nestled below wind-chiseled cliffs.
Learn about the Maori leaders that helped shape New Zealand (Aotearoa — translated as 'Land of the Long White Cloud').
Also explore scenic Tamaki Drive, a coastal road that skims Waitemata Harbour. Your tour also includes a Maori cultural performance at Auckland Museum that includes the Haka war dance. Your small-group tour ends with hotel drop-off.
January 2016
I would not like to miss it. Got lot of information within one very interesting day. Got lot of wonderfull impressions about sourrounding of Auckland.
THANK Kristi for patience, flexibility and for sharing knowledge about Maori culture as well as New Zealand as a country.
Thanks to Edi for his patience!!
July 2015
Amazing, amazing, amazing!! Would definitely recommend this tour!! Our tour guide was very knowledgeable and accommodating!! 5 STARS!!
Anonymous
June 2015
Our tour guide was excellent and we spent the entire day all around Auckland getting a great overview of the city and surrounding territory. The Cultural Performance was in the Memorial Hall which we had visited the previous day.
December 2014
It was the best tour ever, the tour guide was extremely lovely and nice. Very informative. I would strongly recommend it to whoever going to visit NewZealand. Honestly this is a must join tour !:)

October 2014
This tour was AMAZING!!!!!!!!!!!! Its one of the most personal tours I have EVER had....and I have been on hundreds! If you are visiting Auckland, do yourself a favor and sign up for this tour...ASAP!
August 2014
Absolutely amazing. Tour guide was very informed. Felt a true bond to New Zealand after doing this tour!
April 2013
We had a great trip. Our guide was outstanding and so was her assistant. The guide drove well, got us to places on time, chatted about the most interesting aspects of things we were seeing and gave us persepctive on Maori life in New Zealand. Thanks very much .
We give you five stars.
Fletcher Hodges

Margaret H Australia
April 2012
I could not of asked for a better tour with a Maori guide and she was excellent.
Kimberly W USA
February 2011
May 2016
Our Maori guide was extremely informative, although I felt like I got a little too much information about the Maori people. I really didn't want to get a PHD in Maori culture but rather an understanding of the people in relation to the history of NZ. Unfortunately as for myself, I couldn't get a word in edgewise or get a question answered during her dialogue. At the museum, which was great by the way, we stood in one area for 15 minutes while she explained more stuff instead of traveling around inside the museum and giving brief explanations of all the interesting stuff we were seeing. My husband and I were so disappointed that we were not able to see more of the museum and would have preferred to hear less of the culture there and see more of the exhibits. At the beginning of the tour, the guide did not even give the tourists time to introduce themselves before the lessons began. A simple balance of dialogue is suggested to the tour company Time Unlimited. Other than this aspect, the tour itself took us to some very beautiful areas and we had a wonderful lunch at Devonport. If you want to learn about the Maori people and their culture, then this is definitely the tour to take. They also gave us a very nice set of coasters at the end of the day which we appreciated. The Maori dance and song portion at the museum was very enjoyable. The stroll on the western beach at the end of the day was also nice.
Advertisement
Advertisement