Ride the Coromandel ferry from Auckland to the Coromandel Peninsula, known for its natural beauty and laid-back lifestyle. Cross the Hauraki Gulf on a 2-hour high-speed ferry ride to Coromandel, where you can take a day trip or spend a few days at the rugged peninsula, perhaps soaking in the hot pools at Cathedral Cove. A round-trip transfer from Hannaford's Wharf to Coromandel town is included with your choice of ticket options.
Highlights
Coromandel ferry ticket, from Auckland
Choose from four ticket options: same day return, return on another day, or one way either direction
Take a relaxing 2-hour ferry ride through the scenic Hauraki Gulf between Auckland and the Coromandel Peninsula
Includes round-trip bus transfer from Hannaford's Wharf to Coromandel town (approximately 20 minutes drive)
What You Can Expect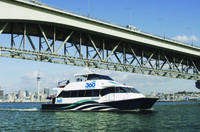 Famous for the rugged beauty of its sandy shoreline flanked by forested mountains, the Coromandel Peninsula is popular among locals and visitors alike. An easy way to get there from Auckland is by high-speed ferry, which takes you across the Hauraki Gulf on a 2-hour ride.
At booking, select the option that suits your schedule: choose a same-day return, a one-way ticket in either direction, or extend your stay and return to your starting point on another day.
No matter how much time you take at the Coromandel Peninsula, you'll find warm hospitality at a selection of art galleries, boutique wineries, pubs and local restaurants. An array of outdoor activities include walking trails and bike tracks, birdwatching, fishing, kayaking and more — not to mention Cathedral Cove, where you can dig your own thermal pool at low tide.
Your ferry ticket includes a round-trip shuttle from Hannaford's Wharf to Coromandel town, located approx. 20 minutes away.

March 2016
It was great. The weather was great, the views better.
December 2014
Good, reliable and courteous ferry and bus service. Pleasant Coromandel township.
Have used Viator many times in Europe and have always found that their service providers deliver what they promise and more.
February 2016
The ferry didn't go because of heavy seas....sort of cyclone weather. Would have been good for aviator to notify me in advance, but perhaps that would be a bit difficult.
March 2015
I had a great journey from the Coromandel to Auckland. Although the forecast was not good it stayed dry and the views were simply fantastic. i would highly recommend this way of travel.
Bridget
February 2015
Terrible. I booked for a ferry at 4.30 pm to catch a connecting flight. Ferry did not go until 8pm. Had to make alternative arrangements. Basically fraud.
Advertisement
Advertisement