20 Reviews
Location:

Auckland, New Zealand

Duration:

Varies
Dive under Auckland's waterfront and you'll discover spectacular secrets of the Southern Ocean and see the magic of an Antarctic fantasyland, complete with penguins strutting in fresh snow and ice! You'll get up close to the majestic King and playful Gentoo penguins, see jellyfish displays and the world's biggest species of stingray. Experience over 30 live animal exhibits and see over 80 different species in the eight new themed zones.

Highlights
Explore the underwater world at Kelly Tarlton's Sea Life Aquarium

Get up close to the majestic King and playful Gentoo penguins
Travel through the shark tunnel as the sharks swim over-head

See the largest jelly fish display in New Zealand

Shark Dive Xtreme, cage free dives. No experience necessary

Shark cage, face-to-face encounter with a shark.

What You Can Expect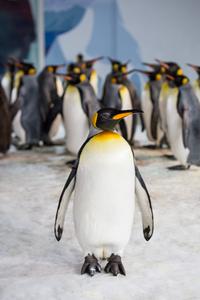 At Kelly Tarlton's SEA LIFE Aquarium there is over 30 exhibits and more than 80 different species. Featuring nine themed zones, Kelly Tarlton's SEA LIFE Aquarium boasts unique attractions including New Zealand's first-ever live jellyfish display, the world's only display of Spiny Sea Dragons and the world's biggest species of stingray.
Head for the Antarctic Encounter, the walk-through penguin encounter is home to the world's largest sub-Antarctic penguin colony display and allows visitors to get closer than ever before to the majestic King and playful Gentoo penguins.
Kelly Tarlton's famous Shark Tunnel (The brainchild of renowned marine archaeologist and diver Kelly Tarlton), home to New Zealand's largest collection of sharks, is now Maori Pacifica themed. You also have the opportunity to snorkel with the sharks on a Shark Cage experience, or for the true adrenaline junkie, take the ultimate cage-free experience with Shark Dive Xtreme and come face-to-face with the great predators of the deep sea.
The Rockpool Experience allows visitors to hold a crab or touch a starfish and, with an animal-themed quiz trail this truly is an interactive day out.
April 2015
Love it. For first time snorkellers, do this. You get a go pro, flash card and coffee/hot chocolate included in the price. I recommend this and the extreme dive where it is cageless. I did the shark cage. It is hard to maneuver but I still had fun.
April 2015
Unfortunately we never used it, but many locals told us how good the place is.
January 2014
We had a great time adults and children, would recommend it to everyone.
February 2012
Love those penguins, they are just so impressive. Didn't see any from happy feet but they did look good. The aquarium has a lot in it, very impressed. Go there early in the day, very popular can get crowded
January 2011
definitely worth a visit, even if you older, our group was over 50s and we really enjoyed the tour. some interesting artifacts and stories to be told.
February 2010
Impressive.
April 2008
I really enjoyed our visit to the Antarctic Encounter. All of the animal life was fantastic! In particular the penguin habitat was really impressive, you can view very closely the penguins and their newborn chicks, and riding in the snowcat was a lot of fun. The historical photographs and films of early Antarctic expeditions were also very interesting. It was worth checking out as part of our trip to New Zealand.
June 2015
I would recommend this tour to anyone who goes to Auckland. Everything went well with our coupons and it was nice to see the penguins and the sharks ! Spent the whole day here and the driver of the shark bus was fantastic ! Worth the trip here ! Lots to see !
January 2014
На декабрь месяц стоимость взрослого билета была около 30USD (при покупке через сайт обходится дешевле).
До океанариума (считается, что это всё-таки океанариум, а не аквариум) от центра города можно доехать на автобусе 7010 (ходит от Britomart на Queen Street), либо на бесплатном шатле.
Однако, нужно учесть, что у шатлов есть расписание и ходят они каждые полчаса/час с 9.30 до 15.30 (подробное расписание есть на сайте).
Шатлы отправляются от 172 Quay Street - с учетом того, что на зданиях нет номеров, мы около 15 мин. искали это место! Спрашивали у местных, никто не знал, где это! :-)
Понятно было, что Quay Street перпендикулярна Queen Street, но где этот 172 дом - никто не знал! :-)
В общем, парковка шатлов находится напротив Ferry Building! Становитесь там, не пропустите! :-)
Место стоянки ничем, кроме дорожной разметки bus stop не помечено, но шатлы имеют яркую раскраску и рекламу океанариума, так что, если он уже будет стоять - промахнуться не возможно! :-)
Так же учтите, что вместительность шатлов ограничена, возможно, придется стоять стоя (в пути около 10-15 мин.), либо ждать следующего или ехать на рейсовом автобусе или такси.
Сам океанариум разделен на тематические зоны, в каждой из которых представлены обитатели подводного мира окружающих Новую Зеландию вод Тасманова моря и Тихого океана.
Очень понравилась тематическая зона с пингвинами (Генту и Королевские), в этой же зоне существует отсек для совсем маленьких - пингвинятник, где можно увидеть мам, высиживающих яйца или кормящих маленьких пингвинят :-)
Не оставит равнодушными и большой аквариум с гигантскими скатами! И наконец, движущаяся дорожка с проплывающими над тобой акулами, якорями, сундуками, затонувшими идолами... Море красок и удовольствия! :-)
June 2012
Great family attraction. Particularly enjoyed the sting ray feeding and the cute penguins. Early history of Antarctica was very interesting. Recommended.
Advertisement
Advertisement