See the best of Waiheke Island in one day that combines a zipline adventure with lunch, wine tasting, and sampling the island's olive oil and craft beer. Expert guides show your small group, limited to 12, how to soar among the treetops. Then join a max of 33 for lunch and a wine tour at Stonyridge Vineyard, followed by two additional wine tastings and visits to Rangihoua Estate and Wild on Waiheke microbrewery. Explore the island on your own with a complimentary bus pass, or return together by ferry to Auckland.
Highlights
Morning zipline tour and afternoon wine tasting tour on Waiheke Island, from Auckland

Go on a zipline above vineyards, a valley, and a forest and enjoy thrilling views
Sample wine and savor lunch at Stonyridge Vineyard
Try an olive oil tasting at the beautiful Rangihoua Estate
Taste craft beer or wine at Wild on Waiheke
Soak up the bucolic mixture of farmland, beaches, forest and seaside villages on Waiheke Island

Enjoy three wine tastings, lunch, and samples of microbrews, olive oils and local jams

What You Can Expect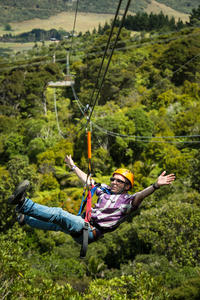 Make your way to the Auckland Ferry Terminal for the 40-minute ferry ride to Waiheke Island. You'll board a minivan for the transfer to the zipline center, where your small group receives a safety briefing from an experienced guide who safely attaches your harness to a cable at the treetops platform and sets you off on your first of three flights.
Zipline over a verdant valley and vineyards as you take in the surrounding beauty of Waiheke Island from above. Upon landing, follow an easy 1-mile (1.5-km) path on foot through the forest to the visitor center.
Sate your appetite with a light lunch and wine tasting at one of Waiheke's premium wineries: Stonyridge Vineyard. You'll travel there by air-conditioned coach and join a larger group for your afternoon tour.
Follow up lunch with a tasting of several award-winning varieties of olive oil at Rangihoua Estate, where you'll discover the process of making extra virgin olive oil and stroll the olive orchards. Next up is Wild On Waiheke for a sampling of wine, small-batch craft beer and other specialties during your visit. Your tour concludes at Mudbrick Vineyard to sip fine wines while enjoying views over the lush gardens and Hauraki Gulf.
Your driver takes you to the Waiheke Island Ferry Terminal for a late-afternoon ferry back to Auckland. Alternatively, use your complimentary All Day Bus Pass to explore more of the island on your own. Ferries run until late evening; check the schedule for details.
June 2016
Awesome!! Get to marina early enough to find your tickets as several booths are closed early am. Zip line staff fantastic and eco walk very enjoyable. Wine tasting bus driver fantastic. Enjoyed hanging out in town after to enjoy some of the local fare fish and chips take out right off of the beach not far from town.
May 2016
Great experience all in all. Fantastic views. The ziplining was easy to do also for a beginner and the guides were very helpful. It all felt very safe. Walking back up was definitely the harder part :-
The afternoon was also nice, although visiting four different places was perhaps a bit too much given the time available - it felt like we had to rush from one place to another all the time. All the arrangements incl. taking the ferry from/to Auckland worked very smoothly. I warmly recommend having dinner on Waiheke after the tour ends - very easy to take a later ferry back to Auckland!

April 2016
Loved this packaged tour to Waiheke Island. It gave me something to do alone while my friends had to work. Favorite part was by far the zip lining with EcoZip's team. Those guys were awesome. Wish I could have zip lined with them all day and night. It's addictive! Our tour guide and bus driver around the island was terrific and hilarious.
March 2016
HIGHLY recommend this tour! This was one of our favorite things we did in New Zealand. Zip lining was super fun and the staff was great. The wine tasting was delicious and had a great lunch

March 2016
Had a great time. It was great that the Zip line had three stages so the fun lasted longer. We had great food and tasted some nice wines at the wineries. Particularly loved the last winery Mudbrick and could have stayed an extra hour there. Hindsight as our return ticket with the ferry allowed us to catch any ferry back until 11PM that night and the local bus was included int eh ticket we should have planned to stay until late once the tour finished.
February 2016
We had 7 in our group and only 2 of us had ziplined. We all had a great time. Some of our group aren't very physically fit but they did great. The staff at EcoZip was fabulous and very patient. They were knowledgeable about the flora and fauna of the island and enthusiastic about their jobs. The tour guide on the bus very great. He talked almost the entire time we were on the bus, telling us about the island and many interesting stories. The wineries were very good. Good wines and good lunch. We also visited an olive oil producer and that was very interesting and tasty. We were able to stay on the island but it began to rain about 2pm and no end to it so we didn't get to explore the very interesting looking village part. Next time! I would totally do this exact tour again if I'm ever in Auckland.

February 2016
Everything about the tour was awesome! The Ecozip staff were very friendly and had a lot of information about the island and all of the plants/animals on it. The wineries were all very unique and lunch was surprisingly delicious and filling. The best part is the fact that your purchase includes a round-trip ferry ticket and all-day bus pass allowing you to stay and enjoy the beautiful Waiheke Island once the tour ends around 3PM. This was definitely my favorite experience while visiting Auckland.
November 2015
September 2015
Fantastic tour!! I missed out on the Ziplining unfortunately but the wine part was awesome! Went to 4 different producers wine, beer, olive oil and were able to stay on at the last winery as the tour ended, but the ferry goes every half hour. Most delicious wines and beers and food - and the scenery on Waiheke is just stunning! Also, our guide was really awesome - she has an excellent knowledge of the Island and its history and was really informative and fun. Definitely recommend - I reckon I'd go on this tour again!!

Kayjay Australia
August 2015
Early start, had the zip lines to ourselves, beautiful island and great wines. Very few free wine tastings, pay if you want to taste a variety of wines.
Advertisement
Advertisement