Secure a limited ticket to Tiritiri Matangi island, a protected sanctuary for rare and endangered bird species of New Zealand. A 75-minute ferry ride across the Hauraki Gulf brings you to the island preserve, where you have the day to stroll the trails and enjoy the coastline after a ranger orientation. Gain a deeper understanding of Tiritiri Matangi's role in preserving birdlife with an optional 1.5-hour guided hike.
Highlights
Full-day trip to the bird sanctuary on Tiritiri Matangi Island from Auckland
See some of New Zealand's rarest birds and wildlife in a natural and protected environment
Look for the island's endangered native birds including the New Zealand robin, saddleback and takahe
Join a 1.5-hour guided walk to learn about the bird life and history of Tiritiri Matangi Island
Have plenty of free time to walk the island's peaceful trails at your leisure
Marvel at the island's recovery from deforestation, one of the world's most successful volunteer conservation projects
Enjoy informative displays and complimentary coffee and tea at the Visitor's Center
Recent Photos of This Tour
What You Can Expect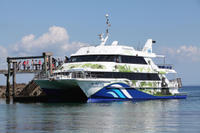 Don't miss an opportunity to visit Tiritiri Matangi island, where numbers of visitors are limited in order to protect the island's wildlife. Ride a 75-minute ferry from Auckland across the Hauraki Gulf to Tiritiri Matangi, a predator-free open sanctuary that's home to many endangered native birds found in New Zealand.
You'll have about five hours total on the island. First, listen to a ranger discuss environmental recovery efforts since 1984, which have helped re-establish 12 endangered native bird species and 3 reptile species, including the rare tuatara (a prehistoric lizard).
Opt for an in-depth island tour to learn about resident birds and other wildlife. During the 1.5-hour walk, a guide teaches you to identify various birdcalls. Finish the tour at the visitor center where you can browse through informative exhibits while sipping complimentary tea and coffee.
Alternatively, spend your time exploring the island's walking trails on your own. Perhaps stop by the lighthouse and, in warmer months, head to Hobbs beach for a swim before the ferry ride back to Auckland.
June 2016
Amazing! Did the guided walk and it was spectacular.
April 2016
Fabulous day out, great cruise and very informative tour of Tiritiri Matangi. Our volunteer guide Sahrah was very knowledgeable and a excellent birder. We saw kereru, takahe, tui, bell birds, quail, kokao , saddlebacks and stich birds. We couldn't have asked for more. The free teas and coffees were a nice surprise too.
March 2016
Despite a wet morning we had a comfortable trip on the ferry to this stunning island! We were all divided up into groups those of us who opted for the guided walk. Jane, my guide, was very informative about the various birds who call Tiri Tiri Matangi their home. She is most passionate and obviously loves the Island. it was fascinating to discover which trees which are most important to certain birds. After this very interesting tour,we were invited to partake in complimentary tea/coffee in the Visitors' Centre, which was most appreciated. The volunteers are to be congratulated for giving of their time to staff the Visitors' Centre, the Shop and the guiding. After enjoying my tea and lunch bring your own, we were encouraged to find our way back to the Wharf via an alternative track. I certainly recommend this fascinating Island as a peaceful, rejuvenating jewel.
March 2016
This was an amazing day. The weather was perfect, the ferry trip pleasant and the guided tour very informative and informal. We got to see nearly all of the birds that can be seen on Tiritiri Matangi as well as a few others. I would recommend this trip to anyone who enjoys leisurely bushwalks, birdwatching and the amazing nature of New Zealand
March 2016
Guided walk was excellent.
March 2016
A fantastic nature trip on ferry to TIRI, the walk with a knowledgable volunteer guide very good value.
March 2016
The boat return boat trip was great. The staff on board were very friendly and the island guides were most informative. The island is a must for everyone interested in nature and the environment.

March 2016
What a great effort has been put in to rehabilitate this island. Wonderful day out and the guided tour just added to it. Bit rough on the ferry both ways. Don't forget your seasick pills, lunch or water. Only tea and coffee available at the top of the island.

February 2016
Very knowledgeable guide took a small group of 8 people under his wing pun intended and we took a 2-3 hour walk where he identified and pointed out almost all the varieties of birds on Tiritiri Matangi Island. The tour was not rushed and time was also spend identifying key plants and trees. The ferry ride over and back was also nice, although there seemed to be more people than seats.
February 2016
Great tour, make sure your take the guided tour but don't do the long walk because you won't have a lot of time left before going back to the boat.
Advertisement
Advertisement