16 Reviews
Location:

Auckland, New Zealand

Duration:

8 hours

(approx.)
Visit the Hobbiton Movie Set for the ultimate behind-the-scenes look at where 'The Lord of the Rings' and the 'Hobbit' trilogies were filmed. You and your small group beat the crowds to this popular attraction near Matamata, a small agricultural town approximately 2.5 hours' drive from Auckland, arriving before the site opens to the general public. During the private tour, your guide will take you places that were usually only accessed by the film crews. It's the perfect day for fans of Gandalf and the gang!
Highlights
Gain exclusive, early access to the Hobbiton Movie Set

Arrive at the Hobbiton Movie Set before the crowds to be one of the first groups on set

Pose for pictures outside Bag End
Enjoy a hearty breakfast at the Green Dragon Inn
On your way back to your hotel, stop for Hokey Pokey ice cream at Pokeno

Private round-trip transport in an air-conditioned mini-coach

Small group limited to 18 people to ensure a more personalized experience
Why Our Insiders Chose This Tour
A visit to the Hobbiton Movie Set is a must, whether you're a 'The Lord of the Rings' fan or not. On this tour you'll arrive on set early to avoid the crowds, walk around the set as part of a small group, and access areas that are normally off-limits to other tour groups.
Recent Photos of This Tour
What You Can Expect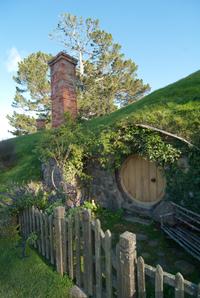 Depart from your Auckland hotel at approximately 6:30am for a roughly 2.5-hour drive south over the Bombay Hills to the lush farmland of the Waikato region. Upon arrival at the Hobbiton Movie Set, you and your fellow The Lord of the Rings fans have an early tour with a private guide. Ask away about Mordor, filming details, and whatever else comes to mind as you pass Bilbo Baggins' house, the mill, and the party tree, among other recognizable landmarks.

One thing you won't get out your guide? Whether or not the five hobbit holes you visit will appear in two upcoming films for the current The Hobbit series. Ogle the round doors and windows of the Smials that are not open to visit during the regular tours. This is the only way to see the latest in hobbit architecture!

Smile big for a photo outside Bag End, and then head to an epic breakfast at the Green Dragon Inn. The meal includes morning staples such as scrambled eggs, bacon and fruit, in addition to creamy mushrooms, grilled tomatoes and a specially made breakfast mince.

After your tour of Hobbiton Movie Set, hop in your provided transport to head back to your Auckland hotel. Along the way, you will stop for a scoop of New Zealand's signature Hokey Pokey ice cream at Pokeno. The world-famous vanilla ice cream is packed with clumps of honeycomb toffee — a sweet way to end your day.
September 2015
This is the BEST way to see Hobbiton!!!
Early access is well worth the extra cost!! Great photo opportunities before the BUS CROWDS arrive.
Delicious Green Dragon Breakfast!
June 2015
Okay, I am assuming while writing this you want to go to Hobbiton but are wondering whether to pay the extra bucks or not. Now, we went on a few tours in New Zealand, as you, the reader, will probably also be doing. A lot of these tours will be to big popular sites and you will be one of a throng of people, only asking for 20 second bursts so you can see something or snap a photograph. Let me tell you this is the ULTIMATE TOUR EXPERIENCE you will get! This is truly an early tour, before anyone else gets in. The tour guide Alexander, who was AWESOME, very smart, and very knowledgable about all aspects of New Zealand - we had long conversations in the van going up and back to Hobbiton, which went on some weird tangents when I asked about such minor and sweeping topics like animal rights activists and the Dunedin music scene told us there's never more than a handful of people who spend the extra money for the early tour, and sure enough there was just my wife and I, the Hobbiton tour guide, and another tourist who were taken all around Hobbiton, all by ourselves. Halfway through the tour the place opened up for real and we saw groups of 20 people start, all snapping pictures and getting in each other's way. NOT SO WITH THE EARLY TOUR! We took our time, I snapped about 200 photos I think! We got to go inside Bilbo's house which the regular tour does not allow, and you see other things not shown to the general public. You can take sweeping landscape photos with no a person in them. Hobbiton is well kept up all the tour guides double as maintenance crew, and sure enough we saw a young lady with a wheelbarrow at one point and was bigger, grander, and more of a spectable than I, a jaded tourist, had thought possible. Alexander was our guide there and back and we had a special Hobbiton guide once we got there who was very very knowledgable about all the minutae our geek group had. Finally: the breakfast ranks as the single best meal of my New Zealand trip!!!!!!!!
May 2015
Excellent service. Worth paying for. Tour guide and driver were so nice from start to finish. Highly recommended. One of my favourite tour.
March 2015
Wow, what a tour. Hated getting up so early in the morning but it was worth it. The tour was amazing and we had a great time. Tour guide at the site was amazing! She had so much about the movie etc to share with us. The morning breakfast was immense and loved the room we ate in at the Dragon Restaurant. Far to drive but a great time. Driver/guide was very good.
March 2015
We took the Early Access LOTR tour and it was awesome. Well worth the extra cost as for most of the tour we were the only ones there allowing us to get great photos. The breakfast was delicious and fun.
March 2015
Excellent tour. Early entry before the crowds, special access to certain areas (like Bag End) ending with a private breakfast at the Green Dragon. Great for any LOTR fan!
January 2015
What an excellent tour! Well worth the price! It started very early and was a long drive but it was such an enjoyable visit I didn't care. There were 4 of us in this tour and we were the first ones to take the tour on the day. We got to see a little bit extra that normal tours don't get to see but the best part was avoiding the crowds! The tour probably went for about an hour or a bit more and lots of photo opportunities to be had. The tour guide was very friendly and provided us with lots of information. The final stop at the Green Dragon Inn was excellent too. We got a drink of our choosing (ginger beer was nice) and we had a breakfast included in a reserved area. It was delicious! A wonderful place to visit and very interesting. The tour provider was a nice man (Alexander I think) and I enjoyed his commentary on the way there too. I highly recommend this tour even if it is just to avoid the crowds.
November 2014
Great tour. Had a great driver and guide at Hobbiton. Highly recommend the early tour.
November 2014
Unfortunately, they cancelled our "early access" because "not enough people signed up". I think they should have honored it, no matter how many people sign up for it. That's why you pay so much more for it. That was disappointing.That's why I am knocking off one star. The tour we did take was great but about 20 people with us. I wanted to have a small group because I was proposing to my partner. It still happened but we had a large audience, which was not ideal.
October 2014
Was everything I hoped it would be. Even If you do not get this package get a small tour group. Otherwise there could be upwards to 40 people in your group. Group behind us had about that many and I saw that it was almost impossible to get a good shot. Tour guide was very informed and our driver was fantastic.
Advertisement
Advertisement