Embark on a Waiheke Island wine tour including a round-trip ferry ride across the Hauraki Gulf from Auckland. You'll visit three vineyards on the picturesque island with a driver-guide who is knowledgeable about Waiheke's acclaimed artisan wines. Enjoy tastings at Mudbrick Vineyard, The Goldie Room and Te Whau Vineyard, with complimentary light snacks at one venue. Use the included all-day bus pass to explore Waiheke Island further on your own. This tour is limited to 20 people for a personalized experience with fellow wine lovers.
Highlights
Wine tour of three vineyards on Waiheke Island with round-trip ferry service from Auckland
Enjoy premium wine tastings at Mudbrick Vineyard and enjoy stunning views overlooking Hauraki Gulf
Visit The Goldie Room, Waiheke's first vineyard and home to the Goldwater Wine Science Research Centre
Taste 5-star quality wines at Te Whau Vineyard
Receive an all-day bus pass to use at your leisure for further exploration of Waiheke Island

Includes round-trip ferry tickets from Auckland
Small-group tour limited to 20 people ensures personal attention from your guide

What You Can Expect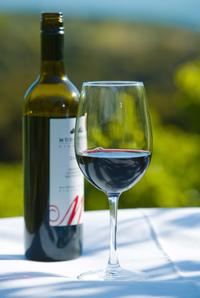 With an ideal micro-climate for producing some of New Zealand's most celebrated artisan wines, Waiheke Island boats plentiful vineyards among seaside villages and beaches surrounded by lavender fields, family farms and forests.
After making your way to the Auckland ferry terminal, take in the idyllic views as you cross the Hauraki Gulf on a 40-minute ride to Waiheke Island, located less than 12 miles (19 km) away. On arrival, you're picked up by coach for a half-day tour of three vineyards.
Be escorted to Mudbrick Vineyard for your first wine tasting among lovely gardens overlooking the gulf. The Goldie Room is your next stop, a pioneer vineyard established in 1978. Savor a selection of their premium estate wines accompanied by light appetizers. Then taste an award-winning selection at Te Whau Vineyard, where you'll get an overview of winemaking from the experts.
When your wine-tasting tour ends, you can either return to the wharf via your coach for the late-afternoon ferry back to Auckland, or linger on to explore Waiheke further on your own, using your complimentary All Day Bus Pass. Ferries to Auckland run until late in the evening; check the schedule for details.
March 2016
Great tour loved waihiki island, tour guide was great, highly recomend.
June 2015
Interesting and magnificiant landscapes, good wines ;) and an very original birthday cake :D
March 2015
This tour was absolutely amazing! I loved the three wineries we visited and our tour guide was a delight. I would highly recommend this wine tour especially if they would be fortunate enough to have our tour guide. I appreciated that he had vast knowledge of all the wines, wineries and waiheke sights.
Thank you for putting together such an amazing tour
Regards
Mandi
December 2014

July 2014
March 2014
Glenn our tour leader was very personable, chatty and tried to be witty. Our visit to Mudbrick was lead by Tristan who was incredibly knowledgeable on growing the grapes, winemaking and the wines themselves. The views from the winery were spectacular and the wines were very good - the chardonnay was my favorite. Goldies served some wonderful cheeses and good wine. At the last winery Te Whau, the owner explained to us his philosophy of wine growing that is very different from the main stream, he was very passionate. The wines are of the Bordeaux style which are not to my taste, but were good. It was a great way to spend the afternoon on Valentines Day.
February 2014
Beautiful island with tours and tastings at three vineyards---very nice day!
March 2016
Very easy to obtain our Ferry tickets included in the price of the tour from Auckland to Waiheke Island. Our driver and tour guide was Glenn and he made the tour quite fun. Mudbrick Vineyard is an upscale attraction and the Mudbrick guide gave a good tour. Personally preferred the Mudbrick wines over Goldie and Te Whau.
March 2016
Although we enjoyed the three vineyards and the history of the island given by the tour guide we found his constant jokes annoying. He also was berating us for not laughing at his jokes!
January 2016
Fantastic scenery, great guide would love to do it all again. The only downfall was that we couldn't go over to the island in the morning to use our bus pass before the tour and had to leave the island straight after it finished to get to our next activity..
Advertisement
Advertisement