Combine the fun of touring Austin by Segway with the thrill of seeing the legendary bat colony of the Congress Avenue Bridge take flight at dusk. Your expert guide instructs you on Segway operations before taking you on an unforgettable tour of Austin's downtown. See the State Capitol building, Moonlight Towers, the Sixth Street Historic District and more as you cruise through this lively city. Learn from your guide about Austin's history, entertainment scene, and of course, the amazing bats, on this informative and entertaining Segway tour.
Highlights
Austin bat-viewing and city highlights tour by Segway

Learn to ride the eco-friendly Segway
Cruise to the Congress Avenue Bridge for an amazing view of as many as 1.5 million bats emerging at dusk

Discover the many benefits of Austin's bat colony

Get a glimpse of the downtown scene as you ride through the Sixth Street Historic District
Stop at the statue of Angelina Eberley, an Austin heroine

See Austin highlights including the State Capitol, Moonlight Towers and the Paramount Theatre
What You Can Expect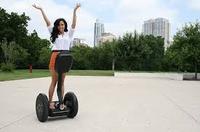 Meet your guide at the shop in Austin Food Park and start with a detailed orientation on how to use a Segway. Practice to get familiar with the controls, and once you are comfortable, follow your guide into Austin's streets.

Glide towards your tour's main destination: the Congress Avenue Bridge, home to North America's largest urban bat colony. During spring and summer around dusk, the bats make their nightly appearance as they leave the colony to hunt for food. Witness the beauty of 1.5 million bats taking flight!

The Austin bat colony is comprised of Mexican free-tailed bats that migrate from central Mexico to the southwestern USA every spring. The misunderstood creatures were initially feared, until wildlife experts explained that bats benefit the city by eating up to 20,000 pounds of insects every night, including agricultural pests, and they are harmless to humans if left undisturbed. Nowadays, the city considers them part of the community; it's a popular sight to see among locals and visitors alike.

Your guide shares more fascinating facts about the bats as you marvel at the cloud of tiny winged mammals for about 20 minutes.

On your journey to and from the bridge, cruise by several Austin landmarks. See the grandiose 19th-century Texas State Capitol building, then buzz by the 165-foot-tall (50 m) Moonlight Towers, thought to be the only remaining light towers in the world.

Continue past the Paramount Theatre, a staple of Austin entertainment for more than 100 years, and zip through the Sixth Street Historic District. Stop at the Angelina Eberley statue to hear your guide talk about the legendary protest of this Austin heroine.

After about 1.5 hours, your guide returns you to your starting point to end your tour.
September 2015
The tour itself was lots of fun with Juan. He was very helpful and got my husband past him falling during training. The Segway is a fun way to get around a city and I would recommend it to anyone. We had an issue since my husband fell before the tour began but Juan coaxed him into continuing on and my husband was very happy that he did though we ended up in the ER later that evening to find out he broke his elbow.
August 2015
First time trying out a Segway. Juan was an excellent instructor and tour guide. Great way to take a quick tour of the city. Austin is a very cool city. I would move there if it wasn't so hot!
June 2015
This was a great tour. We had some scheduling issues and the guys worked with us and helped us rearrange everything. It showed us a lot of downtown Austin and the guide pointed out some great places to visit. Would definitely recommend!!
May 2015
We had a great time, our tour guide was fun, informative and flexible. Great way to see the city and experience something new. Easy to ride - no coordination needed !
August 2014
The highest rating was for our tour guide, who didn't just drag us along on. Chris was great, and tailored the tour to meet our family's needs. There was a lot to see, and we could not have done this with my dad (who has limited mobility) as a walking tour. If you've ever wanted to see someplace but didn't like making your way through busy streets like a salmon swimming upstream, the Segway gives you enough height and clearance that you can see what you want to see.
Warning...I myself am in good health, but because of an old injury that makes it hard to stand in one place for long periods, by the end of the tour I couldn't wait to sit down as my feet were nearly numb. There were plenty of stops to rest, but make no mistake...it is exercise. :)
July 2015
Unfornately due to Tropical Storm Bill out tour was put on hold. I am still waiting to receive the certificate for future use due to the storm. Juan was very helpful and worked things out so he gets a top Bravo Zulu for being customer focused during a difficult situation!!!! 10/10 for Juan!
Advertisement
Advertisement