Discover the beauty and heritage of Provence on a full-day tour of Orange, Les Baux de Provence and Arles from Avignon. In a small group, visit the UNESCO-listed town of Orange to view the beautifully preserved Triumphal Arch and Roman amphitheater. Then head to the perched village of Les Baux de Provence for panoramic pastoral views, and Arles – the city famously captured by Van Gogh in paintings like Le café de nuit.
Highlights
Small group tour of Orange, Les Baux de Provence and Arles from Avignon

See the Roman ruins of Orange, including the Triumphal Arch and Antic Theatre

Wine tasting at Chateauneuf-du-Pape cellar

Walking tour of Arles' Roman and medieval buildings

Free time for lunch and exploration in Orange or Arles

What You Can Expect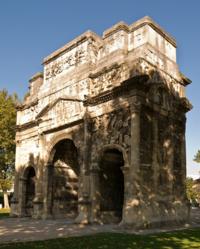 Your 10-hour tour of picturesque Provence begins with morning pickup from your Avignon hotel. Hop in the comfortable minivan and enjoy the 30-minute scenic ride to nearby Orange, a UNESCO-listed town that boasts some of the most celebrated Roman sites in Europe.
In Orange, follow your expert guide on a tour of the city's most impressive sites such as the Triumphal Arch – an ancient structure inscribed with praises for and tales of various Roman emperors – and the grand Roman amphitheater, widely considered to be one of Europe's most magnificent and best-preserved examples. Next, travel south through rolling vineyards to Châteauneuf-du-Pape, a lovely town in the Rhône Valley surrounded by prestigious wine estates. You'll stop at a 100-year-old winery to taste fine wine and tour the wine cellars, then pop into the estate shop to purchase some wine and souvenirs to take home.
Climb back in the minivan and continue south to Les Baux de Provence – a fortified medieval village carved straight from the limestone-rich earth. En route, visit 'Les Antiques' of Saint-Rémy-de-Provence, a triumphal arch and funeral monument from the time of Augustus. In Les Baux, meander through narrow stone streets to view the many original 16th-century houses, the labyrinthine ruins of the Château de Baux and other main attractions such as the Museum of Santons and St Vincent Church.
The final stop on your full-day tour is Arles, a stunning seaside town known to many as the landscape for Van Gogh's famous paintings La maison jaune, Le café de nuit and Le jardin de l'hotel Dieu. Tour these famous settings and Arles' Roman relics before returning to Avignon. Your tour ends with drop-off at your hotel in the evening.
Please note: The itinerary order will change depending on the day and local market schedules. The tour will break for free time and lunch (own expense) in Orange on Thursday and Arles on Saturday.

May 2016
Very well done and informative.
April 2016
Lots to see and very enjoyable. Good site choice. Friendly, upbeat tour guide, Violet.
September 2015
It was a memorable day trip, covering many places I could not have done myself. Our guide Violette was knowledgeable and helpful, showing several points with handheld illustrations.
I would recommend this trip, especially from September onward as public transport to Les Baux stops.
August 2015
Excellent tour. Great roman ruins to see
July 2015
Our tour guide was very knowledgeable and discussed any topic the group brought up. We learned all about the Roman ruins that are kept in great condition.
June 2015
Very good tour including Roman ruins in Orange and Arles, and the unique hill top city of Les Baux. Enough free time to roam about and take in all the history.
May 2015
Excellent tour for experiencing both the Roman sites and learning about Van Gogh. Melanie was an enthusiastic and knowledgeable guide. If you only have a short time in Provence, this tour maximizes use of your time. Each stop was definitely worthwhile.
October 2014
This tour gave an excellent overview of the Provence region, and every town we stopped at had something different and special to offer, and our tour leader provided an excellent and informed commentary. All three key aspects of the tour were very enjoyable and time was available for us to enjoy the features of each, e.g. the Arles market, the Roman amphitheatre in Orange and the beautiful village of Les Baux de Provence.
June 2014
We had a fantastic experience. Our tour guide picked us up exactly at the time we were told. Selene was extremely professional yet very friendly and accomodating. She was very versed on the subject matter and answered all of our questions. Our day could not have turned out better. Lastly, after we left the vineyard where the wine tasting took place (probably half way back to our apt.) my husband realized that he had left his jacket with his camera behind. With the consent of the other person on our tour the guide called the vineyard to make sure that someone was still there and returned to pick up my husband's stuff. I think that she certainly went out of her way to accommodate us. Again, I would recommend Viator to friends and family based on several experiences of using their services from tours to pick up service to the airport. We will continue to use Viator in the future without hesitation.

April 2014
A very informative tour covering some beautiful Provence towns
The ancient Roman sites were especially good to see with plenty of time to explore on your own
Advertisement
Advertisement