Follow the trail of the Romans through ancient Provence on this private half-day tour from Avignon! With an expert guide, visit celebrated Roman ruins and hear tales of Roman emperors, conquests, engineering and architecture in southern France and beyond. See the UNESCO-listed Pont du Gard aqueduct and travel to the city of Nîmes to view the Magne Tower, the Arena of Nîmes and the remarkable Maison Carrée (Square House), a masterfully preserved Roman temple.
Highlights
Private tour of Provence's Roman landmarks from Avignon
Visit the Pont du Gard aqueduct, a UNESCO World Heritage site
Witness the fascinating, well-preserved Roman remains in Nîmes
See the Arena of Nîmes, the Maison Carrée and the imposing Tour Magne

Learn about the history of each sight from your knowledgeable private guide
Hotel pickup and drop-off by private vehicle included

What You Can Expect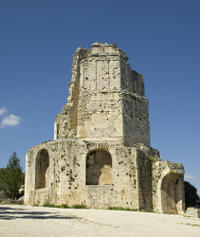 Your private historical tour of Provence begins with morning or afternoon pickup by minivan from your Avignon hotel. Over the course of four hours, follow in the footsteps of the Romans, viewing some of the world's best preserved Roman ruins and hearing stories and mysteries of the ancient empire.
Arrive first at the UNESCO-listed Pont du Gard, a massive aqueduct on the Eure River. Considered an ancient work of art, this three-tiered construction is the highest of all elevated Roman aqueducts at 160 feet (49 m) tall. View the perfectly preserved masterpiece of ancient engineering and the rushing Gardon River below. Learn how the structure was built and how it delivered water to the nearby city of Nîmes – which is your next stop!
Take a short ride to the Roman city of Nîmes, home to some of France's best-preserved ancient monuments. Lose yourself in story as your guide explains the city's main relics – some from 4th century BC! See Maison Carrée, a temple built in 16BC by Marcus Vipsanius Agrippa to honor Emperor Augustus' two heirs. Hear how the temple has been used over the centuries, and how that has contributed to its near perfect preservation. Explore the Arènes de Nîmes (Nîmes Arena), a formidable Roman amphitheater built in the 1st century, and the Tour Magne (Magne Tower), standing at the highest point of the city. Learn about the tower's original function as a strategic stronghold and its (relatively) modern role in the Hundred Years' War. From this lofty vantage point, see Nîmes as a Roman sentry would have thousands of years ago!.
After your insightful tour, relax for the short ride back to your hotel in Avignon.
May 2014
Again, our driver/guide was delightful but we only visited two of the three places listed in the promotion material. We went to Uzes and the Pont du Gard, but not to Nimes. However, the tour was still enjoyable and our driver was very knoweagable.
September 2015
My low rating starts with the fact that when you browse the mobile application to book you see a tour from 37 Eu, but you are charged 153 Euros. There does not seem to be a way to see how this changed prior to committing and paying. And as of this date nobody at viator has responded to my inquiry. . .wonder if we will use them again.
The tour guide Nicolas was excellent and did everything he could do to make it so. But the time is extremely short. Parking in Nimes far from the Mason Carree - leaves only time to pay the expensive entry at the Arena to go in for 5 minutes so that there is time for Maison Carree - where you only see the outside as there is no time to go in. The Pont du Gard visit is well worth it, but again time is very short.
These are remarkable places and they definitely deserve more time or a different arrangement,
Advertisement
Advertisement