Blend ancient Roman history and traditional winemaking heritage on this 9-hour Provence wine-tasting day trip from Avignon. Take a scenic drive through the Châteauneuf-du-Pape winemaking territories. Visit two wineries with your guide and sample the wine for yourself during tasting sessions. Discover the UNESCO World Heritage
–
listed Pont du Gard, a 1st-century Roman aqueduct. Travel deep into the Alpilles mountain range and visit the medieval villages of Les Baux de Provence and Gordes. Enjoy personal attention from your guide on this small-group tour, limited to eight people.
Highlights
9-hour wine tasting day trip through Provence from Avignon
Enjoy a scenic drive through the wine-growing territory of Châteauneuf-du-Pape
Visit two local wineries with your guide and sample the wines during tasting sessions
Marvel at the UNESCO–listed Pont du Gard, a Roman aqueduct
Visit the medieval villages of Les Baux de Provence and Gordes, high in the Alpilles Mountains
Tour includes round-trip travel from your accommodation in Avignon
Small-group tour limited to eight people ensures personal attention from your guide
Why Our Insiders Chose This Tour
If you're visiting Provence and can't decide whether to focus on the wine or the history, this tour is for you! Enjoy tasting sessions at two wineries in the Châteauneuf-du-Pape territories and marvel at the mighty Pont du Gard, a UNESCO–listed Roman aqueduct.
What You Can Expect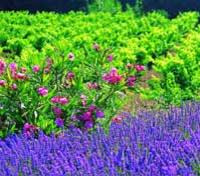 Following a morning pickup from your accommodation in Avignon, meet your guide, hop into your air-conditioned minivan and head out of the city into the rolling hills of the Châteauneuf-du-Pape winemaking territories. With fertile soil and plenty of warm sunshine, the region offers ideal grape-growing conditions.
Visit two local wineries with your guide and gain insight into the grape varieties which flourish here. Counoise, Muscardin and Picardin are all known to grow well, but there are many more! Admire row after row of lush vines and learn of the age-old winegrowing techniques still in use today. Enjoy tasting sessions at each of the wineries during your visits and gain appreciation of the delicate flavors at play in your glass.
In the afternoon, continue on to the UNESCO World Heritage
–
listed Pont du Gard — a mighty aqueduct built by the Romans in the 1st century. Enjoy panoramic views over the Gardon River below and listen as your guide details the aqueduct's historical significance.
Head onward into the Alpilles Mountains and visit the picturesque medieval village of Les Baux de Provence. Perched on a rocky limestone outcrop, the village boasts amazing views over the French countryside. Gain insight into the village's rich heritage from your guide, then continue on to Gordes — widely considered the most attractive village in France.
In Gordes, enjoy free time to explore at your leisure. Perhaps find a local café or restaurant for lunch (own expense) and take the time to explore the cobbled streets. Like Les Baux de Provence, Gordes sits high in the Alpilles Mountains and the views over the landscape below are breathtaking.
When it's time to leave Gordes behind, hop back in your minivan and travel back to your hotel in Avignon, where your day trip will come to an end.
January 2016
A very comprehensive tour of wineries with knowledgeable guides and tasting of excellent wines. Including Pont du Gard, Les Baux and Gordes is a great idea. The tour guide was extremely pleasant and competent
June 2014
We loved the tour and all that it included. Perfect combination of wine tasting , quaint villages, and historical landmarks. We covered a lot of ground in one day.
Julie B Canada
June 2010
The best way to see Provence in a day. A long day, but full and enjoyable. Our tour guide was excellent I appreciated that she didn't "perform" and really just talked to everyone and was interactive. LOVED the tour and tasting at Chateauneuf du Pape - our hostess was wonderful. A lot of driving, but it was beautiful.
Carolyn G USA
May 2010
Our guide, Caroline, was very informative and friendly. The wine tasting was exceptional. We never would have seen so many things if we were navigating with a GPS ourselves. It gave my husbanddriver a day off to just appreciate the sights. I give it an A.
August 2008
Our tour guide was amazing. She did her very best to get us from site to site quickly and safely. The places she took us were fabulous and unforgettable. The wineries she took us to were great they talked to us and showed us around. The atmosphere was unbelievable. Thank you so very much for providing such a wonderful service.
Angela C USA
August 2008
Our tour through the Provence wine country and villages was one of the highlights of our trip. Our guide was wonderfully friendly and knowledgeable. We saw some breathtaking sights such as the cliff-side village of Gordes as well as two great wineries, where we were educated on wine and even the history of Chateauneuf du Pape. During the drives to the different sites, the guide kept pointing out landmarks and spouting so many facts; I was thoroughly impressed. Very much worth our money, and we would do it again.
December 2010
This tour is great for weary travelers. Leave the driving to the locals and enjoy. We were alone for the AM leg, so we got to decide just how long we would spend at the different sites. The PM leg was a little more rigid but still loose enough to get a decent visit. I have motion sickness but it was not a problem (just lucky?) even though there was lots of driving involved.
Mary Carolyn B USA
April 2009
The tour guide was great and very flexible. It was a great day!
January 2015
Well this tour started off well. The pick up was on-time. Our guide was very nice and took us to two wineries in the morning. Things were well organized and things moved along smoothly. The second half of the trip was a little less smooth. Several of the villages we visited did not have anything open this time of year, something that the guide and Viator should have been aware of. Our guide improvised and did the best that she could and I have to say she definitely gets an "A" for effort. We ended up deviating from the original tour to make things work, however had we followed the original plan I would have found this trip a bit too long. Building in a nice lunch along the way would have been a good idea. Definitely better to take in warmer climes.
January 2011
The title indicates a wine tour, but in reality it was 2 wineries followed by nearly all the same stops found on the Provence in One Day trip offered. Slightly disappointing, not because of the guide or tour, but because it was not the 'wine tasting' we were expecting.
Advertisement
Advertisement