Witness Roman relics and age-old traditions of wine and olive oil making on a full-day tour from Avignon. In Les Baux de Provence, visit a local olive mill to sample fine AOC olive oils and see how they're made, then head to an estate in the Chaîne des Alpilles for a wine-tasting session. Afterward, visit the Roman amphitheater in Nîmes, tour medieval Uzès and view the UNESCO-listed Pont du Gard aqueduct.
Highlights
Full-day Provence trip to Les Baux de Provence, Nimes and Uzès from Avignon
Sample AOC olive oils on a tour of a mill and sample Les Baux wines in a Provencal chateau
Spend time at leisure in beautiful Les Baux de Provence
Explore the Roman city of Nimes and tour its amphitheater – used in the film Gladiator
Visit Uzès and see the UNESCO-listed Pont du Gard aqueduct on the way back to Avignon
What You Can Expect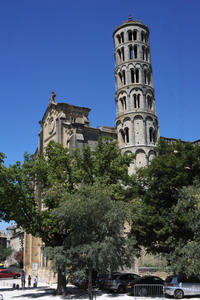 Set off in the morning from your Avignon hotel by comfortable coach. Watch the countryside unfold as you travel south to Les Baux de Provence – a fortified medieval village perched high in the Alpilles mountains. Take a brief stroll through narrow stone streets, admiring panoramic views of the stunning Provençal countryside, then head to a local olive mill to sample quality Appellation d'Origine Controlée (AOC) oils. As you tour the mill, learn more about the AOC standard that governs product quality and characteristics. Watch fruits being pressed and taste the rich oils made by delicately blending different olives.
Afterward, travel to the foothills of the Alpilles mountain range (Chaîne des Alpilles) to tour a distinguished winery. While at the estate, you'll learn about the complex characteristics that makes up the region's rich soil and define Les Baux wines, 85 percent of which is organic and biodynamic. After a stroll through the facilities, indulge in a sampling of several fine wines. You'll have a short break for lunch (own expense) before the heritage portion of the tour.
Next, travel west of Les Baux to the ancient Roman city of Nîmes, home to some of France's best-preserved ancient monuments. Pop on headphones and lose yourself in the audio narration as you view the city's relics – some from 4th century BC! See Maison Carrée, a temple honoring Emperor Augustus' two heirs, and the formidable Roman amphitheater when the film Gladiator was famously set.
Finish in the quaint medieval town of Uzès, France's first duchy (residence of a duke or duchess). Stroll narrow streets through honey-colored buildings to visit the Fenestrelle Tower, Place aux Herbes (the main square) and Uzès Cathedral. Then travel to the stunning UNESCO-listed Pont du Gard aqueduct on your way back to Avignon.
Your 10-hour tour ends back at your hotel in the evening.
August 2015
really fun...and long day! I wish we had more time to swim at Pont Du Gard. The tour guide gives a little history on each place and basically just lets you roam around for a while. Nice!
June 2015
One of our best trips.
The fascinating village of Les Baux perched on a steep mountain side was a highlight, fully supported by the wine and olive oil producers we visited.
In the afternoon, the Roman and mediaeval remains of Nimes were well worth visiting, though I found the Arena a bit underwhelming. The well-preserved mediaval town of Uzès was fascinating to explore. A pity the Pont du Gard was right at the end, when we we were somewhat weary - but it was nevertheless a real highlight.
Excellent driver.
November 2015
We thought the tour was quite good. The one improvement that could be made, is to have the stops guided by the driver. We had Carole who was incredibly knowledgable. She gave us lots of background information while driving but it would have been better while actually touring the sites.
July 2015
This was a very good tour of the top sites in the area, the aqueduct was breathtaking. And the time atLes Bauxite, Nimes, and Uzes was about right. However, two complaints about the tour guide: her focus on two passengers in the front of the van answering there many questions off- line versus the group in the van and her apparent unawareness of the need for nature breaks on a very hot day when water consumption is needed. I found my own stops of necessity.
November 2015
A nice trip, but I'd suggest to make it different. I think it should start by visiting Nimes and Uzes Nimes is one of the most charming cities I've ever been to, and to finish in the olive and wine tasting. The tasting was good, but at 9 o clock in the morning, it was a little bit weird
July 2013
Tour was full so they put me on two half day tours which was disappointing. Morning was good, afternoon was ok.
Advertisement
Advertisement