Immerse yourself in the mythical wonder of the Outback on this 2-day tour of Ayers Rock highlights. Witness a colorful sunset and sunrise over the sacred monolith of Uluru (Ayers Rock), and explore Aboriginal legends and ancient cave art on a guided walk to the Mutitjulu waterhole. See the legendary rock domes of Kata Tjuta from many angles, including a walk through the Walpa Gorge. Stay overnight at your choice of Ayers Rock accommodation and enjoy round-trip airport transfers.
Highlights
Explore the outback on this awe-inspiring 2-day tour of Uluru and Kata Tjuta from Ayers Rock
Witness the changing colors of Uluru (Ayers Rock) at sunset
See the mystical Kata Tjuta (The Olgas)
See cave paintings and listen to dreamtime stories
Learn about the geology and flora of the region
Tour the base of Uluru (Ayers Rock)
Overnight accommodation in Ayers Rock at your choice of Budget, Standard or Superior.
English-speaking guide
Hotel pickup and drop off
Recent Photos of This Tour
What You Can Expect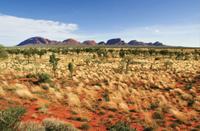 Experience highlights of Australia's legendary Red Centre with this convenient 2-day stopover at Ayers Rock. Choose from various levels of included overnight accommodation to suit your style and budget.
Itinerary
Day 1: Uluru (Ayers Rock)
On arrival at Ayers Rock Airport you will be transferred to your hotel. This afternoon travel around the base of Uluru in comfort as your Driver Guide provides informative commentary about the numerous sacred sites and geographical features to be found at Uluru. Continue by coach to the Kuniya Walk where your Driver Guide will escort you to the beautiful Mutitjulu Waterhole. View Aboriginal rock paintings and learn about the area as your Driver Guide points out native flora and explains the Aboriginal and European history of Uluru. Later visit the Uluru – Kata Tjuta Cultural Centre, where you can learn about Aboriginal culture and purchase Aboriginal arts and crafts.

In the late afternoon, travel to the Uluru sunset viewing area. Witness the striking colour changes of Uluru at sunset while enjoying canapés and a complimentary glass of wine.

Overnight: your choice of accommodation at Ayers Rock Resort

Day 2: Uluru (Ayers Rock) & Kata Tjuta (Olgas)
Rise early this morning to travel to the Uluru sunrise viewing area. Watch the first rays of the sun set the Red Centre alight while enjoying a warming cup of tea or coffee. Then travel to the mystical 36 domes of Kata Tjuta. On the way enjoy panoramic views of the southern side of Kata Tjuta before arriving at the base of Walpa Gorge. Spend some time exploring the gorge and the unusual conglomerate rock formations. The walking trail through Walpa Gorge follows the natural creek between two of the tallest domes of Kata Tjuta.

In the afternoon you will be transferred to Ayers Rock Airport for your flight.

Accommodation Options:
Outback Pioneer Hotel : The Outback Pioneer Hotel has a true outback, pioneering atmosphere that gives guests a real taste of traditional Australian hospitality. Cook up some outback delights on the barbecue or come and share a few yarns about your adventures in the Red Centre over a beer and some hearty bush tucker in the Bough House Restaurant.

Desert Gardens Hotel : Enjoy the charm of the Desert Gardens Hotel where magnificent ghost gums and flowering native shrubs provide a distinct botanical theme. Set amidst the landscaped gardens, the hotel features a swimming pool and is close to the resort's shops and Visitors Centre. The hotel offers a range of stylish accommodation. Desert Gardens is the superior hotel at Ayers Rock Resort and is centrally located to all resort and touring facilities.

Sails in the Desert : Sails in the Desert is the premier hotel at Ayers Rock Resort, with spacious, airy and exquisitely furnished rooms set in lush park-like grounds. Deriving its name from the distinctive sail-like structures, which provide shade and a touch of elegance to its design, Sails in the Desert is the ultimate in luxury in the Red Centre. Rooms are spacious and exquisitely furnished, all with private balcony or verandah. The hotel features a swimming pool, tennis court, mini golf and three restaurants.
Please note: Due to operational requirements, hotel lists are subject to change by the tour operator without notice.

May 2016
Very good tour. Friendly and knowledgeable staff. Very good organization. I would highly recommend this tour to those who are interested in visiting Uluru and Kata Tujuta.
February 2016
Fantastic experience! Although it was a quick trip, everything was smooth as could be. Both the tour of Uluru and Kata Tjuta were amazing experiences. Uluru was majestic and one of the greatest things I have ever witnessed. It was a truly magical place for me as it was something I have always wanted to see since I was a small boy. The guides were very knowledgeable and were quick to answer any questions. The room accommodation was ok and had the basics you'd need for an overnight stay. The staff everywhere at the hotel were also very friendly and helpful, which to me also aided the experience that much more. I had a fantastic time and only wished my vacation was longer so I could have spent more time out there. Highly recommend it if you can find some time.
November 2015
This tour was outstanding. We did see a lot and the mos beautiful sites!
August 2015
The tour spread over the 2 days was great. To see Uluru at sunset and again at sunrise was pure magic.
Our driver/guide had an extensive knowledge which he shared with us. To be recommended
March 2015
Wow - we saw everything and more we could possibly wish for on this whirlwind trip, which was perfectly organised with uber friendly staff. Thank you to the whole team!
December 2014
Great organization and informed guides! Be prepared for the weather and carry water (it was 106F when we walked the 2.5km return trip to Kata Tjuta waterhole). The sunset watching party was great with snacks and wine/soft drinks provided. There are free shuttles to/from the airport from the resort throughout the day - you are not constrained to the AAT shuttle bus. That will help in flight planning.
December 2014
It was a great tour. Very well organized and very well run.
Would highly recommend.
Dennis M USA
December 2009
First Class treatment with a two day comprehensive tour. From our greeting at the airport to the farewell as we departed, this tour offers everything you want to see and do at Uluru. Highly recommended!
Antonella M Italy
January 2009
A great experience!
Nicholas B United Kingdom
August 2008
Excellent all around - the hotel, the tour bus, the way we were looked after and seeing Uluru and the Olgas at both sunset and sunrise. It was a brilliant experience.
Advertisement
Advertisement