41 Reviews
Location:

Ayers Rock, concludes Alice Springs, Australia

Duration:

3 days / 2 nights
Special Offer
Book by November 30, 2015 and travel by December 31, 2015 to save 5% off our previously offered price!
Discover Uluru, Kings Canyon and Alice Springs on this 3-day tour starting at Ayers Rock and ending in Alice Springs. Explore Australia's great Central Desert - watch the sunrise over Uluru (Ayers Rock), visit the magnificent Olga Gorge and Kings Canyon, with their beautiful waterholes and dazzling views. Stop off at a huge cattle station and the remote, early telegraph town of Alice Springs.
Highlights
Explore Australia's great central desert as you travel across Ayers Rock to Alice Springs via Kings Canyon on this 3-day tour
Driving through the vast open spaces of Outback Australia
Witness Uluru (Ayers Rock) at sunrise
Tour around the base of Uluru with your guide

Guided walks at Mala and Mutitjulu Waterhole
Learning about the Aboriginal Tjukurpa (Dreaming) and rock art
Walk through the awe-inspiring Kings Canyon
Recent Photos of This Tour
3-Day Tour from Uluru (Ayers Rock) to Alice Springs via Kings Canyon
What You Can Expect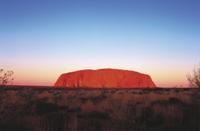 Day 1. Kata Tjuta, Sunset at Uluru
Arrive at Ayers Rock Airport before 1pm and be transferred to your hotel. Later in the afternoon visit the 36 immense rock domes of Kata Tjuta. Enjoy a guided walk into Walpa Gorge and marvel at the sheer walls that flank you as you enter the gorge. Join a walk into Walpa Gorge, where some of the plants are so rare that they are only found in and around these distinct sandstone formations. Then travel to sunset strip where you will enjoy a complimentary glass of wine as you admire the spectacular display of light and color as you watch an Uluru sunset.
Overnight: Choose from budget, standard, first class or deluxe accommodation

Day 2. Uluru Sunrise, Kings Canyon
Rise early to see Uluru at sunrise from the viewing area of Talinguru Nyakunytjaku. In the stillness and quiet, enjoy a cup of tea or coffee and feel the spiritual heart of the Australian Outback. After watching the sun rise, travel to Uluru to tour around the base with your guide. Then join a guided walk to Mutitjulu waterhole, see ancient rock art and hear stories of Aboriginal legends. Discover the history and culture with a visit to the Uluru-Kata Tjuta Cultural Centre and see traditional arts and crafts on display. This afternoon, journey to Watarrka National Park, the home of Kings Canyon.
Overnight: Kings Canyon Resort only

Please note: Please have breakfast earlier at your hotel or arrange a breakfast box to take with you

Day 3. Kings Canyon Walk, Alice Springs
This morning enjoy a guided walk up to the rim of awe-inspiring Kings Canyon for spectacular views of the canyon's walls. Then walk through the ancient Lost City and the lush Garden of Eden to a waterhole (requires a good degree of fitness). Another less strenuous walk along the canyon floor is also available. This gentler alternative takes you deep into the canyon between the towering orange walls. This afternoon travel to Kings Creek Station. After lunch (own expense) continue on to Alice Springs, arriving at 6.30pm

Respecting Indigenous Culture
Visits to Indigenous sites may change at short notice, due to the cultural and ceremonial obligations. The Anangu (Aboriginal landowners) regard Uluru as a sacred site and strongly discourage climbing the rock.


Itinerary
FIRST CLASS HOTELS:

Ayers Rock: Sails In The Desert (Standard Room) - The premier hotel at Ayers Rock featuring spacious, airy and exquisitely furnished rooms, all with private balconies or verandahs set in lush park-like grounds. Deriving its name from the distinctive sail-like structures which provide shade and a touch of elegance to its design, Sails in the Desert is the ultimate in luxury in the Red Centre.

Kings Canyon: Kings Canyon Resort (Deluxe Spa Room) - Spacious, fully-appointed and stylishly furnished room featuring private spa facilities and private balconies.

SUPERIOR HOTELS:

Ayers Rock: Desert Gardens Hotel - spacious well-appointed rooms with private bathroom facilities

Kings Canyon: Kings Canyon - Spacious, well appointed standard rooms with private bathroom facilities

STANDARD HOTELS:

Ayers Rock: Outback Pioneer - Standard rooms with private bathroom facilities

Kings Canyon: Kings Canyon Resort - Spacious, well appointed standard rooms with private bathroom facilities

BUDGET HOTELS:

Ayers Rock: Outback Pioneer - Comfortable lodge and cabin-style accommodation with private bathroom facilities

Kings Canyon: Kings Canyon Resort Lodge: - Shared budget rooms with communal kitchen. Rooms are fully air-conditions and feature twin or quad bunks. Bathroom facilities are private
July 2015
Everything was fantastic and we had a great time. The coach drivers were particularly helpful and knowledgeable. Couldn't find fault with anything
April 2015
Very well organised trip. All guides and drivers excellent, friendly and informative.
March 2015
The tour itself is great. The tour operator (one of the few in the area) was great. It seems Viator changed their description between booking time and tour time. It was also my mistake that I did not check the tour operator's website for more information after I received my confirmation.
I went on this tour with the expectation that I would board a bus day 1 and be on that same bus through day 3.
This tour is really a series of tours. You must call and confirm before your arrival. Have a pen and paper ready to write down the details. Not everyone in your group is on this tour. You will also need 3 liters of water per person for the Kings Canyon tour; a Camelbak is recommended. Also wear appropriate clothing and footwear for walking.
The scenery is very nice and I would go on it again. I highly recommend.
August 2014
Our Flight was late in arriving so we missed part of our first tour to the Olga's but the sunset and sunrise experience at Uluru were absolutely phenomenal. King's Canyon was amazing although I didn't know if I could climb the 500 steps but once at the top I was so glad I had. The guides, drivers etc were all amazing and so knowledgeable and made it very interesting. Would do it again in a heartbeat.
March 2014
A wonderful trip. I read the reviews before and was open minded. This is a great way to see Kings Canyon, the drive is long but the driver was good with updates and I investigated the times before. Everything worked smoothly and was on time, our driver John, helped me arrange an additional helicopter trip and was very accommodating, thanks. A great way to see Oz in comfort and not having to do the driving yourself. The Resort was similar to Ayers Rock with food prices and the trip is clear about inclusions. Yes no live bugs in the room and given that we are in the Outback I was impressed with how clean the room was, on the same standard to Ayers Rock. Very quiet and I felt safe.
I did not realise that Viator were an Agent until afterwards, the trip was the same price as booking direct and I will be using again for other trips.
February 2014
This was my first time into the central Australian desert, and I could not have hoped for a better introduction. Since I have a slight disability, I was worried whether I would be able to do the walking but in fact it was the walking I enjoyed most, and the distances, grades and times allowed were just right. Also, for someone who likes a drink (but not too much), the sunset drinks at Uluru were just what I needed. Apart from the walking, the detour to King's Canyon in your huge bus expertly driven by Jenny, together with Jenny's expert guided tour up the canyon, were again perfect. I felt a new man afterwards!
December 2013
Very good organized tour, timing well respected. Comfortable busses. Interresting journey. But as french speaking people we did not understand all the explanations that were given by our guides. Would it be possible that AAT Kings provide a summary of the different points of interest - in french for example ? May be also in other languages .? .. Or videos with subtitels or headphones ? Best regards.
December 2013
Brilliant drivers and guides and amazing hotels, Maria the driver was the best! Could do with a bit of a longer base waslk around uluru though. Commentary was great and we learnt loads and saw wildlife.
December 2013
The tour was everything we wanted and gave us the opportunity to see Uluru at sunset and sunrise, The Kings canyon (The rim edge walk is a must!) and get to Alice Springs in time for a sunset on Anzac Hill and the Royal Flying Doctor Museum the following day (not included in tour price). The tours guides are great and provided just enough info upfront with opportunity to ask for more later. The only comment I would make is that the tour ended in Alice on the evening of the 3rd day but bizarrely did not include a hotel that night. No problem for us but perhaps puts people off this otherwise excellent tour
December 2013
We had a beautyfull stay. Hotel, walks and all was perfect. Our meanguide Karl (Driver and .......)
was a real specialist and he told us a lot of interestid things . Congratulation also to the other guides in Uluru!
The days are more than Five stars!!
Special Offer
$575.13 Save $28.75
Advertisement
Advertisement