11 Reviews
Location:

Alice Springs, Australia

Duration:

4 days

(approx.)
Explore the Australian Outback on a four-day camping tour that takes you to iconic sites in the Red Centre, including Uluru (Ayers Rock), Kata Tjuta (the Olgas), Kings Canyon and the West MacDonnell Ranges. Begin the tour in Alice Springs or Ayers Rock and travel with your expert guide by 4WD-vehicle. Hike, swim and sleep in a swag or permanent tent under the stars on a small-group tour that is limited to 16 people for a more customized experience of stunning Central Australia.
Highlights
4-day Uluru, Kata Tjuta and Kings Canyon camping tour from Alice Springs or Ayers Rock
Watch Uluru (Ayers Rock) change color at sunset, and see the sun rise over Kata Tjuta
Take guided walks around Uluru, Valley of the Winds, Watarrka and Ghost Gum Walk, and learn about Aboriginal traditions from your guide and hosts
Experience life on a traditional outback cattle station
Swim in rock pools in the MacDonnell Ranges
Enjoy campfire dinners and sleep under the stars at outback campsites
Small-group tour with maximum 16 people provides a more intimate experience
What You Can Expect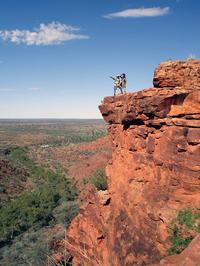 Spend your days hiking, swimming and exploring, and your nights under the southern stars on your four-day camping tour in Australia's spectacular Red Centre. After pickup in Alice Springs or Ayers Rock (Uluru), travel to UNESCO World Heritage-listed sites including Uluru (Ayers Rock), Kata Tjuta (the Olgas), Kings Canyon and the West MacDonnell Ranges. Learn about Aboriginal culture, take guided hikes in the Outback, visit a historic cattle station, look for wildlife and swim in natural rock pools. Your experienced guide shares fascinating stories about the places you visit and assists with any questions throughout the trip.

Sleep in your choice of a swag (a compact bedroll with mattress and bedding) or in one of the campsite's permanent tents and share meals around the campfire at night. All meals are included, along with camping gear, drinking water, transportation by 4WD, and hotel pickup and drop-off.
Itinerary
Day 1: Alice Springs — Uluru (L, D)
Enjoy pickup from your Alice Springs or Ayers Rock (Uluru) accommodation (or Ayers Rock Airport if flying directly into Uluru), then spend the afternoon visiting the Uluru Cultural Centre to learn about the traditional legends and culture of Uluru's Aboriginal people. Take a guided base walk around Ayers Rock to learn more about the spiritual significance of Uluru. At sunset, sip sparkling wine while enjoying the magnificent sight of the sun setting over Uluru. Complete your first night in the Outback with a delicious meal shared around the campfire, then sleep under the stars or in your tent.

Overnight: campsite in Uluru-Kata Tjuta National Park

Day 2: Uluru — Kata Tjuta – Kings Creek (B, L, D)
Wake up early to travel to a lookout near your campsite and begin the day with the majestic sight of the sun rising over Uluru and the red rock domes of Kata Tjuta. Enjoy breakfast at the campsite, then head off to Kata Tjuta for a 4.5-mile (7-kilometer) hike through the Valley of the Winds. After lunch, travel to Curtin Springs Cattle Station to experience life on a traditional working cattle station. Then soak up the outback serenity of your private campsite at Kings Creek Station.

Overnight: campsite in Kings Creek Station

Day 3: Kings Creek -- Watarrka National Park (B, L, D)
After breakfast at your campsite, take a guided walk around Kings Canyon (also known by its Aboriginal name, Watarrka). Admire the natural rock formations, including the Amphitheater and Lost City, then take a bumpy 4WD ride into Aboriginal country along the unsealed Mereenie Loop Road, keeping an eye out for wildlife along the way. Spend the night at the Glen Helen campsite, near a waterhole that the traditional landowners believe is home to an ancient and powerful Rainbow Serpent.

Overnight: campsite in Watarrka National Park

Day 4: Watarrka National Park -- Alice Springs (B, L)
Travel off-road after breakfast, heading for the West MacDonnell Ranges. Look for massive perentie goanna lizards at Ormiston Gorge, and cool off with a swim in the rock pools. Enjoy a 20-minute 'Ghost Gum Walk' to capture the sights and scents of the outback, then relax on the trip back to Alice Springs, arriving in the city in the late afternoon.
August 2015
WayOutback Tours did a terrific job packaging the Red Centre experience. Itinerary and travel were excellent in covering the 4 days in depth. Our guide Annabelle was very good in her story telling and managing the trip. The party of 14 with us were all from Europe and were very enthusiastic about everything we did.
Susan H United Kingdom
May 2015
This was our first experience of Viator and Wayoutback. The trip was chosen by my husband as a Ruby wedding anniversary trip. I had no expectation but the description and itinerary was certainly accurate. The advice on what to take proved invaluable so we were pretty well prepared. Early morning starts are clearly the norm and essential. In May it's dark so don't forget the torch as there's no light in the tent. Likewise its dark when you arrive at the next campsite. I'd done caravanning and glamping but this was very different. The party size was ideal at 16. We had been to Australia many times but not been in the outback. Life was very different for the whole 4 days. We are fit 60's and this trip involves long days and includes a good deal of walking but the scenery was worth the effort we had to put in. Dan our guide worked really hard and gave us a terrific time. We were living and working in the outback for the 4 days. Relaxation is restricted to the 4WD transfers. I slept in the tent on a bed in a sleeping bag and a good thick blanket all provided of course. Meanwhile my husband took Dan's advice and slept by the campfire in a swag under the night sky which is an amazing sight. If you want a different type of holiday this is it. The experience of our lifetime. We haven't stopped talking about it as we enjoyed ourselves so much. This was largely due to Dan our team leader, guide and mentor. Obviously he is very experienced, extremely enthusiastic and loves the life which he wants everyone to share. He showed us some amazing scenery, was very knowledgeable about the social history, flora, geology and wildlife. If you do nothing else you must do this tour.

April 2015
Terrific way to see all of the major sites in the red center.

Ryan Canada
April 2015
Great tour, looks to see and the guide was excellent.
February 2015
These guys are great. Went on the 4wd 4-day tour. Lucked out and got two very experienced guides for our 15 person group normally, its just one. Jason and KT were amazing. Always felt very safe in their care. They were always very positive and patience with the group. Always very willing to answer any question in detail. They obviously had a great passion for the land, plants, wildlife and especially the aboriginal people. You will learn a ton on this tour and come away with an appreciation of the Outback and its billions year old history.
December 2014
We all thoroughly enjoyed this unique experience. Our guide/driver/cook was amazing. (We will certainly remember his chocolate cake cooked over the campfire!) This tour was comfortable enough for the 70 yr old and exciting enough for the younger members of the party and enabled us to see parts of the outback inaccessible to the hotel based tours.
December 2014
the guides Timmi and Mandy were very very busy - gave good informations, friendly, awsome cookers,
I enjoyed my time with them and in the whole red center very much.
The weather was extremely raining but also very very interesting - all in all.
Thanks a lot for all :-)
April 2014
Wonderful tour, our guide Filippo really went out of his way to make the tour as enjoyable as possible. Highly recommended!
January 2014
This trip was Amazing. We had a particularly excellent tour leader, driver, cook, info guide extraordinaire! I have both led and assisted in leading groups in other continents and traveled in many settings ways so know what it takes.
We slept under the stars, if preferred, I did, stayed in a bush camp, just our group. I think we lucked-out with a good group and perhaps, as another in the group said - it pays not to take the cheapest tour! In booking, I was looking for a way to get from Uluru [where I stayed 3 nights beforehand at Sails including xmas day, hired a car and did stacks of walking [and swimming] and this subsequent 4WD trip lived up to my expectations and more. I didn't want to do hotel stays and couldn't have done the back roads, which I love to do, in regular hire vehicle. I also wanted to get local info, a bit of other company yet smaller group, so this was a perfect way to feel 'outback' and maximise walk experiences - returning to walks I had done at Uluru and Kata Tjuta at other times of the day before joining this trip. The Red Centre is truly magical and so old and we given lots of wide-ranging information lots Brilliant, thank you, XJ
April 2015
Great memorable trip despite the negative issues. The tour guides Jules and Stevo were friendly and good. The main negative is that we spent only 4 rushed hours at Uluru. The cultural centre was disappointing with no interaction with any aboriginal people. The tour vehicle had an inefficient aircon so that it was cooler with the windows open than with the air conditioner on. With temperatures in the 30s this was not a comfortable trip.
Advertisement
Advertisement