Marvel over Australia's most mesmerizing natural landmark as you soar overhead in a helicopter. Hop aboard for an exhilarating 55-minute flight, enjoy unrivalled aerial views of UNESCO-listed Uluru (Ayers Rock) and learn more about the sacred rock as you listen to the in-flight commentary. It's not just Ayers Rock that you'll see: look out for the glittering Lake Amadeus and the striking Kata Tjuta (The Olgas) rocks as you swoop over the desert plains. This morning or afternoon tour includes hotel pick-up.
Highlights
Enchanting 55-minute ride over the Red Center by helicopter
Spectacular views of Lake Amadeus, Uluru (Ayers Rock) and Kata Tjuta (The Olgas)
In flight music and informative commentary in English, French, Italian, German and Japanese on a compact disk audio system
Plenty of photo opportunities
Hotel pickup from Ayers Rock Resorts
Recent Photos of This Tour
What You Can Expect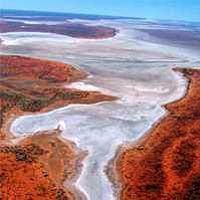 This 55-minute helicopter flight takes in amazing sites including Lake Amadeus, the largest salt lake in the Northern Territory and the World Heritage listed Uluru and Kata Tjuta. With pick and drop off at your Ayers Rock Resort accommodation included, this extended helicopter tour is an absolute must!
April 2016
This was an amazing experience, our group to a person were in awe of the sights of lake Armadeus, the Olga's and Ayres Rock, our pilot was amazing in his commitment to our safety and his knowledge Of the lakes Olga's and Ayres rock.
This is a tour I would highly recommend to any visitors Ayres rock.
December 2014
Great trip, Ben our pilot was fantastic very friendly. It is worth doing this flight to see Lake Amadeus it is spectacular. We were lucky be the only passengers on our flight so had great views. Can't recomm this trip enough
July 2011
Absolutely excellent. Just how you organised perfect weather and flying conditions is beyond me. A highlight of our trip. Lake Amadeus was something everyone should see.
May 2011
The only way to see the massive scale of the outback , and watch the sun rise over the red centre. Wow!!
January 2011
Amazing, would definately recommend
Robert G Australia
May 2010
A fantastic flight and view of the area. Only two of us in a 4 seater helicopter, so it was our own private flight!
Stephen B United Kingdom
September 2008
This was the highlight of my month long trip down under.
Anonymous
September 2008
What can you say about it!!! Uluru and the Kata Tjuta from the helicopter, made you feel like you're inside a nature documentary. Wonderful scenery. Highly recommended. We loved your staff, so courteous.

September 2015
A great way to see Uluru and surrounds. The helicopter ride in itself was an exciting, fun thing to do, very stable even on the windy day we travelled. The views were superb and the height allowed us to have a really amazing perspective of how huge the rocky monoliths are. A spectacular way to start your time at Ayers Rock. The only negative was that it was a little hard to hear the pilot's narrative, however, he was excellent and made us feel very welcome and safe.
Ronald B Australia
May 2010
Enjoyed thoroughly, well worth the ride! Saw hundreds of wild camels and the weather and visability was perfect.
Advertisement
Advertisement