Immerse yourself in the legends and rugged beauty of the Outback and save up to 15% with this Super Saver combo tour from Ayers Rock. Walk around the base of Uluru with an indigenous guide, and watch the sunset over the sacred monolith from a viewing area. Feast at a traditional outdoor Aussie barbecue, and get lost in the clear desert sky during guided stargazing. On a different day, catch a spectacular sunrise over Uluru and the ancient domes of Kata Tjuta, and explore the majestic Walpa Gorge on a morning walking tour.
Highlights
Uluru Sunrise Indigenous Experience plus Kata Tjuta Tour including a BBQ Dinner
Take a walk along the trail through Walpa Gorge at Kata Tjuta

See the changing colour sky as the sun sets over Uluru

Enjoy a barbecue dinner under the stars at Ayers Rock

Experience a spectacular sunrise over Uluru
Take a base walk around Uluru with an indigenous guide and learn about Uluru's importance to the Anangu people
Recent Photos of This Tour
What You Can Expect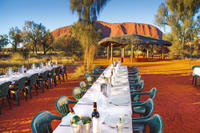 Enjoy savings of up to 15% with this Super Saver combining two popular Ayers Rock tours. Take the tours on two consecutive days and in either order to suit your sightseeing schedule.
Uluru Sunset Indigenous Experience and Aussie Barbecue Dinner
After pickup at Ayers Rock Resort in the afternoon, travel by coach to the base of Uluru. Meet your Anangu guide and interpreter — an indigenous owner of Uluru — and take a guided walk alongside the soaring walls of this ancient sandstone monolith. Visit exclusive aboriginal sites and listen to legends about Uluru passed down verbally for thousands of years. In warm weather, walk to the Muitjulu waterhole, or take the Lungkata walk in cooler seasons.
Make a brief visit to the Uluru-Kata Tjuta Cultural Centre, and then continue on to a special sunset viewing area. Enjoy nibbles and Australian wine as the sun dips toward the horizon and Uluru is bathed in changing golden light.
Once the sun has set, travel to a secluded Outback setting for a traditional Aussie barbecue under the stars. Feast on grilled meats and sausages, accompanied by salad and your choice of Australian wine, beer or juice. Enjoy tea with dessert, and then join your guide for stargazing in the clear desert sky. Look for well-known constellations and hear Aboriginal legends associated with the stars. After your enchanted evening, relax on the return ride to your Ayers Rock hotel.
Uluru Sunrise and Kata Tjuta Tour
Prepare for early morning pickup at Ayres Rock Resort and travel to the Talinguru Nyakunytjaku viewing area inside Uluru-Kata Tjuta National Park. Warm up with a steaming mug of tea or coffee as you appreciate the serenity of a quiet desert morning. Watch the ancient formations of Uluru and Kata Tjuta emerge from the darkness as day breaks in brilliant colors across the Red Centre.
Travel to the base of Kata Tjuta for a new perspective on its 36 ancient domes, and embark on a guided walking tour through Walpa Gorge. Learn about the Aboriginal and geologic history of the formation as you follow this beautiful creek trail that cuts between Kata Tjuta's two tallest domes.
December 2015
A fantastic experience , highly recommended , had great time :o
August 2015
August 2015
August 2015
Outstanding trip, unique scenery and well-informed guiding. Even though it was a long day 5am-9pm, it was worth every minute. Only downside was high price for tickets.
June 2015
Great tour very professional and informed staff. Very special experience would definitely recommend it.
June 2015
It was great and fun. Value for money. Tour Guide operators were excellent
May 2015
The sunrise was one of the most beautiful experiences I have ever had. The change in the rock was stunning. The cultural morning was interesting to see the tools and the different roles undertaken by men and women in their culture.
The sunset was also gorgeous and included complimentary sparkling wine however the sunrise really did steal the show. The bbq dinner under the stars is a great end to the day. We were lucky enough to have a clear night so looking upto the sky was incredible. The food is nice and well organised to ensure everyone gets their meat cooked to their liking.
May 2015
This tour was amazing.
Well organized. Would recommend .
Worth getting up early.
Dinner under stars was great.
April 2015
Great tour. Must visit. Good day. Good food. Don't miss.
March 2015
I certanly recomend this tour.It was amazing!
Advertisement
Advertisement