Taste traditional 'bush tucker' — indigenous Australian food of the Outback — on this 2-hour tour at Uluru, also known as Ayers Rock. Learn from your Aboriginal guide about native animals and plants used for nutritional and medicinal purposes for generations by the Anangu people of Central Australia. You'll be introduced to different methods of food collection and cooking methods for foods ranging from finger limes and desert plums to termites and kangaroo.
Highlights
Taste bush tucker treats on this indigenous food tour from Ayers Rock

Take a look into the Aboriginal culture in Central Australia

Hear stories passed down by your Anangu (indigenous) guide

What You Can Expect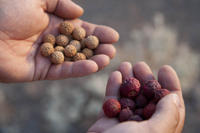 After hotel pickup at Ayers Rock Resort, embark on an exploration of Aboriginal foods, known throughout Australia as 'bush tucker.' A professional Anangu guide, indigenous to the local area around UNESCO-listed Uluru–Kata Tjuta National Park, introduces you to foods that have been gathered and hunted in Australia for nearly 40,000 years.
Learn about various methods for collecting and preparing foods, such as cooking with hot coals or wrapping food in tree bark and roasting it in an earthen oven. Discover how nutritious seeds and nuts are ground to make dough for bread and plants, and how flowers are used as spices and medicine to treat various ailments.
Taste a selection of bush tucker, which may include termites, kangaroo and finger limes — some of which are highly sought-after gourmet foods now featured in top restaurants around the world. As you sample these Aboriginal specialties, hear insights and stories about this harsh yet vital desert, home to more than 400 species of native flora.
Your
2-hour
tour ends with hotel drop-off at Ayers Rock Resort.
January 2015
The guides son was very badly behaved?! I was very surprised. He was trying to eat all of the food and snatching things off other people?!? It seemed to take the focus away from the trip. It would have been good to have had a print off of what plants/bush food we might see on the walk round...as the guide only pointed things out to us...which we then had to try and remember when we got to late taste the foods. I enjoyed learning about how they live off the land though
November 2014
it was not worth the money that we paid. All we seen was two holes in the ground and the young girl we had tried her best to show us four trees and show us seed and nuts that she said that you can buy at IGA
we did not have a aboriginal host. And we were not told about life in the desert she told us to go for a walk till she setup . We thought that bush tucker was more than just seeds and nuts
Advertisement
Advertisement