Enjoy a small-group tour of majestic Kata Tjuta, one of Australia's most iconic natural wonders. Travel from Ayers Rock Resort to Walpa Gorge, part of the Kata Tjuta site that lies within World Heritage-listed Uluru-Kata Tjuta National Park. Learn the natural history and stories of this sacred site and take a walk through the Walpa Gorge for an amazing perspective on a key landmark in Australia's Red Centre. Travel in a small group with a maximum of 11 participants for a more intimate experience.
Highlights
3.5-hour guided tour to Walpa Gorge in Kata Tjuta, from Ayers Rock Resort

Experience walking among the massive dome–shaped rock formations of Kata Tjuta

Learn the geology, history and cultural significance of Kata Tjuta
Explore Walpa Gorge on a guided walk

Returns to Ayers Rock Resort in time for Sounds of Silence dinner (not included)

See Kata Tjuta in a small group limited to 11 participants for a more personalized experience

Recent Photos of This Tour
What You Can Expect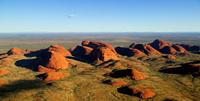 After hotel pickup from Ayers Rock Resort, travel with your guide in a climate–controlled minivan through the stunning landscape of Australia's Red Centre.

Drive about 45 minuted into Uluru-Kata Tjuta National Park, where Australian native animals including kangaroos and perentie lizards can sometimes be spotted.

When you arrive at Kata Tjuta, your guide leads you on a 1.5-mile (2.5-km) walk through the Walpa Gorge. Learn about the geology of the 36 dome-shaped rock formations that make up Kata Tjuta and admire the scale of the red rock walls that surround you. Hear the wind (walpa) far above and marvel at this ancient place that is sacred to the Aboriginal people.

After about two hours exploring the Kata Tjuta site, your guide returns you to your Ayers Rock Resort hotel in the late afternoon.
February 2016
Great being in a small group rather than the big buses you see carting tourists around. Excellent guide. Highly recommended.
February 2016
This was a lovely trip and the guide was extremely informative. It was a very hot day and she made sure everyone was safe on the walk to the gorge. We were able to modify the trip so that everyone got to enjoy the walk, even the least fit. Sylvia was our guide, she was enthusiastic, caring and full of good information. I really enjoyed the trip.
Laraine O Australia
May 2015
We found the small group tour really good for us and we would recommend it to others.
December 2013
Really small group tour, because there were only two people, me and my guide (Jess)!! haha She was extremely friendly, and made me feel at home. Although I was more than 30 minutes late (sorry Jess...), she was very kind and welcoming. Kata Tjuta itself was plain amazing as well. Highly recommended!!
Sheila H United Kingdom
July 2013
Our guide was very laid back and informative. Lots of tales and info given en route. The walk was unbelievable and so awesome in the original meaning of the word. Local stories about the formation of the rocks much more inspiring than geographical ones! A great trip at the fantastic Ayers Rock.
June 2013
Excellent tour guide and experience. Small group of eleven which ensured personal attention. Very informative trip to our destination including Abroginal culture and their history over the thousands of years in the red centre. Then arriving at Kata Tjuta (Olgas) we were met with a magnificent scene of a harsh landscape and a breathtaking valley within the Katta Tjuta. On our two kilometre walk through the valley the tour guide, Stacey, made her way to every person in the tour discoursing history and answering a multitude of questions. Stacey was also concerned and monitored every one of us as to our health and capacity to walk the journey over the uneven earth along the valley floor. It was most reassuring. We had plenty of photo shoots and plenty of time to absorb the views and significance of the Kata Tjuta. I would reccommend very highly this tour and our tour guide Stacey.
March 2016
Very beautiful walk. Not nearly as long as Urluru. Tour guides were very knowledgeable and helpful. They made the trip very pleasant and interesting.
February 2016
Great watching the sun rise over this beautiful scenery.The short walk that followed breakfast could be challenging for some due to the rocky terrain underfoot however the vbiews were well worth the effort.
July 2015
Enjoyed the commentary while in the van. The guide Ryan was very friendly and patient with our team different skill levels. Liked where we were taken for our walk. Thought it was a little pricey for what you got and wish there was a one day park pass option I realize this isn't the tours fault.

April 2013
Excellent walking tour of the Wolpa Gorge and nice drive through the Uluru-Kata Tjuta National Park. Our guide was very informative and our very small group learned a lot about the area and the native inhabitants, wild life and plants. Make sure you wear good, sturdy sneakers, bring plenty of water, and bug repellent! Our guide did have a water jug to replenish our smaller bottles and he carried a natural bug repellent cream as well. Others on our tour had hats with mesh but we were not quite that prepared but given the fact that our one piece of checked luggage didn't get on our flight, we had to make due with the items we had in our carry on. If you are going to take this tour, make sure sneakers, and bug spray are in your carry-on! This tour got back in time for us to make the Sounds of Silence Dinner pick-up and it was a very informative, moderately strenuous introduction to the Outback.
Advertisement
Advertisement