Enjoy a camel tour against the incredible backdrop of Ayers Rock (Uluru) and Kata Tjuta. Choose an express camel ride in the morning or afternoon, or select a sunrise tour (includes billy tea and baked beer bread) or a sunset tour (includes sparking wine, beer or soft drinks with snacks) and watch the changing colors of Uluru at dawn or dusk. You're led through the outback in Australia's Red Centre by an expert cameleer who shares knowledge of the desert's wildlife and ecology along the way. Hotel transport included.
Highlights
Uluru (Ayers Rock) camel tours

Enjoy fabulous views of Uluru and Kata Tjuta from the back of your camel
Meet a camel expert and get to know central Australia's famous camels
Choose a camel ride at sunrise or sunset, or an Uluru express ride in the morning or afternoon
Includes pickup and drop-off from the Ayers Rock Resort hotels
Why Our Insiders Chose This Tour
An outback camel ride is the ultimate way to experience the beautiful Australian desert and take in the views of Uluru and Kata Tjuta. The cameleers are enthusiastic and friendly, and the camels are treated like family, each with their own distinct personality and pet name.
Recent Photos of This Tour
Uluru Camel Express, Sunrise or Sunset Tours
What You Can Expect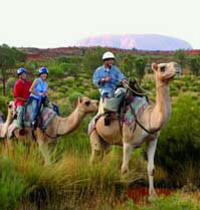 Roam the central Australian desert on a slow-paced camel tour, led by an expert guide, and gaze at the awe-inspiring sight of Uluru (aka Ayers Rock) as your backdrop. After hotel pickup, your cameleer shares interesting facts about the ecology of the Australian outback and UNESCO World Heritage–listed Uluru and Kata Tjuta (the Olgas) seen in the distance.
Learn about your one-humped, dromedary travel companions, brought to Australia in the 19th century, and c
ontemplate how the outback pioneers traveled across regions of Australia.
Now estimated to number 200,000 in the wild, these tame camels are well-trained to provide a comfortable ride.
Choose from sunrise, sunset or express camel tours. Watch the desert come to life at dawn or dusk. If you're short on time, take a morning or afternoon express camel ride for a taste of central Australia's traditional transport. Finish with drop off at your hotel.

Sunrise Camel Ride (2.5 Hours)
Take in the cool morning and watch the rising sun
light up Uluru and the surrounding plains
as you cross
the desert on a peaceful 1-hour camel ride through stunning sand dune country. A
fter the ride, e
njoy billy tea and freshly baked beer bread (damper) with
quandong
jam (outback native fruit).

Sunset Camel Ride (2.5 Hours)
Set out at dusk for a 1-hour camel ride and marvel at the deepening hues as the sun sets behind the desert plains, sharpening the monolithic outlines of Uluru and Kata Tjuta. Return to the camel farm at twilight to enjoy sparking wine, beer or soft drinks with snacks.

Morning or Afternoon Camel Express (1.5 Hours)
For a shorter camel ride, cross the desert on a 45-minute express camel trip including views of Uluru, Kata Tjuta and the outback landscape. Then visit the camel museum to learn more about the important role of camels in the Australian outback.

Note: the afternoon express ride is seasonal and only operates from April to October.

May 2016
Excellent! Amazing team and experience.
Robert M Australia
May 2016
Thoroughly enjoyed this tour. Operators were friendly, informative and well organised. Photo opportunity sitting on a camel with the Rock in the background was a great idea.
Would have loved to do the sunset tour but weather was not great so the express was a better choice for us.
April 2016
Loved it! The camels are so very tame and well behaved! We did see the sunrise, and it was incredible!
Highly recommend!
April 2016
For anyone wondering if they should do this or not go for it! The ride and scenery is great and the guides are full of interesting information and make this trip worth every penny and more!
April 2016
Good food amazing experience a must if you are visiting Ayers Rock.. Tour was very well organized.
April 2016
Really loved it! Friendly and humorous staff who were very informative. Loved the scenery and the gorgeous camels. Would definitely recommend to others.
March 2016
Love the camels. You do need to wear a face net as the bugs are bad.
March 2016
Fantastic experience, with spectacular views. The tour leaders were awesome, with lots of knowledge of camels and NT, and a genuine passion for camels.
March 2016

February 2016
We enjoyed the camel ride and sun rise. The camels were good condition and well trained by staff .
Advertisement
Advertisement