Immerse yourself in the rich cultural tapestry of Java on an enriching 2-day tour from Bali. Accompanied by an expert guide, absorb the sacred majesty of UNESCO World Heritage-listed Borobudur Temple and Candi Prambanan; embrace the vibrant bustle of Yogyakarta; and gain fascinating insight into the island's artistic traditions at a textile factory and puppet-making center. Enjoy comfortable overnight accommodation and opt to include round-trip airfare from Bali for a convenient experience.
Highlights
2-day Yogyakarta tour from Bali
Experience the hustle and bustle of Javanese life on a Yogyakarta city tour

Visit two UNESCO World Heritage-listed 9th-century Hindu temples: Borobudur Temple and Candi Prambanan
Visit Sultan's Palace, the seat of Java's most powerful royal family
Overnight accommodation and round-trip airfare from Bali to the island of Java included (if option is chosen)

Overnight accommodation and round-trip airfare from Bali to the island of Java included
What You Can Expect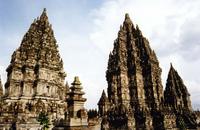 See the sacred temples, exquisite architecture and natural splendor of Java on a 2-day tour of the island from Bali. Depart from your hotel in Bali and fly to the island to begin exploring with an accomplished guide. See the UNESCO World Heritage-listed Borobudur Temple with its beguiling bell monuments; admire the ancient structures at Prambanan Temple; and enjoy a cultural experience at the creative puppet making and fine art centers of Yogyakarta.
Enjoy one night's comfortable accommodation and meals indicated by the Itinerary on this enriching cultural excursion. Opt to include flights from Bali at booking, or arrange your own transportation to Java.
Itinerary
Day 1: Bali – Yogyakarta
(L)
You'll be picked up from your hotel in Bali and taken to the Bali Ngurah Rai International Airport (also known as Denpasar International Airport) for your morning flight to the island of Java. When you land in the city of Yogyakarta, your guide will meet you at the airport and take you on a sightseeing tour of the city, during which you'll experience the hustle and bustle of Javanese life.
Next, drive 1.5 hours north to Magelang to visit must-see UNESCO World Heritage-listed Borobudur Temple, a 9th-century Mahayana Buddhist temple. Take a walking tour of this historical, religious and architectural gem, and admire the lush mountain backdrop.
You'll then visit Candi Prambanan, another 9th-century Hindu temple complex and UNESCO World Heritage Site. Dedicated to the Trimurti -- the expression of God as the Creator (Brahma), the Preserver (Vishnu) and the Destroyer (Shiva) – Prambanan is one of the largest Hindu temples in Southeast Asia, and will fascinate you with its ruins that still feature fine contours and intricate stone carvings.
After your temple tours, you'll be taken to your hotel.
Overnight: Yogyakarta Plaza Hotel or similar in Yogyakarta
Day 2: Yogyakarta – Bali (B)
After breakfast at your hotel, discover Yogyakarta's artistic side on another city tour. Start with a visit to Sultan's Palace, the seat of java's most powerful royal family. Then, stop by a batik factory to see how these fine Javanese hand-printed textiles are produced.
Your last stop is a center where the famous
wayang kulit
leather puppets are intricately crafted by hand. Your guide will explain how the type of theater that uses these puppets has been designated a UNESCO Masterpiece of Oral and Intangible Heritage of Humanity.
Your tour will conclude with a transfer back to the airport for your afternoon flight to Bali. When you land, you'll be picked up and taken back to your hotel.
Please note
: If you'd like to make flight arrangement on your own, please choose '
2-Day Java Tour without Flight' option.
February 2015
The tour included with return airfare from Bali, We were actually concerned that the tour company might use budget airline which was recently had an accident. Luckily the airplane was a Boeing 737 operated by Garuda Indonesia. It was a standard and pleasant flight to Java and saw some active volcanos on the way.
In Java, both our main guide and the driver are both very nice and adequate. Because it was only us two. They asked what we want to like and dislike and what most attract us in the tour. So they made plan for. Service was above average and very good planner. We got independent tour guides on Borobudur temple and Sultan's Palace. I think the big surprise and highlight of the tour was our stay in Hyatt Regency. I personally think it is the most romantic and best accommodation of all we stayed in entire Indonesia. Service was excellent and we can see a volcano from our room! Food is the best on the island, both dinner and breakfast. Because of the rain season, there wasn't too many people here. So we got many people serve us two. Make this tour very romantic. They have local culture show if you stay there for Saturday buffet which last very long. The hotel has many activities like swimming, massage, golf, tennis, horse cart tour in the village. We wish we were in hotel earlier to try all. Overall it is a excellent and relax tour!
December 2014
We were very happy with our two-day tour to Yogyakarta and Borobudur Temple. The guide and driver were excellent, but the best part was putting us up in the very fancy Hyatt Hotel, which we enjoyed very much. The only complaint I could express is that I thought we would be picked up at the Bali airport on our way back to Bali!!
September 2014
It was a marvelous experience our guide was polite and he explained to us about the temples and we had a 4 -5 star hotel for the night
October 2013
Despite an early start needed to get the internal flight from Bali, this was a a thoroughly enjoyable trip. The guide and driver were both very well informed and spoke excellent English and the drive as well as the sights and temples we visited were very interesting throughout both days. The quality of the hotel provided was also very high
Advertisement
Advertisement