Immerse yourself in the rich culture of Bali as you discover the fascinating history and many attractions of island's interior on this full-day, 8-hour excursion. Stop by some of Bali's most famous natural sites as you explore Mount Batur, Lake Batur and the mountains of Kintamani, then watch craftsmen building 'gamelans' (a typical Indonesian musical instrument), explore the island's Archaeological Museum and visit typical villages such as Blahbatuh and Sri Batu. This day-long Bali highlights exploration also includes a guide, entrance fees, afternoon tea or coffee and round-trip transport from your hotel.
Highlights
Full-day Bali sightseeing tour
Visit the villages of Blahbatuh and Sri Batu
See how musical instruments are cast for a gamelan orchestra
Explore the mountains of Kintamani and view the Mt Batur volcano
Wander through a bamboo plantation in

Penglipuran

village
Enjoy afternoon coffee and tea at Bukit Jati
Hotel pickup and drop-off included
Recent Photos of This Tour
What You Can Expect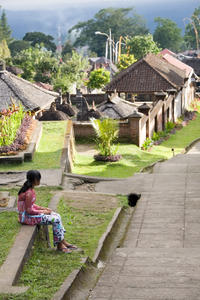 Journey into the lush interior of Bali as you explore the island's rich cultural and historical heritage on this day trip covering some of its top attractions. Whether you're in search of stunning natural scenery, a taste of local customs or a chance to learn about Balinese culture, this excursion is for you.
Start your day with a pickup from your Bali hotel between 30 and 60 minutes before 9am. Your exact time will be verified at the time your tour is reconfirmed. Then begin your trip by comfortable coach on an exploration of a variety of sites, with each stop lasting between 30 and 45 minutes.
Head first to the village of Blahbatuh, where the island's last surviving gong-maker plies his trade creating Balinese musical instruments. Check out the village factory where you'll watch the production of a whole gamelan orchestra, an instrument composed of small bells and larger gongs. You'll also hear about the process of how island residents forge the metal pieces for these intricate instruments.
Proceed to Bali's Archaelogical Museum, also called Gedung Arca, situated 4 miles (7km) from Ubud and 18 miles (30km) from Denpasar. The museum's collections contain a wealth of historical and pre-historical artifacts dating back to the Stone Age. Check out bronze bells from the 15th century and admire giant stone sarcophagi, dating back to 500BC, that once held members of the island's royal class.
Continue next to the plantation at Sri Batu, where you'll investigate the various plants being cultivated and learn about their many medicinal and culinary uses from your guide. You can also purchase a food souvenir during your visit from the plantation's offerings of coffee, cloves, tropical fruit and spices.
Your excursion then moves on to the cooler mountains of Kintamani, where you'll have a chance to observe the dramatic Mount Batur. You may be able to see black lava descending from the crater of this active volcano, descending down toward the sparkling waters of Lake Batur, which lies at the mountain's base. Grab lunch (at your own expense) at a local restaurant along the shores of this amazing lake, taking time to enjoy its crescent shape and stunning steep crater walls that surround it.
After lunch, continue to Penglipuran, where you'll have time to explore a nearby bamboo plantation. Learn about the rich customs of Balinese village life during your village visit, then proceed to your final stop at Bukit Jati for afternoon tea or coffee served among the area's lush rice fields and views of the ocean beyond.
April 2016
Fantastic tour and well recommended. Local guide with great experience and knowledge.
December 2015
The main highlight of this trip was to Kintamani. Overall a very good trip.

July 2015
It was incredible. The guide was very informative, polite and very resourceful.
I'll be touring with viator when I go on holidays again. :
June 2015
The tour guide was very likeable, spoke very good English and answered lots of questions with deep knowledge of the subject. As it always is with tours, guides are trying to make a buck off you by referring you to various shops, but you can just say no to the upsales and go straight to the interesting stuff.
7.5 hours of enjoyable fun!
John P United States of ...
June 2015
Had a great time with our tour guide. Took us to some beautiful sites in Bali including a nice buffet lunch overlooking a volcano.
Would recommend for your trip to Bali.
May 2015
As I was the only one on this tour the guide allowed me to go where I wanted. You do feel a bit used on these tours in Bali as you are dropped off at successive places silver factory, coffee farm and then a wood carving place and then followed around until you buy something. Tour companies must be on commission. However, i can see that they appreciate purchses as it goes straight to the local people. apart from that, wonderful!
May 2015
Tour was excellent. You actually get to see traditional Bali not just the tourasty places. Guide was very good. Spoke good English and was very knowledgeable. Pick up was timely from hotel.
May 2015
As the day went on it became more amazing! We started out going to a few businesses as stops to see the process of jewelry making, wood carving and musical instrument construction. The day went on to exploration of a village, bamboo forest and, my favorite, the coffee plantation! The young man was very knowledgeable about ginger, lemon grass and, of course, COFFEE! Even as a non coffee drinker, I was impressed. There was a variety of tea and coffee flavors. Luwak and Bali coffee are delicious!
We had lunch overlooking Mt. Batur with a great view. The only thing was we had only one restaurant to eat at and it was pretty pricey.
We finished the day having tea with a view of the rice fields around sunset.
Both the driver and guide were very nice and knowledgeable.
Great job!
May 2015
Great tour, with excellent stops. The guide was very knowledgeable. They were also very accommodating to changes when my wife got ill with a fever.
April 2015
Our guide, Radi was very knowledgeable about the island quite an educational tour
Advertisement
Advertisement