Take a break from the beach on this 6-hour, adrenaline-pumping white water rafting trip in Bali, including buffet lunch. Try your hand at the Class II and III white water of Bali's Ayung River, set amidst the area's luxurious tropical jungles and scenic valleys. After finishing your wild ride through the rapids, take a break for a relaxing float along the river's calmer stretch, where you'll observe Hindu shrines, exotic birds and idyllic waterfalls. You might even spot a monkey or two if you're quick. Finish your trip with buffet lunch at a nearby café and shower.
Your rafting adventure also includes a guide, all equipment, and round-trip transport from select hotels.
Highlights
2-hour white-water rafting adventure on Bali's Ayung River
Admire spectacular rainforest scenery as you navigate exhilarating Class II and III rapids with your guide
Paddle through the dense jungle and under beautiful cascading waterfalls
See Hindu shrines and wildlife such as birds and monkeys
Enjoy a buffet lunch overlooking the river and warm up with a hot shower
No experience required!
What You Can Expect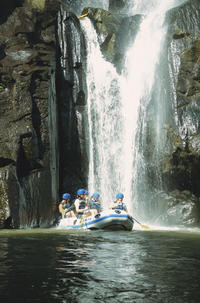 Add a little adventure to your trip to Bali with this white water rafting excursion on the island's beautiful Ayung River. Whether you're looking to add some action to your Bali vacation, or simply hoping to experience the lush landscape of the island's interior, this rafting experience, appropriate for guests of all fitness levels, is a great option.
Start your rafting trip with pickup from select hotels in Bali at 8am. Please note that some hotel pickups will commence prior to this time and that there may be a transport fee if no other tour groups will be joining the trip on your day of departure. Check with your operator for more details. Head with your transport to the rafting put-in location, listening first to a safety briefing from your guide and receiving a helmet and lifejacket. Then proceed with your guide and boat down to the river, the feeling of anticipation and excitement spreading through your body.
Following a couple more quick safety checks, it's time to push off. Grab tight to your paddle and enjoy the rush as your boat maneuvers its way through the roaring torrents of Class II and III white water. Soon the roaring rapids slow to a more manageable level, offering you time to admire your surroundings set amidst the dense jungle and deep valleys of the river. You'll float beneath postcard-perfect waterfalls and see colorful Hindu religious monuments, spotting for exotic birds and monkeys in the trees as you go.
Finish your rafting trip with a chance to warm up under a steaming shower before tucking into a delicious buffet lunch at a riverside cafe. Then receive a drop-off back at your Bali hotel.
Itinerary
May 2015
The experience was amazing, Dena our instructor was the friendliest guy we met on our trip telling us stories of Bali's history and culture. He really made the experience better ten fold. The river is calm enough to relax on but still has the rapids to make it exciting, overall we had an amazing time.
March 2015
Was a brilliant day out, beautiful river and surroundings

March 2015
Wonderful experience and professional guide. Foods and drinks are provided after the rafting ended.
Suzy USA
December 2014
Sooo much fun! We're in our 60's and we had a ball. If you aren't healthy enough to handle steep steps down and up, this may not be for you. You can take it easy going back up the 238 steps, but you'll feel it the next day. Again, we loved it and highly recommend it...just be aware of all the step
December 2014
The experience was great. Great tour guide it was ashame not more water ,overall it was great would do the trip again.:):)
January 2014
A must have tour in Bali. Remember to bring water proof camera case otherwise you will miss a lot great photos! And get ready to get all wet in your shoes. You have to put shoes on at all time.
January 2014
I wanted to do something adventurous with my partner. I found Viator were providing a White Water Rafting tour...so I booked it. Sobek were the rafting company and the whole experience from the booking to the minute we were dropped back to hotel was fantastic.
Thankyou
Neil
January 2014
its my first time to experience white water rafting and im glad i did!! our boat captain "spider" took care of us while on ayung river. meet new friends from hongkong and the fear of water gone out of me! highly recommended

June 2013
What an adventure. Could not have asked for anything more. It was fun, fun, fun.
Adrendaline kicked in as soon as we started rowing. Loved it!!!
January 2013
This was much better than I expected!
They faxed the hotel the day before to confirm what time they would collect us.we were on the water for at least 1.5 hours. It was great fun and you get quite wet!
Advertisement
Advertisement