Special Offer
Book by 30 June to save 20% off our previously offered price! Travel dates valid until 31 October 2016
Get acquainted with the playful monkeys that reside in the sacred Monkey Forest on this half-day excursion from Bali. Explore the beautiful Balinese countryside in search of the monumental Royal Temple of Mengwi, a structure thronged with shrines, intricate carvings and protective moats. Gain fascinating insight into Indonesia's heritage with a knowledgeable guide and marvel at the breathtaking Sunset Temple as you gaze at the offshore structure. Convenient round-trip transportation for your hotel is included on this tour.
Highlights
Visit the village of Gulingan and the royal temple of Mengwi - Pura Taman Ayun
Sample traditional fried Tapioca and Sweet Potato cultivated in unique Balinese style
Surround yourself around hundreds of native Monkeys in the Monkey Forest
Take yourself back to the 16th century with a visit to the village of Tanah Lot and its famous sunset temple
Informative and friendly guide
Hotel pickup and drop off

Recent Photos of This Tour
Bali Monkey Forest, Mengwi Temple and Tanah Lot Afternoon Tour
What You Can Expect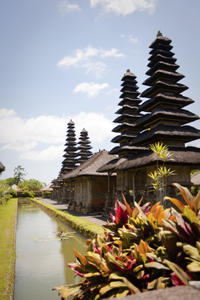 Depart from your Bali hotel in a comfortable, air-conditioned minivan and absorb the scenic splendor of the countryside. Take a short stop to capture terraced rice paddies on camera and hear about the unique agricultural methods that create the scenic fields. Arrive at the quaint village of Gulingan to stroll amid the region's exotic flora, and then relax in a traditional Indonesian pavilion, sampling a delectable fried sweet potato and tapioca snack accompanied by a refreshing beverage.
Depart from the picturesque village then travel to the Royal Temple of Mengwi (Pura Taman Ayun) to relish the astounding architecture of the complex; see protective moats and an array of sacred shrines beside intricately carved wooden gates.
Next proceed to the sacred Monkey Forest to become acquainted with its mischievous residents; stand beneath the cluster of towering trees home to hundreds of monkeys. Finally, arrive at Tanah Lot, affectionately termed the Sunset Temple due the magnificence of the sunsets there. Admire the black lava towers of the 16th-century temple then return to the coach for the relaxing journey back to your Bali hotel.
June 2016
Fantastic guide, took us to many places along the way to the monkey temple. Beautiful sunset at Tanah lot

April 2016
An excellent trip and great tour guide with good knowledge. will recommend to anyone who to see sunset. Tanah Lot is a very beautiful temple seen from a far!
February 2016
January 2016
Great afternoon out. This trip is a must see. It's a long afternoon as the traffic in Bali keeps you on the road the sights and sounds of Bali are just so beautiful it's not a hindrance. Tanah lot is very busy with hundreds of people there but it is worth going to see...a once in lifetime experience for sure. Thank you!
December 2015
Tanah Lot id breathtaking. It is a must see when you visit Bali.

August 2015
Very informative tour guide. I thoroughly enjoyed it!
August 2015
It was nice to walk through monkeys and feed them. Make sure to grab bananas and apples before you get there ;)
June 2015
From the time we were picked up from our hotel , our guide and driver made our long journey so relaxed and pleasant , in addition to the places we were due to visit along the way our guide stopped at place where they make local cloths , coffee/tea plantation and ate some of there local food , which the locals we met at these places were so lovely and made you really welcome. The monkey forest was brilliant , was so surprised that they were all roaming about the place we stopped at , we had a guide with us from there , which she walked around with us , we bought food for them to eat , which all of a sudden loads of them appeared and were so cute feeding from your hands , took loads of pictures of the monkeys and they just sat there posing . We also saw fruit bats which live in the same place as the monkeys but not too keen on them. The Mengwi Temple was beautiful, our guide gave us the full history of this , as walking around we were met with a load of local school children doing projects , which they stopped to ask us a few questions , they were lovely , the last was the best Tanah Lot , it was amazing and hundreds of people go to visit this place , which when the sunset goes down the scenery and views are outstanding , such a beautiful place , our guide and driver even waited whilst we had something to eat in a restaurant which sits on the top of a cliff and overlooks the sea , was so relaxing and the food was lovely . Would recommend this trip to anyone that wants to go on trips in Bali , the place itself is amazing and will never forget this holiday
June 2015
This was an amazing tour worth doing
June 2015
Really enjoyable and informative. We were the only people on the tour. Our guide took his time and didn't rush. Excellent sights and glad I picked this one.
Special Offer
$58.00 Save $12.00
Advertisement
Advertisement