Discover a different side of Bali as you journey to the island's lush interior on a 4-hour visit to idyllic Gulingan Village and traditional Balinese demo with lunch. Stroll through the iconic rice terraces near this unspoiled Balinese hamlet, enjoying typical countryside activities like pond fishing or walking through the fields of coffee, vanilla and cloves. Then watch a cooking demonstration in a traditional kitchen, learning how prepare tasty Balinese dishes before enjoying the meal in a beautiful pavilion set among the rice fields. This village visit and cooking demonstration also includes round-trip transport from Bali hotels and a guide.
Highlights
Visit the scenic and tranquil Gulingan Village
Enjoy a traditional Balinese Cooking Demonstration
Feast on the authentic Balinese cuisine for lunch
Take a walk through coconut palms, coffee, vanilla and cloves plantations
Informative and friendly guide

Hotel pickup and drop off

Recent Photos of This Tour
Balinese Cooking Demonstration and Gulingan Village Countryside Tour
What You Can Expect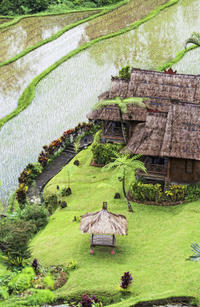 See a different side of Bali, away from the beaches and souvenir stands, as you journey to a traditional village situated among the terraced rice fields and mist-shrouded mountains of the island's interior for a range of fun activities and a cooking lesson. This 4-hour experience is the perfect chance to get an up-close-and-personal taste of everyday Balinese life for the island's rural residents.
Start your village excursion with a pickup from your hotel between 30 minutes and one hour before 9am. Your exact pickup time will be confirmed by the tour operator. Then head out into the verdant green farm fields of Bali's interior, the landscape dotted with distant mountains and palm trees silhouetted on the horizon, as you head to the village of Gulingan.
Arrive in this typical island village, enjoying the beautiful surroundings and trying out traditional Balinese activities. Fly a classic Balinese kite, try playing the Gamelan (a typical bamboo instrument used in religious ceremonies), go fishing in one of the local ponds, or take a stroll through the nearby farm fields of coffee, rice, cloves and vanilla. Then head to a kitchen in the village to begin a demonstration of Bali's mouth-watering cuisine.
Watch as a typical blend of local spices, herbs are ground and mixed for your meal by the village's expert chefs, who prepare the Balinese dishes of Tum Wrapping, Yellow Rice and Fresh Vegetables before your eyes. Then enjoy your meal in a customary thatched pavilion, set among the jaw-droppingly beautiful landscape of this lovely island.
After finishing your lunch, climb aboard you transport for the return trip to your hotel.
Please note:
There is some walking involved through rural villages and rice fields, so bring along good walking shoes.
March 2015
Far more than cooking! But the cooking was a great experience. Delicious food cooked in traditional ways.
February 2015
As were the only ones in the tour the guide included a visit to batik factory, art gallery, coffee plantation. Had a great time
March 2014
Excellent. ladies demonstrating lunch were charming. Lovely setting in the rice field. Food very good. Again only couple on the tour, so a very special experience . Our guide on the day we travelled was superb and very informative. The best of the three tours we arranged.
September 2013
August 2012
Enter your review here.
Great tour. Our driver and guide were fantastic, we received lots of information about the areas. the Cooking demo was fantastic, the best food we had in Bali. Would recommend the tour.
August 2014
Our guide, Gus, was great. We really enjoyed our tour.

Phillip B Australia
April 2014
As the title suggests, it is only a demonstration. There is some hands on but most of cooking is done for you. We were fortunate to have only the 3 of us in the group, so we contributed to each step. The food cooked was traditional and very tasty. The venue was beautiful set in the rice fields. On the way we stopped at a Batik and silver manufacturer. Prices were so over the top. Our guide was brilliant. He allowed us to stop wherever we liked to take photos and he was a wealth of knowledge. Would I do it again? Yes.
April 2013
The cooking was absolutely amazing and tasted BEAUTIFUL. Possibly the best food I've eaten. The ladies were beautiful and it was a real hands on experience. Our tour guide (guy who picked us up from our hotel) was kinda scary, pushy and kept pressuring us to book more tours with him. I was just with my Mum so felt a little vulnerable.
January 2013
Great experience being able to watch and try indonesian cooking. the cooking demonstration was the best part of the tour.
January 2011
both Sarah and I really enjoyed the experience of the tour which went in spite of only being two of us Our tour leader was a very nice man who was friendly, informative and not pushy about taking us places we didnt want to go Thank you
Advertisement
Advertisement