Admire what Denpasar has to offer during a sightseeing tour of Bali's capital city. Your knowledgeable local guide will show you top attractions, such as Puputan Square and Pasar Badung—Bali's largest food market. You'll view Indonesian art collections at the Bali Museum, and learn about traditional Balinese woodcarving and architecture at the Bali Art Center. Hotel pickup and drop-off are included in your half-day tour.
Highlights
4-hour Denpasar city sightseeing tour
See historical monuments at Puputan Square
Learn about Indonesian music, masks and archeological finds at the Bali Museum
Browse for delicious produce at Pasar Badung, the local food market
Admire exhibits of paintings and traditional architecture at the Bali Art Center (Taman Budaya)
Hotel pickup and drop-off in Denpasar included
Recent Photos of This Tour
Best Denpasar City Sightseeing Tour
What You Can Expect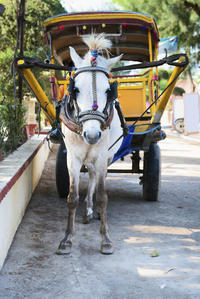 Your local guide will pick you up at your hotel in Denpasar. Begin your half-day sightseeing tour at Puputan Square, an attractive open square located in the city center. This classic urban park draws many locals and is a great place to learn about Bali's colonial history. You'll find a monument depicting a heroic Balinese family in the square, which commemorates the suicidal battle of the rajas of Badung against the invading Dutch militia in 1906.
Next, head to the Bali Museum, located near the former royal palace of Denpasar. Spend 30-40 minutes exploring its collection that ranges from prehistoric finds to early 20th-century art. Four main buildings inside the museum showcases Indonesia's rich history and cultural heritage. View displays of theatrical masks, musical instruments, sculptures, paintings and textiles. You'll see scale models depicting ritualistic Balinese tooth filling, marriage and cremation ceremonies, which your guide will explain.
A visit to Denpasar isn't complete without experiencing the colorful pasar (Indonesian for 'market'), where locals sell their products and haggle over prices. Pasar Badung is Bali's largest food market and features fruits, spices and other edible goods sourced from the entire island. After an opportunity to browse and bargain, spend approximately 1.5 hours at one of the new supermarkets—the equivalent of a department store—where food is available for purchase (own expense).
Your last stop is the Bali Art Center, a traditional Balinese building with a permanent exhibition of modern paintings and woodcarvings. Also known as Taman Budaya (Bali Culture Park), the vast complex also demonstrates traditional Balinese architecture. Your half-day tour ends with drop-off at your hotel.
September 2015
Really good, knowledgeable guide who clearly loved the city and wanted to show it off, explained loads on the way round, didn't take us anywhere to try and get us to buy from favoured vendors, even going round the traditional market which was an incredible sight, there was no unwanted sales approaches. 4 out of 5 simply because it was a bit strange to finish at a shopping centre, would have preferred more sight seeing.
January 2015
Another great day out. Our guide was excellent and very informative. Traffic is an issue and the heat and humidity had us running back to the tour bus to recover in the air conditioning. June to Aug would be the best time of year to visit Bali as this is the dry season.
June 2014
I was the only guest for the tour. We managed our time to see more than what was indicated in the itinerary. Instead of a half day, we extended up to 3pm, of course, with additional fee but it was worth it! Great tour.
December 2014
The basics of the capital with museums. Bonus is that my guide could explain everything in the museums.
Advertisement
Advertisement