Inspired by the diverse cultures of Indonesia, 'Devdan – Treasure of the Archipelago' is an eye-catching spectacle performed with contemporary dance and aerial acrobatics. Choose from VIP or A-category seating at Bali's Nusa Dua Theatre for a 90-minute show that will take you on an astounding journey from Bali to Sumatra, Java, Borneo and Papua. Dazzling special effects, including world-class lighting and sound, fire effects, smoke, fog and rain make this high-energy performance a must-see!
Highlights
1.5-hour Devdan show at the Nusa Dua Theatre in Bali
Explore the Indonesian archipelago via a theatrical extravaganza
Learn about the cultures of Indonesia through music, dance and acrobatics
Round-trip transport option available
Why Our Insiders Chose This Tour
An amazing production. The rain dance was truly magical and memorable!
What You Can Expect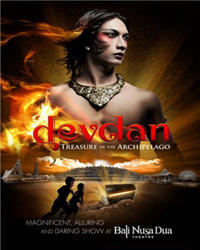 This unique cultural performance is a theatrical tribute to the traditions of Indonesia, intended to aid in the preservation of its diverse cultures and entertain audiences of all ages from around the world. This high-energy visual tour of the Indonesian archipelago – from Bali to Sumatra, Java, Borneo and Papua – offers a fusion of aerial acrobatics, astounding costumes and hi-tech special effects. During the 90-minute performance, you'll be swept up in a magical tour of Indonesia that includes both traditional and contemporary music and dance.
At one of Bali's most memorable attractions, you'll be entertained by the Devdan story, which begins when two young children who are part of a tour group in Bali feel bored and climb toward a cliff. They find a treasure chest containing various items that will bring them, and the audience, on a spectacular journey through Indonesia.
Conde Nast Traveller listed 'Devdan – Treasure of the Archipelago' in '10 Things to Do with Kids in Bali.' The dynamic performance invites the audience – including children – to participate with the stage characters and even to dance along!
Upon arrival your host will accompany you to your seat at Bali's most advanced theatrical complex, located in the heart of Nusa Dua, the island's number one entertainment area. Choose from an A-category seat with a prime view or enjoy more luxurious VIP seating. If you'd like, you can upgrade your tour to include round-trip transport from your hotel.
January 2014
January 2014
Nice show. Only one minus - no possible to get any drinks. Difference between standart seat and vip seat - vip have comfortable leather chair and blanket.
December 2013
Advertisement
Advertisement