Discover Bali's wild-side on this full-day adventure tour, combining a white-water rafting experience and trip to the island's Elephant Safari Park. Take a heart-pumping trip down the Class II and III rapids of the Ayung River, enjoying a safe and fun ride with your professional guides. Then make friends with Bali's largest herd of endangered Sumatran elephants, enjoying a talent show and 35-minute ride from these majestic creatures. All entrance fees, equipment and guides, plus a buffet lunch and round-trip hotel transport is included.
Highlights
Full-day Bali nature and wildlife adventure
Ride class II and III rapids aboard a white-water raft on the Ayung River
Learn to navigate the river as you paddle with professional guides
Interact with endangered Sumatran elephants at the Elephant Safari Park
Take an elephant ride through Taro's tropical rainforest
Watch an elephant talent show, visit the elephant museum and give an elephant a bath!
Enjoy a hot shower followed by a buffet gourmet lunch, plus round-trip transport
Recent Photos of This Tour
Elephant Safari Park and White-Water Rafting Adventure
What You Can Expect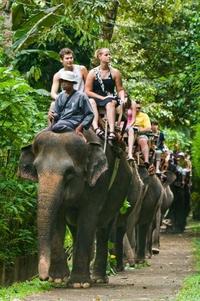 Arriving at the rafting center after pickup from your Bali hotel, meet your expert instructors and gear up for an exciting ride! In just fifteen minutes, you'll be outfitted with a life vest and oars by your guide. Then, head down the river via accessible steps complete with handrails and scenic viewing platforms.
For approximately two hours, enjoy an exhilarating rafting adventure on Bali's beautiful Ayung River. Launch into a spectacular 5-mile (9.6-km) stretch of river, set against a backdrop of pristine rainforest, towering gorges and lovely rice paddy terraces.
Your professionally trained and experienced river guides will pilot the safety-equipped Avon rafts through the best river runs, including 33 class II and III rapids. They'll navigate the raft past dramatic drops and magnificent waterfalls to ensure your Bali rafting trip is an awesome experience.
End your action-packed river trip with a hot shower and fresh clothes in a facility that includes changing rooms and clean towels. Then, enjoy a hot gourmet buffet feast at the private onsite restaurant, overlooking Bali's majestic mountains and rice fields.
After lunch, depart for the Elephant Safari Park and Lodge – an approximate half-hour drive away. This acclaimed elephant park was developed as a sanctuary for critically endangered Sumatran elephants affected by growing deforestation back in 2000 – each elephant has their own personal handler for caretaking! Your tour of the park park begins with a 15-minute talent show by these magnificent creatures. Be amazed by the elephants' displays of intelligence as you watch them hula hoop, kick soccer balls, paint and demonstrate other incredible feats of strength and skill, all done under the watchful eye of their devoted trainers.
Next, take an unforgettable 35-minute elephant safari ride, sitting high atop a regal elephant in a teak wood chair. As you ride through the cool and tranquil forest in Taro, you'll feel like the king (or queen!) of the jungle. This close-up interaction in a tropical park setting is an experience you won't soon forget.
When you come back down to the ground, enjoy a half-hour tour of the elephant museum, with more than 1,000 exhibits including fossil artifacts dating back five million years. Look with awe at prehistoric mammoth tusks, elephant skulls, tiger claws, bone carvings, ceremonial pieces and a 300-year-old carved African elephant tusk.
Finish your elephant safari with an exciting elephant splash in the park's lake, where you can bathe the elephants, feed them, interact with adorable baby elephants and take memorable souvenir photos – ideal for the entire family!
Your day trip ends with return transport to your Bali hotel.
June 2016
We loved this combo trip. The white water rafting was two of the most fun hours we spent in Bali. We had a great boat guide that was very attentive to us from beginning to end. The safari park was also entertaining, and the ride on the elephant was a novel experience for us-- though not particularly comfortable. All the elephant handlers were friendly and helped to get some great photos of us with the elephants. Between the two events, we enjoyed a nice buffet luncheon. I'd recommend this combo package. It was great to have all the arrangements taken care of... beginning with hotel pickup and ending back at the hotel. The ride out to these places-- from Nusa Duo-- is a long one plan for 1.5 hours each way, but you get some interesting views of Bali along the way. Enjoy it all!
June 2016
The whole day was amazing. Highly recommend. 16th June 2016
December 2015
my son and I had a great time white water rafting. We had a great guide and a great tour group. This was one of my sons best activity on our trip.

November 2015
When we booked it was a leap of faith, never used viator.com before so gave it a go. Well, how fantastic is this. This is our second trip and again it was everything it said it would be on their web site, fantastic. Our guide picked us up and stayed with us for the whole day! All the guides were knowledgable and great fun, highly recommended.
November 2015
It was the best day at Bali!
Advertisement
Advertisement