Explore the diverse culture and tropical beauty of Bali on this 8-hour private guided tour of the island's top sights. Learn about Bali's artisan traditions at a musical instrument workshop in the village of Blahbatu. Then admire the royal family's funeral relics at the island's archaeological museum. You'll also discover Penglipuran, a Balinese village largely unchanged in the modern era, and marvel at an active volcano and Lake Batur in the Kintamani region. Finish with tea and great views at Bukit Jati. This private excursion also includes round-trip transportation, all entrance fees and transport by private vehicle.
Highlights
Private cultural tour of Bali
Visit the Blahbatu village and see artisans creating musical instruments
Tour an archaeological museum and see ancient burial relics from the royal family
Travel through a plantation village and admire glistening Lake Batur, Bali's largest lake
Explore the Kintamani region and see Mt Batu, an active volcano
Enjoy afternoon tea at Bukit Jati, while admiring panoramic ocean views

What You Can Expect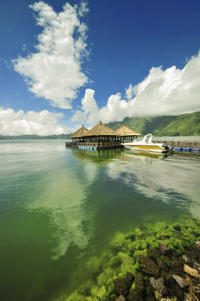 Make a personalized exploration of the fascinating traditions and beautiful scenery of Bali on this 8-hour private guided tour. Along the way you'll get to experience a side of the island largely untouched by modernity as you explore its idyllic villages, discover Bali's incredible history and admire some of its most beautiful natural attractions.
Start your private excursion at 8am with a pickup from select hotels in Kuta, Seminyak, Nusa Dua or Sanur. Check with your guide for exact start time, as your pickup may occur prior to this time. Continue first to Blahbatu village, a hamlet celebrated for its history of artisan traditions. Watch the town's craftsmen as they shape typical Balinese instruments like the gamelan, a percussion-based device used in many religious ceremonies and events. Travel next to the island's archaeological museum, where you'll have the chance to peruse artifacts spanning the Bronze and Stone Age periods, along with funeral totems that belong to Bali's royal family and history exhibits on the island's Dutch settlers and Indian merchants.
Proceed next to the Sri Batu, an agricultural village where farmers cultivate fruit, spices like cloves and Eastern coffee. Then move on to the stunning mountain area of Kintamani, home to Mount Batur, an active volcano. Keep your eyes peeled for the streams of lava that frequently run down from the mountain's peak. Just below Mount Batur is the stunning Lake Batur, the largest body of water on the island of Bali. Take a break here to enjoy the sublime views as you stop for lunch at a local eatery (at your own expense).
Following lunch, continue to Penglipuran, a typical Balinese village that offers a wealth of culture and history. Situated in a stunning location in the island's interior, the village remains largely untouched by the modern world. Take a stroll through the thick bamboo forest near the village, and stop to observe the village carvers as they craft bamboo goods ranging from wind chimes to everyday household goods.
Finish your private tour at Buki Jali, where you'll sample some afternoon tea while taking in fantastic views of the surrounding landscape and the ocean, visible in the distance. After tea, make the return trip to your hotel to end your trip.
March 2015
This was a full day tour that took us to some very spectacular places around Bali. A fantastic introduction to Bali we did this tour on our first full day in Bali. We were privy to beautiful views, rich history and our guide was extremely friendly and knowledgeable. I would highly recommend this tour to anyone wanting unique cultural experience.
January 2015
The guide and driver did a great job of educating us into the history of Bali as we went around on this tour. The sights were great and very educational.

February 2014
Our tour guide, Ray, was great! He took us to what we wanted to see, and it was really a great day! I appreciated how flexible they were on what we wanted to do. :)
September 2013
I would highly recommend this tour. Our tour guide, Kana was exceptional. His knowledge of both Bali and the culture made this a truly memorable experience.
January 2014
This was okay. After doing the other three trips, I'd pretty much seen everything. I did get to see a local instrument-making establishment which was fun.
Advertisement
Advertisement