Embrace the beauty of Bali on this full-day, small-group rainforest tour by 4WD vehicle. With your guide, travel along country roads through terraced rice fields and pass ancient temples, forgotten hidden villages and hot mineral baths. Dine on a Balinese lunch with sweeping views from Batukaru Mountain and experience a way of life that has remained unchanged for centuries.
Highlights
Explore off the beaten path as you travel by 4WD vehicle into through the countryside

Visit remote villages, ancient temples and hot mineral baths

Admire lush rainforest scenery and dense bamboo groves
Enjoy a local Balinese lunch with views on Batukaru Mountain
See the patchwork of rice terraces

Great photo opportunities of the countryside

What You Can Expect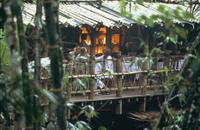 Leave the beaches and markets behind as you travel into the true heart of Bali on this exhilarating countryside adventure. Travel by 4WD vehicle with your guide along back roads, where rice terraces cling to the mountains to form a spectacular patchwork landscape. Here, you'll see a way of life unchanged for centuries.

Visit a stone quarry where large rocks are cut from the cliffs to create temples and shrines. See hand-carved deities scattered around the island and admire a mix of modern and traditional architecture as you travel through remote villages. Stop at a small farm for morning tea and see fields of vanilla, coffee and cocoa.

As you travel farther into the mountains, you'll notice how the air becomes cooler and the scenery changes. Pass through dense bamboo groves as you head toward the sacred Batukaru Mountain. When you arrive, take a short walk to the jungle camp for lunch at the restaurant. Soak up sweeping views as you enjoy local Balinese cuisine accompanied by complimentary soft drinks, beer, wine, tea and coffee.

Afterward, journey to the ancient, holy hot mineral baths nestled among the rice paddies. Learn how these baths are still used today and are as popular as ever. After seeing the baths, your tour will end and you'll be taken back to your hotel.
April 2015
Great from A to Z!
Picked up on time, the tour provided with an amazing variety of landscapes and experiences
Highlight of the day: lunch in the rainforest!
February 2015
Brilliant!!!! The tour guide/driver was brilliant!! Had lots of knowledge!!! Loved going into the family home where they treated you like a guest not someone on a tour. I enjoyed going to the temples. The views were fantastic
December 2013
Beautiful scenery and a very informative and interesting guide, and lunch is amazing!
July 2013
Driver was polite and eager to please. Visited a real Balinese home where people were geniine and welcoming. The cascading rice paddy fields were amazing but the highlight was the restsurant cradled high up in the rainforest. Best setting and best food we had in Bali.
June 2014
An enjoyable day out but not without incident. The drive shaft broke on the 4 x4 and we had to wait for a replacement. You certainly get to see rural Bali and the lunch up in the rain forest was superb. The guides were not very chatty though and hitting a policeman on a scooter on the way home was not a good way to finish! He was not amused and a good job we dont speak the lingo. But we did have fun.
January 2014
The tour was over sold... virtually nil rain-forest to be seen, but was a good day anyhow.
August 2015
Don't take this tour!
We expected much more than what we got.
1. The guide is not motivated and fully stressed
2. You don't get to see the Uluwatu temple and the dance lasts more than 1 hour, pretty boring dance and full of monotony.
3. The romantic dinner is at the beach but in a very cheap rest.
Advertisement
Advertisement