Enjoy this full-day, small-group tour from Banff, visiting the Athabasca Glacier and the stunning scenery lining the breathtaking Icefields Parkway. This adventurous tour gets you up close with Canada's stunning Athabasca Glacier, including visits to other attractions like Lake Louise, Crowfoot Glacier, Peyto Lake, Columbia Icefields along the way. Your tour also includes round-trip transportation from Banff, professional guide, mountain picnic lunch, optional all-terrain Ice Explorer tour and use of binoculars.
Highlights
Day trip to Athabasca Glacier from Banff
Gaze at the stunning glaciers and remnants of the last ice age
Enjoy breathtaking views as you travel along the Icefields Parkway
Go on an exciting, optional all-terrain onto the glacier
Complimentary pickup and drop off from most Banff hotels
What You Can Expect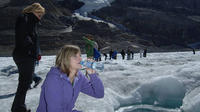 Explore the dramatic glaciers of Banff and Jasper National Park on this adventurous Athabasca Glacier tour. Along the way you'll get a first-hand look at the key role these huge ice formations played in shaping the sweeping valleys, colorful alpine lakes and soaring peaks of the region.
Begin the tour with a pickup at your Banff hotel. Check with your tour operator for the exact pickup times. Proceed up along the Icefields Parkway to a few of the beautiful natural sites shaped by the parks' unique glacier activity. Make a brief stop at Lake Louise, arguably the most famous lake in Canada, continuing next for an up-close view of the Crowfoot Glacier. From there, the tour moves to the emerald-green Peyto Lake and proceeds to Saskatchewan Crossing for a quick break and coffee.
In the afternoon, enjoy a hearty mountain picnic lunch at a scenic viewpoint along the Icefields Parkway. Choose from a selection of delicious sandwiches, including chicken and bacon, or roast beef and monterey jack cheese, both on a soft bun, or a veggie wrap with red onion, plum tomato and baked eggplant on a soft flour tortilla. An apple, cinnamon crunch muffin, and potato chips are available for dessert, along with your choice of juice and water.
After lunch, proceed to the majestic Bridal Veil Falls, with a fantastic view back over the Parkway, and then continue to the Columbia Icefields, home of the Athabasca Glacier, where you'll have a chance to venture onto the ice for a one-of-a-kind ride on the all-terrain Ice Explorer. You'll finish with a visit to Bow Lake, headwaters of the famous Bow River, before returning to Banff to finish your day.
Please note: this tour is seasonal, operating April through October.
Itinerary
Lunch Options:

Option 1: Rockies Club Sandwich (chicken, bacon, tomato, romaine lettuce, egg, bound in mayonnaise and served on a soft bun)
Option 2: Roast Beef and Monterey Jack Cheese (horseradish mayo on a soft bun)
Option 3: Vegetarian Wrap (red onion, plum tomato ragu sauce with baked egg plant and veggie cheese wrapped in a soft flour tortilla)
*Vegan friendly
Gluten Free Option: Fresh Chicken Salad (romaine lettuce, cucumber, tomato and green onions with dressing on the side)
Child Option: Classic peanut butter and grape jelly sandwich

(**Can be ordered without any of these ingredients)

Also Included: Fresh apple, cranberry juice, salted potato chips, cinnamon crunch muffin with cream cheese frosting (GF and Vegan options will have diet-friendly snack)
June 2016
Love the trip. Our guide tour was excellent and knowledgeable! We had so much fun ! This was a trip to remember. It was worth it. All the staff were very helpful and informative as well. Both Viator and Discovery staff did a good job. We encountered rain, sunshine, and snow all in one day but Athabasca Glacier trip was a unique experience that we'd never forget. We love Western Canada.
June 2016
Anick our guide was awesome. Tour was great and we got to see a grizzly bear and two brown bears.
September 2015
although we did not have nice weather for our trip, we still enjoyed it very much. Our guide and chauffeur was excellent, giving us plenty of information at the different sites we visited.
September 2015
Great scenery, great tour. Highly recommend this tour.
June 2015
A wonderful experience. The drive was very pleasant and the guide informative and well organised. I would thoroughly recommend this tour.
August 2014
This was an outstanding tour. The tour guide was fantastic. Full of knowledge and always willing to help and offer information. Highly recommend this. Some more time on the glacier would have been nice.
December 2013
July 2013
Very enjoyable day. Our guide, Jack, picked us up on time and provided very knowledgeable commentary during the whole tour. At Lake Louise we had time to walk around the lake and take in the beautiful scenery. At the glacier it was snowing and visibility was low due to the conditions but it was still a worthwhile experience. On the return journey Jack stopped to allow us to view elk by the side of the road.
October 2012
the drivers and guides for the day were fantastic, the whole trip was a great day not only the ice walk.
Alexei G USA
August 2011
Wonderful trip! I loved every part of it!
Advertisement
Advertisement