Choose from among four of Banff National Park's most iconic trails on this 7-hour guided hiking tour with packed lunch. Pick the perfect walk for your level of ability and experience, varying from 4.5 miles (7km) to 6.6 miles (10.6km) in length, with spectacular mountain scenery no matter which option you select. The trip's four options include explorations of the Larch Valley, Stanley Glacier, Kootenay National Park Trails or the Plain of Six Glaciers. Your excursion also includes round-trip hotel transportation, hiking poles and binoculars.
Highlights
Enjoy a gourmet picnic lunch, surrounded by the Canadian Rockies
A spectacular guided hike in Banff National Park
Choose from one of four hiking options, which vary from 4.5 miles (7 km) to 6.6 miles (10.6 km)
See the beautiful Kootenay National Park Trails, Larch Valley, Stanley Glacier or Plain of Six Glaciers
Learn about the local environment from your expert guide
Admire the impossibly blue glacier-fed Peyto Lake, one of the wonders of the Canadian Rockies
Why Our Insiders Chose This Tour
What better place to explore nature's glory than in Banff National Park, which holds claim to the titles of Canada's first national park and the world's third. This is a small and personalized tour.
What You Can Expect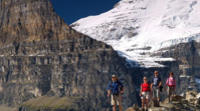 Your full-day hiking tour begins with a convenient pickup. Meet your guide, double-knot your laces and set off into the wilderness with your optional hiking poles in tow. Learn fascinating interpretive facts about the area along the way and enjoy a gourmet picnic lunch (see Itinerary section below for menu). At the end of your hike, you'll be dropped off back at your hotel.

Hiking Schedule

Sunday - Kootenay National Park Trails
Travel to three short hiking trails within Kootenay National Park such as Vista Lake, Marble Canyon, Numa Falls, Paint Pots, and Fireweed Loops. Enjoy connecting with nature with a variety of different views of the National Park. This trip is ideal for families and first time hikers!
Return Distance: 4.5 miles (8km)
Elevation Gain: 492 feet (150 meters)
Monday and Saturday - Larch Valley
Beginning from the Valley of Ten Peaks at Moraine Lake, this scenic trail is not for the faint of heart, as there are sometimes bears in the area. But the brave are rewarded with unforgettable views on the ascent through the Larch Forest, to Sentinel Pass. Adventurous nature lovers will like this moderate 5-hour climb.
Return Distance: 5.6 miles (9 km)
Elevation: 1,500 feet (465 meters)
Tuesday and Thursday - Stanley Glacier
This trail takes you through the regrowth of the tragic 1960s and 2003 fires, so you can see new life emerging in this once blackened forest. See stunning views of Stanley Glacier sliding down the side of Mt Stanley as well as Peyto Lake. This is a great hike for those seeking a relatively easy 4-hour stroll through beautiful scenery.
Return Distance: 5.25 miles (8.4 km)
Elevation: 1,285 feet (395 meters)
Wednesday and Friday - Plain of Six Glaciers
Begin on the shores of picturesque Lake Louise, then rise up a mountain for breathtaking views of the emerald lake from above and surrounding valleys and peaks, and in the distance, Peyto Lake. Stop at the teahouse for cakes and tea (own expense). People wanting a challenge with rewarding views will dig this moderate 4-hour hike.
Return Distance: 6.6 miles (10.6 km)
Elevation: 1,110 feet (340 meters)
Please Note:
This tour is seasonal and only operates from June through to September. Early and late season itinerary changes may apply during the month of June.

During early season (June), tour does not offer pickups or drop-offs in Lake Louise. July 1st onwards, pickups and drop-offs are available in Lake Louise on Monday, Wednesday, Friday, and Saturday.

Itinerary
Lunch Options:

Option 1: Rockies Club Sandwich (chicken, bacon, tomato, romaine lettuce, egg, bound in mayonnaise and served on a soft bun)
Option 2: Roast Beef and Monterey Jack Cheese (horseradish mayo on a soft bun)
Option 3: Vegetarian Wrap (red onion, plum tomato ragu sauce with baked egg plant and veggie cheese wrapped in a soft flour tortilla)
*Vegan friendly
Gluten Free Option: Fresh Chicken Salad (romaine lettuce, cucumber, tomato and green onions with dressing on the side)
Child Option: Classic peanut butter and grape jelly sandwich

(**Can be ordered without any of these ingredients)

Also Included: Fresh apple, cranberry juice, salted potato chips, cinnamon crunch muffin with cream cheese frosting (GF and Vegan options will have diet-friendly snack)
October 2012
Jeff, the tour guide, was excellent and his knowledge which passed on made the hike even better. The hike was not rushed but did not go slow either- just right!
Joanna R United Kingdom
July 2010
Good hike changed fro original booking which was a shame but enjoyed it anyway.
Martin S United Kingdom
July 2010
The guide was extremely knowledgeable and the hike was most enjoyable. However,it was a long drive from the pick up point.
Advertisement
Advertisement