Travel back in time on this 3 to 3.5-hour ride by covered wagon or horseback to a hearty western-style cookout meal, enjoying panoramic views of the Bow River and Sulphur Mountain along the way. This family-friendly activity also includes fun post-BBQ activities like roping and horseshoes, plus your choice of morning or evening departure.
Highlights
Western cookout experience in Banff
Ride a horse or take a relaxing covered-wagon ride along the Bow River
Enjoy views of the spectacular Canadian Rockies landscape
Dine on a hearty BBQ cookout
Your choice of a morning or evening tour
Perfect activity for the whole family
What You Can Expect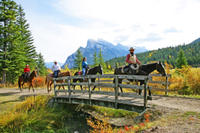 This authentic western-style cookout and ride is the perfect way to immerse yourself in the beautiful scenery surrounding the Rocky Mountain resort of Banff. Not only will your trip allow you to take in the beautiful landscape of the area, you'll also have the chance to enjoy a delicious cookout and fun activities.
Start your day at Warner Stables in Banff, where you'll pick your preferred mode of transportation to the cookout, either on horseback or inside a covered wagon. Then mount up and follow your experienced ranch hand guide on a scenic journey along the base of nearby Sulphur Mountain and along the Bow River.
Soon you arrive at the sheltered cookout location near Sundance Canyon Trail for your BBQ lunch or dinner, depending on the time of your outing. The meal features campfire favorites like steak, homemade baked beans, baked potatoes, Caesar salad, bread, dessert and drinks. While you wait for your food, challenge other guests to a game of horseshoes, or give roping a try.
After you're done eating, saddle up your horse or board your wagon for the ride back to the stables along the Bow River.
Itinerary
Sample Cookout Menu
BBQ steak
Homemade baked beans
Baked potatoes (with sour cream, bacon bits and green onions)
Caesar salad
Bread rolls
Dessert
Drinks (juice, coffee, tea and hot chocolate)
August 2014
Brilliant hack for all levels of experience. This was the first time my husband had ever been on a horse and he had as good a time as I did. The horses are all fit and well cared for. They're friendly - affectionate even - and all fitted with power-steering (rein trained). The outriders are professional, experienced and friendly. We rode through some wonderful scenery on a circular route. Lunch was a superb BBQ of steak, salad, jacket potatoes and beans. Playtime with Horseshoes was fun too. I heartily recommend this trip to anyone - experienced or rank newbie; you WILL have fun!
June 2013
A fantastic late arvo, early evening activity. We saw a bear which was a great introduction to Canada's wildlife, excellent cooking from Warner Stables Chef, he cooked our steaks to perfection and a very scenic and relaxing way to get to our evening meal.
August 2015
I really enjoyed the ride. It was a little late taking off, and we were caught in a major downpour on the way back to the stable. The lunch was very good.
July 2014
My husband and I rode in the wagon. GUIDE COULD HAVE PROVIDED INFO ON AREA, WILDLIFE ETC. TALKED TO ONE PASSENEGER ALMOST EXCLUSIVELY ABOUT HERSELF. It was very uncomfortable. we were prepared for the flies from a pevious review. Our grandaughter rode the horse. most of ride was on gravel. Dinner was edible - not really good. Meat overcooked. Was REALLY not worth the price.
August 2013
THE EXPERIENCE WAS WONDERFUL, BUT WE DID NOT EXPECT TO BE EATEN ALIVE BY FLEAS.
Advertisement
Advertisement