19 Reviews
Location:

Banff, Canada

Duration:

10 hours

(approx.)
Animal lovers, don't miss your chance to discover the grizzly bear! Leaving Banff behind, you'll take a ride in a gondola for a great view of grizzly country, then visit the grizzly refuge where you can observe an orphaned grizzly bear as it romps and plays in a natural bear habitat.
Highlights
Day trip to grizzly country from Banff
Visit Lake Louise, Takakkaw Falls and Kicking Horse Canyon
Enjoy a gondola ride with a bird's eye view of grizzly country
Stop at the refuge and watch grizzly bears play
Complimentary pickup and drop off from most Banff hotels
What You Can Expect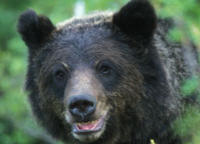 Visit the orphaned grizzly bear Boo, as he romps and plays in his natural habitat. Your guided sightseeing tour to the Grizzly Bear Refuge also includes stops at Lake Louise, Takakkaw Falls and Kicking Horse Canyon.
Ride the gondola at Kicking Horse Mountain for an eagle's eye view of grizzly country, walk the summit trails and dine on a gourmet lunch at Canada's highest restaurant. Experience an up-close visit with Boo, the resident bear of the refuge.
This tour is seasonal and only operates from June through to October.
July 2015
The best of the bunch. we had a wonderful guide/driver called Becky, she was absolutely fantastic!
I can't say enough about this trip we did so much, Lake Louise was lovely, the Spiral railway, the gondola ride and lunch at the top was spectacular, the food and view were both amazing.
The highlight of the trip was Boo, he came out to play and we got excellent photos. Then on the way back a stop at a beautiful waterfall. Well done Becky I bet you were tired we all dozed on the way home.
You must do this trip.
June 2015
LOVED IT!!! Visited some gorgeous lakes Lake Louise and Emerald Lake and loved seeing Boo, the grizzly bear. Lunch, which was included, was also of high quality. Great tour and well worth the money. Tour guide, Becky, was so friendly and could answer all the questions which were thrown at her.
August 2014
excellent tour, full value for money. guide was excellent; knowledgeable, patient and did everything possible to make the trip memorable. Lake Louise was fantastic, the gondola ride to the mountain top restaurant was terrific and the food and service were excellent, as were the views. Piece de resistance was getting up close to the grizzly bear, "Boo". Absolutely loved the complete day! Would heartily recommend.
August 2013
FABULOUS DAY- Great introduction to BANFF AREA by the guide and from there on the day just got better.
The visit to the ski park in GOLDEN was an eye opener followed by a great lunch at the restaurant.
We were "' BLESSED '" as we obtained great photos of the bear and a very informative talk from the staff
working at the refuge. Finally a visit to the waterfall in the national park capped what was a GREAT TIME.
I'm sure everyone who was on the tour feel the same about the high standard set by the guide who made
all of us fell VERY WELCOME.
September 2012
GREAT WEATHER,GREAT TOUR DIRECTOR,FINE COMPANY AND ABOVE ALL ONE OF THE FINEST DAYS OF OUR LIVES-THANK YOU
September 2011
An excellent tour! Our guide Hugh was very knowledgable about this part of Canada and passionate about bears. We called at Lake Louise, the Takakkaw Falls and saw the Spiral Tunnels, which are part of the Canadian Pacific Railway. The highlight, after lunch at the highest restaurant in Canada, was definitely seeing Boo the Grizzly Bear in his refuge. He obligingly sat at the fence whilst one of his "keepers" told us all about him. He seemed very content in his twenty acre reserve which you have to reach by ski lift. The bus was not too big and the company seem to really care about the environment. I would recommend this trip to anyone interested in wildlife. A wild black bear obligingly crossed the road in front of the bus on the way down from visiting Boo. This trip was the highlight of our visit to Canada.
January 2011
Absolutely superb. We had a small group visit to the refuge and fantastic sightings of Boo bear in his natural habitat. Due to the end of season and a few areas of the tour unavailable the tour company replaced them with other points of interested which were amazing.
October 2010
This was my favourite excursion! Great tour leader , very nice spot where we had lunch. Boo was stunning, he took the bath during our visit and our photos are outstanding!
July 2010
we had a great time on this tour. Our guide Marci picked us up from the hotel and we were the only ones so had a very personnel tour.Marci was very knowledgable and really loved her job.you could tell.She went out of her way to make us feel special and give us a wonderful experience.we saw lots of wildlife and wonderful scenary which would have been easily missed without the knowledge of a good guide.We had a really good time with Boo the bear who came and sat sooo close we could almost touch him.It was one of the best days of our time in Canada.Well done Marci and thank you for being so kind when my husband was sick. The Emmotts from Australia
Anonymous
July 2010
Four of us boarded the blue bus with our driver. Lucky us, we were the only ones on the tour. We were offered water, binoculars, umbrellas and even biscuits as part of the tour. Our guide was truly knowledgeable and shared with us recent newspaper clippings about bear adventures in the area and told us a lot about bears in general. We had a couple of chair lift rides which were very pleasant considering the weather. Thanks to the binoculars we even saw 2 black bears at the very top of a tree just near the chair. Due to the weather our plans changed slightly but with no drama. We still had a beautiful lunch in a lovely restaurant and no time was wasted as the order was put through ahead of our arrival. When we visited the Grizzly Refuge we thought that perhaps we wouldn't get to see Boo. There was an electrical storm that was threatening to close the area early. However, the staff at the Refuge did their utmost to bring Boo out of hiding. Sure enough out he came and we managed to take a lot of great photos. What a highlight of our trip! Special thanks to our guide and the local tour company who clearly care about their guests. We would certainly recommend this tour!
Advertisement
Advertisement