Raft your way down one of Canada's best white water destinations, the Kicking Horse River, on your choice of one of three full- or half-day rafting tours catering to all levels of experience. Experience the beautiful surroundings of Yoho National Park as you brave a selection of Class 3 and Class 4 rapids, the perfect adventure from Banff, Lake Louise or Calgary. This Kicking Horse River rafting excursion offers three different rafting trip options, optional pickup in Lake Louise, all necessary rafting equipment and an optional BBQ lunch.
Highlights
Whitewater rafting down the scenic and fast-moving Kicking Horse River

The perfect adventure while visiting Lake Louise, Banff or Calgary

Raft through the heart of Yoho National Park in the Canadian Rockies

Enjoy Class 3 and Class 4 rapids

All experience and fitness levels are welcome!

What You Can Expect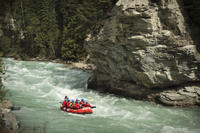 This white water adventure is the perfect opportunity to get your feet wet at Kicking Horse River, one of the North America's top rafting spots. Whether you're new to rafting or an experienced pro, these three tour options will provide a taste of the amazing scenery and adrenaline-fueled white water of these Canadian rapids. Choose from one of the following three packages:
Kicking Horse Classic
Start your day in the morning with pickup in Lake Louise, and head to the rafting put-in site. After suiting up with the necessary gear, your rafting day begins in one of the calmer sections on the Kicking Horse, rolling along river's glacial waters, where you'll learn to coordinate paddling with other raft passengers. Take a break for a BBQ lunch of beef, chicken or veggie burgers, plus vegetable platter, potato wedges, salad, cookies and hot or cold drinks. Then kick off your afternoon with a ride on the thrilling Class 3 and Class 4 rapids of the Middle Canyon of Kicking Horse. Finish your day in the afternoon with drop-off back in Lake Louise.
Kicking Horse Challenge
The Kicking Horse River Challenge offers many of the same options as the Classic tour, but with more rapids and a more complete river experience. Start your morning with pickup in Lake Louise, continuing on to the starting point for your rafting adventure. Spend the early part of the day getting a hang of rafting with your fellow passengers along the Upper Canyon stretch of the river. Then take a break to enjoy a BBQ lunch (following the same sample menu as above). In the afternoon, brace yourself for a wild ride down the 13.7 miles (22 km) of whitewater that make up the river's Middle and Lower Canyons.
Afternoon Whitewater Rafting
This half-day rafting excursion in the afternoon is just the right amount of adventure for those that don't need the full-day experience of the Kicking Horse Classic or Kicking Horse Challenge. Make your own way to the rafting start point in the early afternoon. From there you'll take on 7 miles (12 km) of the Middle Canyon on the Kicking Horse, where you'll experience Class 3 and Class 4 rapids. It's the perfect option for those that don't need lunch or that don't want to rise early.
Itinerary
Riverside BBQ Lunch (provided for Classic and Challenge Tours)
Sample Menu:
Alberta beef burgers
Free-range chicken burgers
Veggie burgers
Veggie platters
Potato wedges
Salad
Cookies
Hot & cold drinks

LAKE LOUISE PICKUP SCHEDULE
8:10 AM - Fairmont Chateau Lake Louise
8:15 AM - Lake Louise Inn
8:20 AM - Mountaineer Lodge
8:25 AM - Sampson Mall Parking Lots

Return to Lake Louise is at 3:15pm
July 2014
Wonderful experience. Very well organised. The lunch bbq after the first section of river was lovely, it also gave us a chance to chat to overs. It was a shame that we couldn't ride the lower section of the river as the water levels were too high so we redid the middle section a second time. This was not the fault of the rafting company as they have rules to follow for our safety but they did all they could to make the second ride as good as the first. We did buy a DVD of photos but would have liked to have been able to have bought a video if one had been available. Would highly recommend this company. Look out for Simon though cause he will give you the ride of your life. Thank you Simon, top guy
Advertisement
Advertisement