Explore the lovely palaces of Mysore during this private Bangalore day trip. Visit theancient city of Srirangapatna, recognized by locals for its religious and cultural significance, as well as Tipu Sultan's Dariya Daulat Palace en route to old-world Mysore. Listen as your expert guide shares stories about Karnataka's heritage and history, and gain a deeper understanding of palace architecture and art. Round-trip transportation in the comfort of a private air-conditioned vehicle and a delicious lunch are included in your memorable daylong tour.
Highlights
Mysore and Srirangapatna private day trip from Bangalore
Admire the marvelous architecture of Mysore Palace
Explore the ancient city of Srirangapatna and visit Tipu Sultan's Dariya Daulat Palace
Hear royal family lore from your knowledgeable private guide
Enjoy a delicious lunch at a local restaurant
Private round-trip transport from your hotel included
What You Can Expect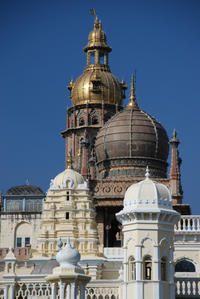 Your private driver and knowledgeable guide will collect you from your Bangalore hotel
at approximately 6:15 am. Your all-day tour will kick off with a 4-hour journey to
Mysore—known as the 'City of Palaces'—in the comfort of your own private, air-
conditioned vehicle.
Along the way, stop in the famed city of Srirangapatna. Located about 8 miles (14 km)
from Mysore, this former state capital is home to the incredible Dariya Daulat Palace.
Stretch your legs and explore the well-kept gardens of Daria Daulat Bagh, which
surround this much-loved summer palace. Built in 1784, this beautiful and historically
significant structure houses a museum dedicated to the sultan that's filled with Persian
manuscripts, European paintings and other rare artifacts. Your professional guide will
explain the architectural features of this impressive space, which include pillars made of
teakwood, frescoes of battle scenes and wide-open corridors that are perfect for
exploring.
After working up an appetite, enjoy a typical Indian lunch at a local restaurant before
arriving in Mysore for more exploring.
Start your tour at Mysore Palace (Amba Vilas Palace). This impressive museum
showcases royal costumes and paintings that were previously owned by the Wodeyars—a
family that once called this iconic residence home. Learn about royalty who ruled Mysore
for seven centuries from your local guide as you meander through the halls and galleries..
Wander the 3-story granite palace and marvel at its impressive pink marble domes and
beautiful arches. Get an up close look at the rosewood doorway inlayed with ivory that
leads to the Ambavilasa hall. Marvel at the ornate mosaic floor and glass ceilings and
check out the Indian ceremonial objects and European sculptures that are on display here.
Listen as your guide explains the significance of the marriage hall (Kalyana Mantapa)
where peacock motifs and geometric patterns decorate the eight-sided room. Your guide
will point out unique the unique features of this Indo-Sacacenic architectural masterpiece,
which blends elements of Hindu, Raiput, Muslim and gothic styles into a thing of beauty.
Relax and unwind in air-conditioned comfort on the 4-hour return trip to your Bangalore
hotel. Your guide and driver can stop for dinner (at own expense) if hungry strikes on the
way home.
June 2016
The trip out to Mysore was great. Plenty to see along the way. Our driver was very gracious and pointed out many interesting things along the way. My wife even saw monkeys along the trip resting in trees. The old fort, river area, summer home were fun and fascinating. The Mysore palace was great. We were lucky enough to see it later all lit up. Our guide also fit in a trip up to the granite bull temple above Mysore. All in all a great way to see the areas around Karnataka. Thanks!!!
April 2016
A great trip, good communications prior to the trip, the driver arrived at our hotel nice and early. Took us to Mysore where we picked up the guide who was a local man and knew everywhere, every shortcut and loads of people. Lunch was great. The company called us personally part way through the day to make sure we were OK and were enjoying the trip. Really good service.
March 2016
We were taken on the trip in a spacious and new car, which made it a comfortable ride in the 4-hour one-way journey. Both the driver and guide were professional, friendly and made us feel very welcomed. Halfway in the trip, the company even called us to check that all was going well. The 2 places we visited were beautiful for their socio-historical cultural sites being on this tour took care of the logistics, leaving us to enjoy the sights.
June 2015
Great day! Our driver, Raghu, was pleasant, capable and informative. We had several hours with him on our drive from Bangalore to Mysore. He pointed out things if interest along the way, the drive was very enjoyable and informative. Our tour guide, also named Raghu, was knowledgeable, informative and funny. Mysore Palace was breathtaking! The palace alone could be an all day adventure. We enjoyed the architecture and art at both Mysore Palace and Tipu Sultan's Summer Palace. Very long but enjoyable day. If time permits, take two days to see Mysore and surrounding areas.
January 2014
excellent guide I had and made me feel the history of the place.He was so neat in telling me in details about this place.
egrammar United States of ...
June 2015
Great full day tour to these impressive historic sites. Tour guide and driver were very accommodating to my request not to shop - thank you very much! Both were well versed in not only the historic buildings and culture but to the plants, trees and other natural sites.
December 2013
Worth doing if you are in a bind(as was my case). It's really very taxing to do that much driving in one day. I still had a very good day and the tour guide was very informative. It was my first proper trip in India and it was certainly an eye opener and the temples + palace was very interesting.
In relation to the price - once you get to India, the price was very expensive. The initial offering said from 100US but ended up being 350dollars- I was happy with that and I booked at very late notice.
Advertisement
Advertisement