Leave Bangkok behind on this three-day tour of Thailand's historical and cultural attractions – including the UNESCO World Heritage-listed temples of Ayutthaya, the royal summer residence of Bang Pa-In and the lovely waterfalls of Erawan National Park! Using Kanchanaburi on the River Kwai as your base, discover the area's WWII history with an informative local guide. You'll visit the War Museum, the Allied War Cemetery and Hellfire Pass Memorial Museum, and cross the famous bridge over the River Kwai. Enjoy personal attention with this small-group tour, limited to 12 people.
Highlights
3-day tour of western Thailand, round-trip from Bangkok by minivan
Admire temples in the ancient capital of Ayutthaya, a UNESCO World Heritage Site
Dip into rock pools at Erawan National Park and view Erawan Falls
Cross the famous bridge over the River Kwai
Learn about the Thailand-Burma 'Death Railway' at Hellfire Pass and the Allied War Cemetery
Take a saamlaw (tricycle rickshaw) tour around Kanchanaburi
Small-group tour limited to 12 people ensures personal attention from your guide
What You Can Expect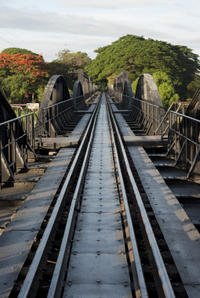 On this historical sojourn, you'll bear witness to Thailand's fascinating past, from ancient timeworn temples to the monuments of World War II's Thai-Burma Death Railway.
Your three-day small-group tour of western Thailand by minivan includes 2-3-star accommodation in Kanchanaburi (with two breakfasts and two lunches), transfers between locations and round-trip transport from your Bangkok hotel.
Itinerary
Day 1: Bangkok – Kanchanaburi (L)
After pickup from your hotel in the morning, travel by minibus with your small group to Bang Pa-In, just 37 miles (60 kms) north of Bangkok. The royal summer palace, a former residence for Thai kings, is situated on the banks of the Chao Phraya River. Your knowledgeable local guide will conduct a tour of the magnificent grounds and lovely gardens set around an ornamental pond. Admire the combination of European and Thai architecture and the topiaries shaped into elephants.
Next, head to the UNESCO World Heritage Site of Ayutthaya, an ancient capital of Siam, to see impressive ruins once destroyed by the Burmese. At Ayutthaya Historical Park, explore several temples such as Wat Yai Chai Mongkhon, where you may be told your fortune by a fortuneteller.
Then, visit Wat Phanan Cheoeng, one of Ayutthaya's oldest temples – often compared to the Taj Mahal – where a 62-foot-high (19-meter-high) Buddha image resides. Your guide will point out an 18th-century shrine and tell you about the Chinese princess in whose honor it was built.
After a delicious Thai lunch, visit the ruins of the 13th-century Wat Phra Mahathat, which includes an ancient Buddha head statue surrounded by Banyan tree roots. You'll enjoy many photo opportunities before heading west to Kanchanaburi – an approximate four-hour drive – and checking in to your hotel. For your dinner, your guide will happily provide suggestions of local restaurants.
Overnight: 2-3-star rated hotel in Kanchanaburi
Day 2: Kanchanaburi – River Kwai (B, L)
After breakfast, your guide will take your small group by minivan to the Hellfire Pass Memorial Museum. As you read the inscriptions and tour the exhibit, learn about the allied POWs and Asian laborers who perished at Hellfire Pass while they constructed the Thailand-Burma Death Railway during WWII.
Next, head to nearby Erawan National Park, home to seven gorgeous waterfalls – including the terraced Erawan Falls – and a series of turquoise rock pools. Your guide will recommend the best pools for swimming, where you can take a refreshing dip. Or, embark on one-hour hike to the seventh and highest story of one waterfall for amazing views.
At the park, enjoy a Thai-style picnic lunch before returning to Kanchanaburi in the late afternoon to relax. Don't miss a sunset stroll across the famous bridge over the River Kwai, part of the Death Railway constructed by allied prisoners of war. In the evening, you'll have the option to visit Kanchanaburi's night market to try a variety of Thai dishes for dinner.
Overnight: 2-3-star rated hotel in Kanchanaburi
Day 3: Kanchanaburi – Bangkok (B)
After breakfast, enjoy a sightseeing tour around Kanchanaburi aboard a traditional saamlaw (tricycle rickshaw), visiting several historical sites along the way. See the WWII War Museum and the Allied War Cemetery, and cross the bridge over the River Kwai before retuning by minivan to your Bangkok hotel, where your trip ends in the late afternoon.
March 2015
The tour was great staff were friendly, competent very helpful and knowledgable, had a great time would recommend any time.
July 2013
This 3 day tour was the highlight of my trip to Thailand. I was amazed that as a single traveller, i was the only person on the tour as generally a tour won't accept the booking if there is only one person. The tour guide was exceptional and very attentive. I know that is easy to say when you are the only person on the tour in saying that after spending a little time together he was very clued in to my ideosyncrasies such as photos of my travelling stubby holder and a beer with lunch.
The accomodation was good as it was out of the husltle and bustle of the main town. The food at the accomodation was reasonably priced and very yummy. The nearby Mini Mart had cheap beer. Although it didn't have a gym it was safe to run down the road in the morning with a big verge thus limiting the risk of
June 2013
Great guide, driver and excellent itinerary- a must if you have a few free days in bangkok
Advertisement
Advertisement