Master the art of authentic Thai cooking during a half-day Baipai Thai Cooking School class in Bangkok. No prior kitchen experience is necessary and travelers are sure to leave with a full belly and flavorful recipes to share with friends back home.
Highlights
Learn how to craft authentic Thai cuisine on this cooking school class in Bangkok
Cook and eat your own delicious Thai lunch
Receive free recipe cards
Includes hotel pickup and drop-off
Recent Photos of This Tour
Baipai Thai Cooking School Class in Bangkok
What You Can Expect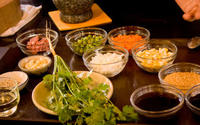 Your cooking class in Bangkok kicks off with a multi-sensory introduction to the world of Thai flavors and ingredients. Learn to make authentic dishes with the help of a local chef and gain all the skills and know-how necessary to recreate this delicious cuisine for friends and family once you've returned home.

Settle into the comfort of the Baipai Thai Cooking School kitchen and spend the morning preparing four authentic Thai dishes. Your teacher will include tutorials on traditional techniques, flavorful, local ingredients and beautiful presentation. A professional teaching staff with years of experience ensures every dish is a success and all students receive individualized attention and instruction.

All classes are taught in English and offer up an ideal opportunity to learn the art of Thai cuisine under the guidance of local chefs.
July 2016
June 2016
They start by explaining the ingredients used from the garden, giving you a chance to sample the flavors before you start cooking with them. Very well organized and fun!
June 2016
I think this was the best thing we did in our entire stay. The house for the cooking school is beautiful and we were there on a very rainy, thunderstorm morning and still had loads of fun cooking in this indoor/outdoor venue. It is such a beautiful place to learn. The instructors are fun and informative. You can really tell they like what they do. The class had beginners and expert cooks and everyone was learning new things. I highly recommend this cooking class over others. The setting is beautiful, they take pics of you while you are cooking, and give you recipe cards to take home. Next time I am back in Bangkok I will do it again. The menus change daily. Their website is very informative.

June 2016
Amazing food, amazing chef, amazing place. Just amazing!!

June 2016
I cannot say enough great things about our time at the Baipai cooking school. Our host and chef were both very friendly, fun and kept us involved the whole time. They taught us a lot about Thai food and the ingredients that go in to traditional cooking. They did a great job of showing us how to make something and then have us try it right away while it was still fresh in our minds. The cookbooks were a great help and will be even better when we try to make the food for friends and family at home. This was my favorite part of our trip and has inspired me to take cooking classes everywhere else I travel in the future.
May 2016
I would not have missed this for anything. Superb experience: professionally organised and run excellent pace great choice of menu items back of house staff were unobtrusive but efficient front of house team were great. Chef and tour leader, Noi and June, were entertaining as well as very skilled and knowledgeable. Many 'wow' moments throughout the morning. Thanks to all the team!
April 2016
Absolutely wonderful!!! We ate so much and had a wonderful time. It was definitely worth it and I will be trying all recipes!!
April 2016
My husband and I loved this tour. It was well-organized and on-time. The guide June was so friendly and fun. The food was delicious and they even did a wonderful job of providing vegan options for me.
March 2016
Great cooking experience. Learning about the main ingredients allowed me to understand better while eating later in Thailand.
Good recipes, good cooking and good eating.
February 2016
Fantastic day. Have even put what I learnt to the test on my return home. Well organised from beginning to end.
Advertisement
Advertisement