122 Reviews
Location:

Bangkok, Thailand

Duration:

4 hours

(approx.)
Master the art of authentic Thai cooking during a delicious half-day Baipai Thai Cooking School class in Bangkok. No prior kitchen experience is necessary and travelers are sure to leave with a full belly and flavorful recipes to share with friends back home.
Highlights
Learn how to cook authentic Thai cuisine on this cooking school class tour from Bangkok
Cook and eat your own delicious thai lunch
Receive free recipe cards
Includes hotel pickup and drop off

Recent Photos of This Tour
Baipai Thai Cooking School Class in Bangkok
What You Can Expect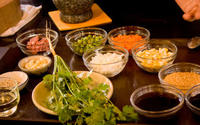 Your Baipai Thai Cooking School Class in Bangkok kicks off with a multi-sensory introduction to the world of Thai flavors and ingredients. Learn to make authentic dishes with the help of a local chef and gain all the skills and know-how necessary to recreate this delicious cuisine for friend and family once you've returned home.
Settle into the comfort of the Baipai Thai Cooking School kitchen and spend the morning preparing four authentic Thai dishes. Your teacher will include tutorials on traditional techniques, flavorful, local ingredients and beautiful presentation. A professional teaching staff with years of experience insures every dish is a success and all students receive individualized attention and instruction.
All classes are taught in English and offer up an ideal opportunity to learn hands-on, under the guidance of local chefs—the art of Thai cuisine.
January 2016
Excellent experience - yummy and fun!!!
January 2016
Really good experience, first we went to a Thai market to get the ingredients and then we made three dishes, which we then ate. The cooking school has a really nice atmosphere and the chefs were great!

December 2015
Wonderful. This will be a highlight of your your trip. Just a lot of fun.
December 2015
I was expecting a very sterile, very up-tight, white wall and stainless steel experience. What I got was a very informative, very fun cooking experience set in a very asian themed open air, cooking suite. We were first picked up at our hotels and driven to a huge, very clean open air food wholesale market in northern Bangkok. Imagine your home grocery store without all the boxed processed stuff, but with ten times the produce and meat options. Everything looked as though it wasn't more than twelve hours old. I was envious. Here is were we met Julie, our cooking assistant. She took us on a tour while purchasing some of the key ingredients we would be using that day. Some of my fellow cooking students purchased a couple fresh fruit items to bring back to their hotels for snacking after class.
Aftering the market tour we were driven to the cooking school. Imagine Mr. Miyagi's house in The Karate Kid, but ten times the size. Very peaceful, very beautiful asian design with a garden. Open air was important for best ventilation. We gathered around this large demonstration center with an overhead mirror to see what was going on. We each had our own stock ingredients in front of us, a combination of spices oils and items purchased from the market that day. Step-by-step we were shown what to do. Our head chef, Nxy, was a very experienced Thai cooking chef and our assistant, Julie, took us through the recipe. Both Nxy and July were informative and entertaining. In the end we ate what we made and it was amazing.
If you love to eat thai food and love to cook, this very user-friendly cooking experience is for you.
December 2015
Only high praises for this tour. Class was fantastic. Made recipes easy to follow. Loved that we were able to cook and then eat our food. Short tour which is great if you want the afternoon to relax. Visiting market first was unique experience. Highly recommend this tour!
November 2015
We thoroughly enjoyed our experience at the Baipai Cooking School! June did a phenomenal job leading the class, and the experience to prepare our own 4-course Thai meal was such a delight. Probably the best Pad Thai we had our entire trip!
October 2015
great way to meet other travellers
September 2015
Great Experience! Helpful, skilled and professional Staff.
Highly Recommended
September 2015
I can't rate this place highly enough. I received free air conditioned transfers to and from this hidden leafy secret, and on arrival I was taken away with how beautiful and spatious the grounds are. This cooking school looks like a five star resort or restaurant! We were welcomed with Thai iced tea, then taken around the grounds to have staple herbs/fruits/vegetables in our recipes shown and explained. Fone was incredibly knowledgeable and patient when explaining all the key ingredients and Thai cooking philosophy. Chef Noi showed us how to make coconut cream and milk from scratch. All in all, we made four courses (cashew chicken, Thai beef salad, pad Thai and for dessert ruby water chestnuts in ice coconut). Chef Noi and Fone are absolute professionals, with the support staff impressive (how did they clean and set up without us noticing?!). To remember this great half day experience, Fone took pictures the entire time and emailed them to us within hours.
Thankyou so much, I will definitely be back.
September 2015
Wonderful experience ! Yummy food and good people!
Advertisement
Advertisement