Take a stroll through the Bang Rak district as you're introduced to Thai dishes and drinks at food stalls, local eateries, a wet market and more. Taste authentic flavors and savory bites — up to fifteen distinct tastings — all handpicked by a knowledgeable guide. Numbers are limited to a maximum of 10 food lovers for a small-group experience on this 3.5-hour Bangkok food tour. Select a morning or evening tour.
Highlights
Tour the Bang Rak district on foot with an expert local guide
Enjoy 15 tastings at local shops, eateries, food stalls and markets
Savor regional flavors, including Thai fruits, spicy curry, royal cuisine, authentic desserts and herbal drinks
Meet the owners and learn about local life
Small-group tour limited to 10 ensures a more personalized experience in the company of fellow food lovers
Recent Photos of This Tour
What You Can Expect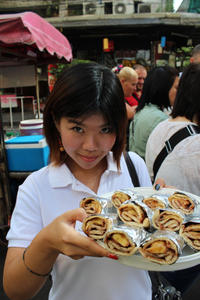 This Bangkok food tour stops at approximately eight venues including 15 food and drink tastings. At your selected departure time, meet your guide and small group at Saphan Taksin BTS station and set out for the back streets of the Bang Rak district, known for its diverse offerings of local Thai food. Along the way you'll gain intimate knowledge of the neighborhood's history, culture and cuisine from your experienced guide.
Taste curry puffs at a street food vendor; sip Thai iced tea or coffee at the Bang Rak Bazaar; bite into a sampling of tropical fruits at Bangkok's second-oldest wet market; and try Chinese herbal drinks at a local Chinese grocery, located in a traditional shophouse.
You'll visit a family-run eatery to share plates of fried and roasted chicken noodles topped with egg. Then walk to a traditional Thai sweet shop for a tempting dessert platter. Be sure to save some room for som tam (green papaya salad) at an establishment popular with locals, and don't be shy about tasting larb (minced meat salad) — a northern Thai staple.
Savor the regional flavors of Thai curry at your last stop, a traditional royal Thai restaurant run by descendants of the royal family, before your tour ends at a nearby BTS station.
Please note: Participating venues and menu items may be substituted on any given day.
May 2016
My husband and i really enjoyed this tour that was booked as gift from my mother while on a family trip in bangkok.
Our tour guide Jung was more than kind and easy to talk to and ask questions, we enjoyed on how intimate the tour was and how much food we actually got to try my favourite the traditional pulled milk tea from a cart on the side of the road that we would of never stopped at.
I would strongly suggest to any of our friends and family to book this tour.
Thank you again for this experience.
Lauren and Brock
Cronulla, Sydney, Australia
April 2016
So much fun! Great food places.
April 2016
A lovely excursion with Thee. I thoroughly enjoyed the food tasting and also a little of the history of Bangkok food. I can highly recommend this tour.
March 2016
We took part in this tour on 23 February a group of 4 from USA 3 from Australia 1 from New Zealand and we 2 from UK and had the most amazing time. Our guide for the evening, Wallop Kittiwititkun known as Joker was so knowledgeable about so much not just the food and drink that we would not have missed this for the world and would most certainly highly recommend the tour to everyone. Obviously, with this kind of thing, you are not too sure what you may be letting yourself in for - but there was no need to worry. Of all that we ate or drank during the evening, I think there was only one drink that we could probably do without ever tasting again and maybe one of the very many foods that most of our group weren't too keen on - the main thing was that the whole experience was great fun and extremely informative, visiting several very different types of establishment. Joker even took photos during the tour and emailed copies to all in the group - thank you so much Mr. Joker - you certainly caught a few good expressions on our faces.
February 2016
Our guide Jung, from Taste of Thailand tours was fantastic and very informative. I had a great time and will recommend this tour to all my friends.

February 2016
The food was very good. As expected, I loved some items and others... not so much, but I knew what I was getting myself in to. The tour guide was extremely professional and knowledgeable about the City and Country. All in all it was a wonderful afternoon focused around amazing food and an exceptional culture. This is a MUST DO!
January 2016
Wow! what a tour and experience. We met our guide Wallop Kittiwititkun otherwise known by Joker what a nice guy he is and took us to place you would not dare to venture on you own! We were very lucky on this trip as there was only my wife, a young travelling girl from California and myself. Our 1st taste was a roadside stall that done pancakes, then to a food hall where we sampled a 3 month old egg! not as bad as you would think, with some morning glory and then onto a fruit and veg market followed by several other real Thai shops and eateries to learn and eat how the locals do! Then to finish off at the other end of the scale at a high glass restaurant. You don't need anything to eat before you go! As you will be totally stuffed by the time you have finished.
If you have an open mind and like culture this is a must trip. We were both okay after eating everything that was put to us to try even the 3 month old egg! Even my wife and she can be a fussy eater at times! We also done the Chinatown food tour. Wear good comfortable footwear as you do walk a fair bit.
Steve aged 54.
January 2016
This was one of the best tours I booked through this site. I got to taste delicious food, all the while learning many different things about food districts, ingredients, different aspects of Bangkok and Thailand. Our guide Joker was determined to make this a great experience, and he succeeded! I highly recommend this tour to anyone visiting Bangkok, and make sure start the tour with an empty stomach!
Ste Smith United Kingdom
January 2016
Fantastic experience.. Really varied food, most of which was excellent.. Lucy was great fun.. Highly recommended..

January 2016
Very nice way to spend half a day!
Advertisement
Advertisement