Get the most of your travels by getting out of Bangkok on this full-day private tour of floating markets and bridge on the River Kwai tour. Spend some time exploring the floating markets with your expert local guide, and make your way to Kanchanaburi, where you'll pay a visit to the infamous bridge that made its Hollywood debut in a movie staring Alec Guiness—The Bridge on the River Kwai.
Highlights
Your own private guide

Visit Kanchanaburi, home to the infamous bridge located on the Kwai River
Take a look at an age old tradition - the Thai Floating Markets and see how the locals trade on the water
Enjoy lunch in a local restaurant and sample the flavors of Thailand
Hotel pickup and drop off from selected Bangkok hotels

Recent Photos of This Tour
Private Tour: Floating Markets and Bridge on River Kwai Day Trip from Bangkok
What You Can Expect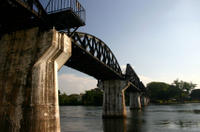 Your private Bangkok floating markets and bridge on River Kwai tour kicks off with a leisurely drive from the capital through salt fields, rice paddies and epic Thai countryside. You'll cruise past rural landscapes on your way to a long tail speed-boat that will transport you on a thrilling journey through the famous floating markets. Experience shopping like a local as you navigate through a network of canals lined with traditional canoes topped with fruits, vegetables, sweets and meats. It's possible to organize a ride on a local boat (at own expense) for a closer look.
After you've explored the unique markets—which remain one of the top attractions in this region—you'll return to your air-conditioned coach and head towards Kanchanaburi, where the River Kwai is located. The river's famous bridge was built in 1943 as part of a wartime project intended to connect Thai and Burmese railways lines to support Japanese occupation of Burma. More than 100,000 laborers and 12,000 prisoners of war died during the bridge's construction.
Enjoy a local lunch at a popular restaurant before making your way to the bridge for a closer look. You'll make a stop at the Thailand-Burma War Museum near the War Grave Cemetery. After touring the museum head back to your coach for the comfortable return trip to your Bangkok hotel.
June 2016
Our tour guide Peter and driver Mallee were just wonderful, they made our 330km round trip a great experience. They were both very professional, friendly and full of great information and advice. We will highly recommend this tour to our friends and also on TripAdvisor.

January 2016
Yes..you must do this. Amazing. The floating markets was fun and amazing .The River Kwai bridge
was also interesting in how this was put together.
September 2015
What a great day the tour the driver and the guide were fantastic .
It was like a family day out it was like we had know them for years.
They were so knowledgable and friendly.
Would recommend this trip to everyone.
July 2015
Loved this tour and so glad we choose the private tour as our guide was great. Full of useful information. Took us to see the railway markets which was a bonus. The bridge and cemetery was spin chilling to think what these people went through. Definitely pay the extra 150 THB to do the boat which takes you up past all the market stalls. Very unique experience.
March 2015
Guide Chris excellent - very knowledgeable and gave his information at the right time.
December 2014
Had to take a taxi from my hotel to pick up point because my hotel was not on list. I did the private tour alone but had to pay for two. Didn't see that coming until I went to checkout but I understand.
Met driver at hotel. Both of us arrived early and departed early. Car was nice, comfortable Toyota. Sunday was a great day to go since traffic was very light. We made good time to River Markets. Really cool site to see! From there we went to the Allied cemetary in Kanchanburi. Very well maintained and dignified but the city has grown up around the cemetery. Very noisy outsidd. From there we went to the Bridge. Does not look anything like the movie so don't go there with those expectations. Still very cool to see. After we had lunch in a quiet riverside resturant. Food was plentiful and very tasty. Then drove back to BKK. Did not make quite as good time but tour ended on time. Guide (sorry I forgot his name) and driver were both very good. The guide spoke very good English and was very friendly. We talked about many things the whole trip. Provided with a lot of information about the trip and Thailand in general. Super Awesome guide. Would love to do again when my wife is able to visit later this year!
March 2014
A very enjoyable day. but long and tiring. Our guide was excellent and she ensured we got the most from our trip. Because we booked the private tour we were able to alter the itinery to include a ride on an elephant and offer support to the Thai elephants in a positive way. The floating market was a great experience and we highly recommend taking the boat around the market. It's very busy and the first time we have seen a 'boat jam' but this just added to the fun. Well worth a visit. The journey to visit the River Kwai is about 3 hours from Bangkok but we wouldn't have missed it or changed anything. Having a private tour was definitely a bonus for this trip. The museum and cemetery visit were thought provoking and the Thai people encourage a respectful approach from their visitors. The area around the bridge is commercialised but this is to be expected at a tourist destination that draws so may visitors. Be prepared for the increased heat and humidity at these destinations. Driving around Bangkok and surrounding areas is definitely an experience in itself and not for the faint hearted.
Christine W United Kingdom
August 2008
Having a private tour is well worth doing. The tour guide allowed us to do things in our own time, explained things fully, and gave us time alone to explore afterwards. He was very friendly and knowledgeable. You should be aware that the bridge is a little scary and dangerous as there are no sides. That might just be me worrying too much!
Andrew C United Kingdom
August 2008
Our trip was perfect. The guide was great with the children and her English was near perfect. We were given cold scented towels after each stop, to cool us down and had a great day. I would recommend this tour to anyone who is interested in the bridge and its history, but be warned: the bridge is very very hot. It's well worth taking the private trip to make it a more personal day out, which allows you to take longer or shorter at the attractions you are interested in, rather than hanging around for others all the time.
October 2015
Advertisement
Advertisement