This private tour of the floating markets of Damnoen Saduak offers travelers an up close look at everyday life on Thai waters. Follow your guide along the backwaters of Bangkok canals on a motorized boat and check out the local vendors selling fresh produce, souvenirs and handmade sweets from their traditional canoes. This one-of-a-kind-experience is perfect for the traveler looking to get off the city streets and sample a bit of the culture and character this popular destination has to offer.
Highlights
Your own private guide

See the popular Damnoen Saduak Floating Markets in the Ratchaburi province of Thailand
Take a ride on a traditional long-tailed boat along the narrow canals
Hotel pickup and drop off

Recent Photos of This Tour
Private Tour: Floating Markets of Damnoen Saduak Cruise Day Trip from Bangkok
What You Can Expect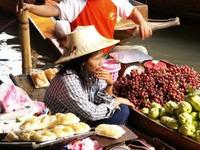 Enjoy a private day tour of the floating markets of Damnoen Saduak and get a behind the scenes look at rural life that lies beyond Bangkok. Your expert guide will travel with you some 64 miles (104 kilometers) southwest of Bangkok, where you'll board a long-tailed speedboat and take a thrilling ride through picturesque marshes doted with traditional stilt houses en route to the markets. Your friendly guide will answer all of your questions and share stories and insight into local life for people on the water.
Opt to get a closer look at the markets on a local boat (optional extra) through the network of canoes, piled high with fresh, vibrant produce. Be advised that since the markets are a popular stop for travelers looking to spend a day outside the city, some of the items for sale by local vendors may not seem authentically Thai, and instead geared towards out-of-towners.
June 2016
I know others say it's a tourist trap, perhaps more expensive goods, but we had a wonderful time and had fun bargaining with the locals. If you don't like bargaining then perhaps this isn't the place for you to buy things. Overall we did the private tour and it was great! We told them we had a reservation elsewhere at 2 and they got us back to our hotel by 1pm, which was great. Picked up in sedan with good tour guide. We only stopped once briefly at an orchid farm which was pretty, only 10 min stop and then moved on the floating market. Long boat tour is included and we really enjoyed this part, but tour around the market in a private boat was I think 600 Baht extra. It's worth it. There is no pressure to buy and all the vendors were nice and just let us look at their goods. I really liked the experience overall and since the tour ends with you back in Bangkok by 1 we had a good time. Private tour is preferred since you can adjust the plans for the day as you want and do as many or as little stops.

May 2016
The private tour of the floating market was so much fun. We had the option to pick and choose our itinerary and so the day was ours. Great guide, comfortable, large and well air conditioned car. Lots of cold water! Tried sticky rice and mango for the 1st time. Loved it!
Boaz Z Israel
March 2016
excellent, the instructor's english wasn't the best, but we've enjoyed it anyway

February 2016
perfect trip and patient guide! worth the price!

February 2016
It was a very good experience. Our guide Mr. Noi was a very informative and pleasent person. Our driver lady was very nice. Thanks a lot.
December 2015
fab - our guide was really good - markets excellent and enjoyed the elephant trek too
December 2015
The private tour was excellent. The tour guide and driver provided a great trip. This tour exceeded our expectations.
October 2015
October 2015
Very interesting tour. Loved the ride on the river. The tour ended I what was nothing less than a tourist trap. Items I had already purchased in Bangkok were twice the price and more. Beware!
October 2015
We had a great time. It was a perfect combination of the high-speed longtail boat ride and the slow paddled boat through the market. We had plenty of time to spend at each location of the guide was very good and shared a great deal of information with us
Advertisement
Advertisement