64 Reviews
Location:

Bangkok, Thailand

Duration:

3-4 hours
Spend one of your best nights out in Bangkok at the world-renowned Siam Niramit show! This spectacular stage production features stunning scenery, more than 500 extravagant costumes, state-of-the-art special effects and a cast of 150 performers who will wow you with their depictions of Thailand's spiritual and artistic traditions. The 80-minute show is preceded by a buffet dinner of Thai and Western cuisine (if option selected), as well as time to wander the Siam Niramit's other attractions like the replica of a traditional Thai village, where you'll get a glimpse of rural Thai life. Hotel transport is included.
Highlights
Ticket to the renowned Siam Niramit show in Bangkok
Be awed as Thai history and culture comes to life on stage through colorful performances and special effects
Watch depictions of Thai beliefs like the Law of Karma and Mystical Forest of Himapaan
Explore the Siam Niramit's other attractions including a typical rural Thai village, or enjoy a Thai massage
Upgrade to include a buffet dinner before the show
Recent Photos of This Tour
Siam Niramit Show in Bangkok with Hotel Transfer and Optional Dinner
What You Can Expect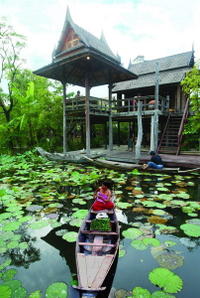 After pickup from your Bangkok hotel, you'll be driven to the Siam Niramit theater. If you've chosen the dinner upgrade, you have a couple of hours to enjoy a meal from the buffet, which features Thai, Indian and Western dishes. Try a bowl of som tam (spicy papaya salad) or pad Thai (stir-friend noodles), and enjoy a cup of tea or coffee (beer, wine and spirits are available for purchase).
If you have not chosen the dinner option – or if you have time after dinner – explore some of the Siam Niramit's other attractions. Stroll through a replica of a traditional Thai village, where you'll get a look at rural life in Thailand, or sit down for a relaxing Thai massage in an open-air house next to the village.
At 8pm, the Siam Niramit show will start! This internationally acclaimed production will blow your mind with its incredible special effects, lavish costumes and amazing set scenery, all of which takes place on an enormous stage that's in the Guinness Book of World Records. Through state-of-the-art technology and a talented cast of more than 150 performers, the show takes you on a trip through Thailand's arts and cultural heritage.
Over three acts (the show is 80 minutes in duration with no intermission), learn about the Kingdom of Siam's seven centuries of rich cultural history. In Act 1, you'll be wowed by performances depicting four geographical areas and their people: the North, the South Seas, the Northeast (Issan) and the Central Plains.
Act 2 takes you through the Thai people's common belief in the Law of Karma, in which the good and bad deeds done on Earth will result in merit or suffering in the next life. Watch three performances of the Law of Karma's three realms – Fiery Hell, the Mystical Forest of Himapaan and Blissful Heaven.
Finally, in Act 3, feel the joy of the Thai Buddhist practice of cheerful, lively festivals. Watch the stage explode in colorful celebration in the show's stunning finale.
When the show ends, you'll be driven back to your hotel, knowing you just experienced one of Bangkok's best attractions!
Please click on the View Additional Info button for detailed seating map.
November 2015
Very colourful and dramatic theatrical presentation giving insight into the history, culture and religion of Thailand. Worth an evening out. The food is average but the dining room is well organized for large crowds.
October 2015
My wife and I heard reviews of the show a year earlier in Hua Hin. So this year we decided to have a look for ourselves and so glad we did. We had a wonderful evening, pre-show dinner and other live performances before the main show, which was terrific. It was a wonderful representation of the cultural history of Thailand and we would thoroughly recommend it to anyone contemplating a visit to Bangkok.
September 2015
This show is amazing. From the pre-show entertainment outside, to the grand finale, we were mesmerised. If you go to Bangkok, be sure to see this show. The cost is so reasonable as well.
September 2015
Spectacular performance. Did not always follow what was happening, but the beautiful dress and shear large numbers of performers is what I remember. The preshow activities were very nice. We got to pet the elephant, which was a great experience.
September 2015
The Show was amazing, not to be miss.
Hotel Transfer was satisfactory, pickup on time.
If the Dinner is optional then do not include it. The food is sooo canteen
August 2015
Definitely a must see attraction in Bangkok. Outstanding pick up and drop off service. We booked the show with dinner and it was excellent. Delicious traditional Thai food well prepared served in buffet style with excellent service. The magnificent pre show entertainment, elephant ride included, and the Thai village are without doubt something worth seeing. The show itself is sensational. It is nothing to envy to the shows of Cirque du Soleil, I can say that even exceeded them. It is a magnificent display of imagination and artistic creation.
June 2015
Amazing, a must see show, in all tours pick up at time with no problem
June 2015
This tour was great! Pick up was on time. Show was fantastic! Totally worth the money and time. Food was amazing.
Would highly recommend to anyone in Bangkok.
May 2015
Fantastic show, beautiful and nice music. Worth the money, it's a cool, big budget performance.
April 2015
Greatest show, very well organized, they know how to bring you in, picked us up at the hotel nice van, comfortable, had our meal first because we booked with dinner, food was great, lots of it, no need to fill plate to the top like many we seen like it was the last meal, a buffet means you can go back and try many dishes a little a time, had plenty of time, after the gates they had a open area with pre-entertainment, great show, a park to walk around and see local culture sample food, then the show, comfortable, we booked the front middle area, was worth the extra cost, perfect on every way, show was continuous story telling, be on time as suggested and you will have a great time. You will have to give up your camera before the theater, the red light of auto focus gives you away, and they have people on top looking down and shoot a laser beam to that person and tag you to delete the photo and if not they will do it, you need to respect their wishes. GREAT A all the way. At open area before the show you can take all the pictures you want.
Advertisement
Advertisement