Enjoy a night in Bangkok savoring the excitement of the famous Siam Nirami show! Take in the breathtaking scenery, colorful costumes and revolutionary special effects as more than 150 performers take to the stage in a memorable demonstration of Thailand's rich traditions. Tuck into an extraordinary buffet of both regional and western flavors (optional) before exploring Siam Niramit's replica Thai village, where you'll get a look at rural Thai life. Lastly, sit back and revel in the 80-minute show that is sure to capture the attention of any audience before making your way back to the hotel.
Highlights
Ticket to the renowned Siam Niramit show in Bangkok
Be awed as Thai history and culture comes to life on stage through colorful performances and special effects
Watch depictions of Thai beliefs like the Law of Karma and Mystical Forest of Himapaan
Explore the Siam Niramit's other attractions including a typical rural Thai village, or enjoy a Thai massage
Upgrade to include a buffet dinner before the show
Recent Photos of This Tour
Siam Niramit Show in Bangkok with Hotel Transfer and Optional Dinner
What You Can Expect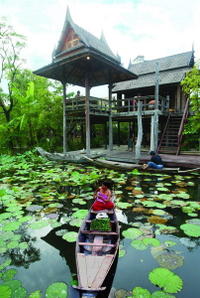 Your friendly driver will collect you from your Bangkok hotel and transport you to the famed Siam Niramit Theater. If you've chosen the dinner upgrade, enjoy a beautiful spread of savory regional and western dishes. Pile your plate high with Som Tap (papaya salad) or tasty pad Thai while you sip on complimentary soft drinks (alcohol is available for purchase at the bar).
Travelers who haven't opted for dinner (or those who have a bit of time after their meal) can explore the gorounds of Siam Niramit known for. Wander through the replica Thai village that showcases rural life, or enjoy a traditional Thai massage in a tiny open-air house.
When the clock strikes 8 pm, head to the theater, where you'll settle in for the internationally known Siam Niramit show. Talented performers grace the Guinness Book of World Record-holding stage dressed in colorful costumes and epic scenes are complete
with ground-breaking special effects. You'll learn about Thailand's art, history, culture and heritage in this three-act, 80-minute mind-blowing performance.
Act 1 includes stunning live performances showcasing highlights from Thailand's numerous geographical areas, including cultural history and traditions from the North, Central Plains, South Seas and Issan regions.
Act 2 grants deeper understanding of the Law of Karma, which says that Earthly deeds will dictate next lives. Three memorable performances depict the realms of Karma, which include Hell, Heaven and the Mustical Forest in between.
By Act 3, you'll revel in the joy and peace of Buddhism as the stage explodes in a colorful celebration that results in a show-stopping finale.
Once the curtains close, you'll be transported back to your Bangkok hotel with vivid memories of one of the city's top attractions.
May 2016
Siam Niramit is a must see when in Bangkok. It is spectacular and you get to know so much about Thailand's history and culture. Would love to watch it again.
April 2016
April 2016
Was a magnificent performance. Very much worth your money, especially with the dinner included.

April 2016
Very impressive and must see show! It was worth arriving 2 hours before the show especially given the busy traffic in Bangkok. Dinner was more of a canteen setting and not impressive as all but it killed some time.
March 2016
Fantastic evening out with some lovely food.The transport arrived on time and despite the horrendous traffic we arrived in plenty of time. The eating area was a little bit like a canteen but the food was good with plenty of choice and everywhere was clean.The show was a spectacular event with some real surprises thrown in ! Would definitely recommend
Jack A USA
February 2016
Good show and good dinner
February 2016
This was one of the best shows ever, the theater it self was amazing. The performers did a wonderful job. The food before the show was pretty good. I really enjoyed the whole experience, I would highly recommended this show.
February 2016
This had to be the best experience of my whole trip. I had dinner which there was plenty of variety. This show is world class and I recommend that if you go to Bangkok you have to see this production. From a technical perspective it wa faultless and from a content point of view simply amazing. This is one of those moments that you never forget. Truly brilliant
January 2016
The show was amazing. We arrived early and enjoyed the dancing before the actual theatre opened up. We had great seats and the driver and tour guide were courteous and professional.
January 2016
An amazing production value. Eat quickly at the buffet, because there is a great pre-show show with dancing and elephants prior to the doors opening.
Advertisement
Advertisement