Experience the spiritual beauty of Thailand on this 5-hour Viator Exclusive tour that includes a visit to Bangkok's biggest flower market and a behind-the-scenes tour of the famed Grand Palace. Wake with the sun and head to a local monastery—possibly the Marble Temple at Wat Benchamabophit) and participate in a beautiful almsgiving ceremony. Then pay a visit to the iconic Emerald Buddha at Wat Phra Kaew. With a group cap of 8 people, this Buddhist experience insures personalized attention from your friendly local guide.
Highlights
5-hour Bangkok tour including almsgiving, flower market and Grand Palace
Take part in an authentic Thai Buddhist ritual of giving alms on this Viator Exclusive
Tour the Grand Palace and Pak Khlong Talat flower market with a local guide
Visit Wat Phra Kaew, Temple of the Emerald Buddha, to see Thailand's most revered statue
Hotel pickup and drop-off from Bangkok city hotels with transport by luxury bus included
Small-group tour with a maximum of 8 people ensures a personalized experience
This combo tour cannot be booked anywhere else!
Recent Photos of This Tour
What You Can Expect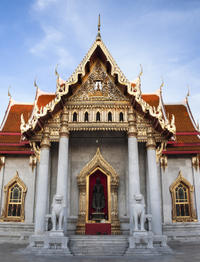 Your friendly, professional, local guide will collect you from your Bangkok hotel as the sun rises for this Viator Exclusive: Morning Buddhist Almsgiving, Grand Palace and Flower Market Tour. You and your fellow travelers will travel by comfortable bus to a 6 am almsgiving. During this morning ritual, locals gather to offer food to Buddhist monks to live and study at the monasteries. Your guide will select the destination—likely the Marble Temple, known for its gabled roof and intricate designs. (Travelers may instead visit an alternate location, like the famous Grand Palace.)
You'll check out the impressive monastery as monks silently pass by in their brilliant orange robes. Your guide will demonstrate how to participate in this daily ritual, which provides monks with the food necessary to sustain their meditation and study. This beautiful ceremony is a stunning reminder of the silence that lives in city streets before its inhabitants rush to start the day.
After almsgiving you'll head with your local guide to Pak Khlong Talat flower market, where you'll be able to wander the stalls at your leisure for about an hour. This colorful market is the largest wholesale retailer in Thailand, filled with orchids, roses, and other colorful blooms. Purchase a snack (own expense) before making your way to the Grand Palace.
This impressive structure is one of the city's most famous sites. You'll embark on a 1/5-hour guided tour of the complex, which once served as the home for the kings of Siam. You'll hear stories about the royal family, who uses the Grand Palace for ceremonies today.
Your tour includes a stop at the Royal Funeral Hall and the Royal Coronation Hall, plus Wat Phra Kaew. You'll see the iconic Emerald Buddha, which was made from a single piece of jade. Learn from your guide why this beautiful statue is considered the holiest object in the country. Your tour ends around 11:30 a.m. with a return trip to your hotel.

November 2015
Our guide was very good with his explanation of this tradition, how to approach the monks, and what kind of offerings are made. It was a very full tour done professional and with an eye on educating us about the history, religion and present day issues of Bangkok and Thailand.
June 2015
March 2015
Really good trip with an enthusiastic guide.
Bernard P USA
February 2015
Very good tour. I give the tour four stars but I would only give the tour guide three stars. I thought it unprofessional that she was reading her email, taking photographs and purchasing food for diner during our tour.

May 2015
Morning Buddhist Almsgiving happened at marble temple - many vendors approaching to sell fish and items. Local arrive to give the alms, happened at street level so was not a solemn experience that I expected.
Flower market - guide explained one side is local and another imported flowers. Showed sample flowers used in temple offerings. Overall ok experience - no beggars approached to ask money. Place was wet so best to use rubber or covered shoes to avoid getting muddied.
Grand palace tour - arrived early, hundred of Chinese tourists made the whole place and experience unpleasant. The actual structures are very interesting but I did not understand what the guide said or she could not give her orientation because the Chinese were shouting, shoving and crowding the structure or item being explained. IT WAS THE MOST HORRIBLE EXPERIENCE I have had in a spiritual site.
UPSET - our notice said pick up at 5:30am, tour guide arrive at 6am showed me her job order. We were both right and punctual but the person who gave us time references made the mistake. This is very unprofessional.

Jayme D United States of ...
May 2015
The tour guide wasn't as well informed as I would have liked.
April 2015
started at 6am and we finished the morning buddhist almsgiving at 7am, and we didd not have anything to do till 8:45 since grand palace opens late. Waste of time.
May 2016
aumône bouddhiste le matin : 2minutes 30 sur place, apres 45 minutes de voyage
nous qui nous faisions une joie de voir et attendions ce jour avec impatience , Exclusivité Viator est une catastrophe bien organisée, meme pas la possiblite 15 minutes
le seul souci du guide etait de parler au chauffeur et de nous jetter de temps en temps des cacahuettes pas aux boubdhistes mais a nous pour expliquer en 2 mots
marché aux fleurs de Bangkok :
2 allée a parcourir 30 metres d'un cote et 30 metres de l' autre, 25 minutes
expliqucation du guide du a notre étonnement depuis 1 an a été transferée de la rue a l' interieur du quartier et que ce n' est plus interessant rien a voir !
Apres lui avoir dit notre mecontentement et vu l' ambiance nous avons demande a etre raccompagne a l' hotel.
MERCI DE NOUS AVOIR FAIRE PERDRE UNE JOURNEE ET UNE JOIE CREEE PAR VOTRE PUBLICITE SUBTERFUGE
SYLVAIN VESTIN
Advertisement
Advertisement