Take in the best of Barbados on this full-day tour that will have you descending into caves, snorkeling world-class reefs, getting up-close with wildlife and more! Your day starts with the island's native green monkeys at a wildlife reserve before heading to Harrison's Cave, where you'll explore the depths of this otherworldly site. Then take a boat ride to Carlisle Bay to snorkel and observe life under-the-sea. Lunch and hotel pickup and drop-off are included.
Highlights
Full-day tour showcasing the top natural sights of Barbados
Discover stalactites, streams and pools inside Harrison's Cave
Capture breathtaking sea and surf landscapes along the island's famous eastern coast
Enjoy the antics of green monkeys at the Wildlife Reserve, and wander through its aviary and reptile exhibit
Revel in beach time at Carlisle Bay, and take a boat ride to swim with turtles in turquoise waters
Snorkel with provided gear in Carlisle Bay teeming with marine life around shipwreck remains

Lunch, entrance fees, boat ride, a drink on the beach, and pickup and drop-off from your hotel included
Recent Photos of This Tour
What You Can Expect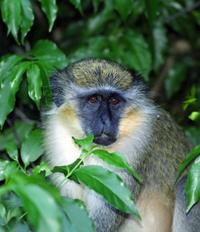 In the morning, your guide will pick you up from your hotel and head to central Barbados to explore Harrison's Cave. This limestone cave truly feels like a different planet – its home to countless crystals, stalactite-icicles and gravity-defying stalagmites that grow upward from the ground. A tram will lead you into the mysterious cave and a guide will explain the geological wonders, as well as the history of exploration of the cave.

Next, cross the island's lush landscape to the eastern coast. Here, you'll admire the massive cliffs and large waves that pound the shoreline and break for lunch.

Head north to the Barbados Wildlife Reserve, where you will get a close encounter with the Barbados-native green monkey. While adorable and friendly, thee green monkeys are also infamous for their mischievous behavior. Watch these playful creates in their natural habitat in the mahogany woodland. You'll also have the chance to see wildlife like deer, armadillo and caiman, as well as a variety of birds like parrots, flamingoes and peacocks.

Continue to Carlisle Bay, an picturesque crescent-shaped bay on the calm western coast. Board a boat for a quick ride out to one of the island's premier snorkel spots. This world-class reef is a result of six shipwrecks that have attracted a wealth of tropical corals and marine life. Jump in and see the fish, seahorses, turtles and more with the provided snorkel gear.

Back on shore, relax on the white sands of this paradise beach and enjoy a complimentary beverage before being transported back to your hotel.

December 2015
This tour was awesome. Best part was our Tour Guide Quammie. So smart and knowledgable :
Anonymous
November 2015
This was an important part of the most outstanding vacation my wife and I ever had!

January 2015
excellent tour. lunch provided .harrison cave is probably the highlight of the tour.
December 2014
Harrison cave is a must see and swimming with the turtles was amazing. Really worth the price and enjoyed the small group. Lisa our tour guide was awesome!!!
December 2014
This tour was amazing and fantastic! Calvin our tour guide was so personable and knowledgeable about everything ! It was just the two of us on the tour but he never compromised the time or effort to explain things to us! He even gave us recipes at the end of the tour!

April 2014
Our driver was very knowledgeable of the island and it's history. I would recommend this tour to anyone who wishes to see the island. Harrison Caves were fantastic. The water, from storms out in the Atlantic, were murky on the day we took the tour. Our driver knew we wouldn't be able to snorkel with the turtles and have a good view so he set us up for 2 days later to finish that part of the tour. This, in my book, is going beyond what is expected and the 4 of us were very impressed with his efforts. It was fantastic to have the turtles swim around us and the water had clear up quite a bit by then. I almost gave the tour 4 stars because everything I read about the wildlife reserve was to make sure to be there at feeding time around 2 PM. This is when the monkeys would come in and all the deer and other wildlife would gather up for a great picture taking experience. We ended up at the park around 10 am. Although we did see some monkeys, the part I was looking forward to most, most were moving around just outside the fences and deep in the trees. With that said I would recommended this tour to everyone.

February 2014
We had a great tour but was spoiled after our driver KEVIN got a phone call to return to the Marriott Hotel in Bridgetown to pick up 4 people who had booked at the last minute. We were half way to our first highlight of the tour when the controller insisted he return and pick them up and then he had to go to Chrystal Heights to pick up their vouchers. So when we eventually set off over more than one hour late The rest of the trip had to be changed and rushed.
But the whole day was a great experience and a wonderful day out
January 2014
My mother and I took this full day tour our first day on the island and it was an amazing introduction. Our tour guide, Chris was gracious, well informed and kept the group moving in a timely manner. The bus was clean and in good working order. The lunch that was provided was excellent and servings were huge. Randy, our snorkel and boat guide was extermely patient with my mother, who has physical disabilites and had never snorkelled prior. I would highly recommend this tour company and this tour. Thanks Chris and Randy!
January 2014
And back to Qammie we go. Glory Tour was just amazing to deal with. We swam more with turtles, as you can tell....Qammie and Lisa were just amazing. Glory Tours will be seeing us again. When ever we whnt snorkelling with Randy he looked after our every needs. We felt well taken care off and will be going to Barbados again. Booking with Viator online was just amazing, so easy and one less thing to sorry about before going on vacation. We have recommend you to many friends already even before we left. Going on vacation and knowing all trips are planned and paid for made it a lot less stressful and we truly had an amazing vacation. Lunch was always amazing and would do it all over again.
December 2013
This tour had it all! A stunning beach, wildlife, swimming with the turtles and Harrison's cave. The guide was fun, informative and professional. I would recommend this tour without hesitation.
Advertisement
Advertisement