For a more in depth exploration of Barbados, whether it's your first time on the island or not, book the Explore and Discover Barbados Tour! This extensive tour will take you around the island's coast and includes a boat cruise and the opportunity to swim and snorkel with sea turtles - what more could you want?
Highlights
Ride on a boat for excellent views from the water

Swim and snorkel with green sea turtles
Explore Cherry Tree Hill, Morgan Lewis Windmill and Bathsheba
Complimentary pickup and drop off from most Barbados hotels
What You Can Expect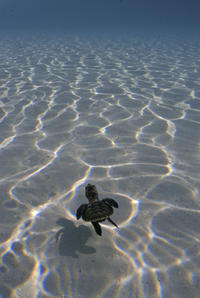 Explore and Discover Barbados is a specifically created tour that will show first-time visitors the beauty and charm of Barbados. It is also the perfect tour for returning visitors to renew fond memories and make a few new ones.

Your route starts along the east coast. Our first stop is Cherry Tree Hill where we will be approximately 850 feet above sea level. Our next stop is Morgan Lewis Windmill, the last sugar windmill to operate in Barbados. It ceased operation in 1947, and in 1962, the mill was given to the Barbados National Trust by its owner Egbert L. Bannister for preservation as a museum. In 1997 financial support was provided for emergency repair work and it was then reopened in 1999. With all its original working parts having been preserved intact, it is one of the only two working sugar windmills in the world today.
We will continue the tour onto the coastline traveling through Catthewash and then stopping in Bathsheba, which is the favorite stop for surfers in Barbados. Get ready to continue the journey and stop at St John's Church, one of the oldest churches of the island set on a cliff so you can capture spectacular views. From this Gothic church we will travel to the parish of St George. We will pass the Gun Hill Signal station and see the Great White Lion as we make our way to the Garrison Historic area. The Garrison has a special importance for the people of Barbados as it was here where the flag of the independent nation was unfurled on November 30, 1966.
For the second part of your day we will spend the afternoon at Carlisle Bay. Get ready to board the boat that will be take you to swim with the turtles! You will also enjoy free time to relax on the beach. You will be provided with a beach lounger, umbrella and a complementary drink.

This is an absolute must in Barbados, with many photo opportunities not to be missed.
March 2014
wonderful trip combining both island tour a spot of sunbathing on Carlisle bay which is just gorgeous then off to swim with turtles. fab!!
January 2014
This was our third of three full day tours with viator a and glory tours. Quamy our tour guide, who we had already met from the prior day's tour, managed to further inform us rather than just repeat information he had shared from the previous day. Loved the food provided, Enojyed the clean and well air conditioned bus. Randy, our snorkel and boat guide, personally helped my mother with physical disabilities, fully enjoy her snorkelling of the shipwreck by swimming alongside her. I would strongly recommend this tour company! We aboslutely loved Chris, Quamy and Randy!
June 2013
It was an AMAZING tour. I had such a great time! My expectations were exceeded and I recommend it for anyone visiting the island .
July 2010
Totally enjoyed our visit to Barbados! The island was very neat, clean and well kept and the locals were very friendly and helpful. Our only disappointment was a sudden rain storm that required us to cancel the glass bottom boat trip and snorkeling and Viator will be refunding a portion of our purchase price for that. Even without the boat and snorkeling I would recommend this tour and especially a visit to the island of Barbados!
March 2013
Tour was good,we were the only 2 in the taxi. One disappointment was the boat portion.It turned out to be a small outboard instead of a sail boat as pictured in the ad,as this one beside the review portion of this e-mail. Also ,we were th only ones on boat tour so it turned out ok. Everyone was very friendly.
May 2011
First I want to say Jamal was awesome. My 83 year old mother in law had broke her collar bone just a few days before our cruise. Jamal went above and beyond what is required of a tour guide. It took both him and myself to get her off and on the van. He not only volunteered to help, but he did with a very caring and tender touch with my mother in law. On top of this, he also help assist in getting on off my wife's elderly aunt, and sister. The whole while maintaing his cheerful disposition! Did I forget, he also was great at giving us the history and explaining the sights of Barbados! The high light of the trip for my wife and I was swimming with the turtles! Awesome! They swam up to and all around us!
November 2013
Well the issue was with this trip we didn't get parts of this. Did some driving around and saw the Islands scenery, had lunch , which they forgot to order before we arrived which had always been done. Then we had the amazing lunch, and it was amazing. Then thanks to some well OTHER customers missed out on some time as they didn't bring swim suites and left to go buy some. When we got on the boat we did the same turtle swim as we had done with the Best of Barbados package. We did NOT spent 2 hrs on a ....."From the north, you'll head back down the west coast to Holetown where you'll board a 2-hour boat cruise. Swim with the friendly sea turtles, sail down the west coast and snorkel off of one of the colorful reefs." As advertised. We did nothing but swim with the turtles. We did have a great time as Randy the captain on the boat was amazing. Too bad we had to spend MORE money and didn't get what we were hoping for. Would have loved to see the island from the water.
Advertisement
Advertisement