Just BIM is a tour dedicated to showing you the 'must-see' attractions of Barbados! With multiple stops including Bathsheba, you are sure to get a taste of the real Barbados on this tour!
Highlights
Take a stroll through the breathtaking and exotic Flower Forest

Visit the St. Nicholas Abbey and marvel over its unique architecture
Complimentary pickup and drop off from most Barbados hotels
What You Can Expect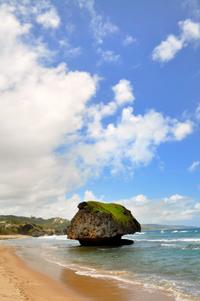 Your Just BIM tour begins at local pottery shop where you'll learn all about craft making in Barbados. Leaving the pottery shop, you'll head to Flower Forest to enjoy a relaxing walk around the beautiful tropical flowers. Keep an eye out for the playful monkeys which are often seen playing in the trees!
You'll then enjoy a scenic drive through the beautiful Bathsheba with a stop for lunch. Then, you'll head over to St. Nicholas Abbey which is possibly the last remaining authentic house of the 17th Century that exists anywhere in the "New World". While most of the structures in North America were built out of timber, this residence was made of brick and limestone. The residence was built only 30 years after Barbados' settlement by the British in 1627 and is of significant historical value to the island. The plantation also has a small but very beautiful gardens with the largest and most colorful hibiscus on the island.
Your next stop will be at Harrison's Cave where you'll tour the caverns bellow by tram. The stalactites and stalagmites have been growing from the floors and ceilings for many centuries! With crystal blue waters from breathtaking pools and waterfalls, Harrison's Cave is a must see when in Barbados!
Stops on the tour include:
Bathsheba
Harrison's Cave
Flower Forest
St. Nicholas Abbey
Cherry Tree Hill

You will also get a glimpse the Morgan Lewis windmill on this tour.
May 2015
This tour is a great value to see the main attractions in Barbados and to learn the history and culture of the Bajans. This tour is an all day tour which starts around 8 and ends around 3. It was well worth if but a little exhausting. We started with Harrison's Cave which was educational and got a chance to take some cool pictures. Next, we were off to the Flower Forest which was a self-guided tour provided with a map and finished up with some Bajan rum punch. I was a little disappointed I did not see any green monkeys. Our next stop was Bathsheba where we stop to view an take pictures. Narin, our guide was very informative and put in a special lunch request so we could try the local dish of cou cou and flying fish which was delicious. After lunch we visited the windmill and then St. Nicholas Abbey which was very informative and rich in history about the plantation, the production of rum and the current family that resides in the house. We later sampled some 10 year rum and purchased some rum and rum cake. They added a nice touch with complimentary engraving when you purchased rum and if you return in the future with the empty bottle you pay 1/2 price for a refill. Our final stop was a pottery/craft shop where we purchased some things. After this long day I left my sunglasses in the van and the driver was nice enough to return them and then also take my husband and I to the pharmacy and the Friday Night Fish Fry in Oistin and he recommended Pat's Place. The food and drinks were wonderful and we took the 11 bus back to the resort which only cost 1 USD and was very convenient. Thanks Viator!
May 2015
This was a highlight of the tour, a peaceful setting . The tour gave a real insight into lthe history of Barbados and life on a sugar plantation . Would love to return. Great to see the cane being processed which they do on Wednesday and Thursday .
July 2014
Everything about this trip was lovely...from the driver who was very informative to the delicious lunch (best "pie" of my holiday) Due to road closure we visited Andromeda Gardens which was delightful. Loved Harrison's Caves and St. Nicholas Abbey, both of which would bring me back to Barbados for a longer visit to both. It was really nice to see the east coast and get a feel for the island. I took this tour on my first day and the air conditioned transport helped to acclimatise me for the remainder of my holiday.
June 2014
Full of very rich History. Fun learning for all.
February 2014
Christopher was a very knowledgeable driver who made it an excellent trip. Personally I would have preferred less time at the Earthworks Pottery and more time at St Nicholas Abbey,as we didn't have enough time to see it all . .Other wise it was an excellent day out.
January 2014
We took this full day tour on our second day in Barbados and while there was some overlap between our first tour "Best of Barbados" and "just BIM" we were again very impressed. Quamy, our tour guide, arrived at our hotel promtly and provided us with many details of the island in terms of culture, history and day to day life. Lunch again was great. We had many fantastic photo opportunities on the tour. My mother particularly enjoyed the tour of St.Nicholas Abbey and I very much enjoyed the stop at Earthworks pottery. Quamy was very personable and made a point of helping me understand directions and getting aroudn the island as he knew that two days later I was going to be driving around the island in a rental car. Thanks Quamy!
November 2013
For this day we had Lisa as our guide. She was awesome. We started off in the Harrison Caves, wow how amazing are those....FYI sit in the front or middle not in the back as you will miss some amazing picture possibilities. We then had lunch while seeing some more scenery. Again the lunch was amazing. I do have to say I love my Flying fish. Saw some amazing flower forests. Will go again when the flowers are in full bloom. Then off to the Abby, my husband not so keen on this, but who knew an Abby was not really an Abby but rather a historical distillery. We got to see more of Barbados' amazing history with this tour. And Lisa was always there and happy to answer all of our questions .
March 2014
St Nicholas Abbey was really good. Simon made us welcome and gave us an interesting insight into his families involvement with the Abbey. Well worth a trip. Barbados was shown to us by Quarmy who was a really good guide. Very interesting
Advertisement
Advertisement